Irvine Humphries Global - Investment scam warning
Irvine Humphries Global claims to be based at Quartier 20F, 161 Songde Road, in the Xinyi District of Taiwan's capital Taipei. Is Irvine Humphries Global also part of a group of more than a dozen Taiwan-based front companies dedicated to investment fraud? The Austrian FMA warned against only four of these companies, but very clearly against possible investment fraud. Benidict Hoffman, Findlay Nicolson, Royston Carr Asset Management and Warrington Shaw were mentioned by name. But a closer look reveals that Irvine Humphries Global is one of them. In this regard, the telephone numbers used by Irvine Humphries Global, +886 2 7737 4437 and +886 2 7737 4446, provide unmistakable clues. However, the FMA does not mention that the accounts of the investment fraudsters can all be found in Hong Kong. But what help is actually available for investment fraud? And another short but important question of the victims concerns their own possibilities of action: What to do in case of investment fraud?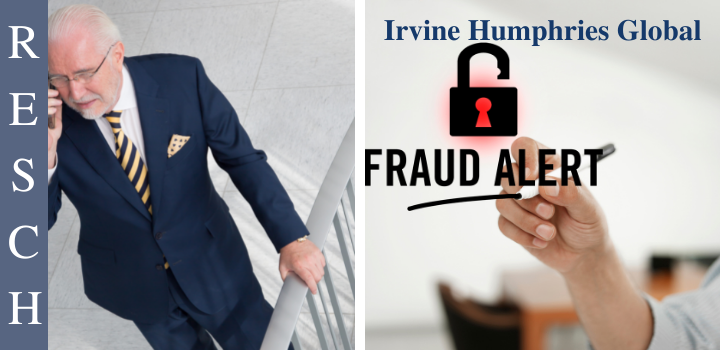 Irvine Humphries Global: Result of the research
Irvine Humphries Global belongs to a group of at least 15 bogus companies that provide addresses in Taiwan's capital city on their similarly designed websites. Their Taiwanese phone numbers were used by pretend investment advisors named Andrew Powell, Charles Murphy, David Harper, David Williamson, Harry Hoffer, Jeremy T. Blythe, Jonathan Chapman, Jonathan Gilbert, Jonathan Lyons, Thomas Kemp and Tony Lawson to contact potential investors worldwide. However, the callers are not from Taiwan, but presumably from the United Kingdom, at least judging by their accent-free pronunciation. The accounts of the investment scammers are all with HSBC or BoC (Bank of China) and belong to dozens of trading companies only recently established in Hong Kong.
Irvine Humphries Global: They are without question investment fraudsters
The main representative of Irvine Humphries Group is a certain Jonathan Gilbert. Callers describe him as someone with a professional demeanor, clearly articulating himself, obviously well educated, excellent demeanor and empathetic behavior in all conversational situations. He devotes himself intensively to customer concerns. He pushes to buy, but never to close. This is usually not necessary, as the desires have long since been awakened in this phase and the inner decision has long since been made. Remaining doubts are dispelled in the twinkling of an eye by fading out the risks and fading in the securities. In addition, potential investors' attention is drawn to the opportunities that follow. Thus, long-term cooperation becomes framing for the current offer. Doubts of the good abilities have the called at no time, at least not regarding their authority. Because the investment advisors of Irvine Humphries Global present themselves with real expertise and can refer to current events at any time.
Irvine Humphries Global: Social Engineering
Cold calling on the phone, which is no longer permitted in Germany, gives the caller a clear advantage over the called party. The caller is surprised by the call from the Taiwanese number of Irvine Humphries Global, while the other side is perfectly prepared for the conversation. The caller knows the usual objections and how to refute them. In support, he asks for googling the company. The called party finds countless clues. Irvine Humphries Global pops up on or in connection with major news outlets such as Bloomberg. Names and faces, however, are consistently avoided on the websites of Irvine Humphries Global and Co. They are similar to each other due to their generic structure and appear absolutely impersonal; after all, the subsequent victim is supposed to focus entirely on his or her personal "advisor." Along the way, seemingly casually, deals are offered to the customers. The whole thing then culminates in a so-called yes-question street, a manipulative rhetorical technique.
Irvine Humphries Global: fake or bought news
The Google results just mentioned come about because the investment scammers invested in what appeared to be editorial articles in publications like Wallstreet Journal and Bloomberg, and where that didn't work, resorted to even more drastic means. The articles featuring Irvine Humphries Global are all self-promoted and paid-for articles. Since Forbes rejects this business model, they made a little more effort. A com-domain with the name Forbes-Focus was built up like the original and linked around the desired articles with reference to Irvine Humphries Global. All of this was for the sole purpose of preparing a global investment scam.
Irvine Humphries Global: Victims in German-speaking countries
The investment fraud scheme works always and everywhere. The history of investment fraud in Germany, Switzerland and Austria has been extended by a chapter through the Taiwan-Hong Kong-Connection. Although the Austrian FMA did not explicitly warn against Irvine Humphries Global, their investment fraud cases can also be assigned to the same group of perpetrators.
Irvine Humphries Global: The money does not go to Taiwan
The investment fraudsters of Irvine Humphries Global pretend to have coveted share packages of global companies at their disposal and to be able to pass them on at particularly good conditions. When a customer finally places an order, something unusual happens. He is asked to transfer the purchase price to HSBC or Bank of China, but not to accounts in Taiwan. Hong Kong is the destination. Thus, from one moment to the next, an investment fraud Taiwan becomes an investment fraud Hong Kong. Investors only notice this when they try to withdraw some of their invested money. Then the "advisors" squirm and refer to all sorts of freely invented hurdles to gain time and possibly squeeze even more money out of the investor. In the end, the investor comes away completely empty-handed.
Irvine Humphries global: They are fraudsters and no brokers
The Irvine Humphries Global is actually nothing. Nowhere in this world is there a company registered with the name Irvine Humphries Global. In fact, there is only one website on which this name is written. Like everything else written on the website beyond that is either false or just hot air. It contains nothing of substance. Unfortunately, nothing about the whereabouts of the investment scammers either. The only thing that is certain is that they are not in Taiwan. Since the investment scam still has Taiwan as its point of origin, since the dummy companies and phone numbers come from there, there will probably still be talk of criminals from Taiwan, even if they are actually from Hong Kong. Here is a revealing list of the companies known so far.
Ward Henderson Management Tel: +886 2 7703 1285, +886 2 7705 4492
Royston Carr Asset Management Tel: +886 2 7703 4447, +886 2 7703 4448
Warrington ShawTel: +886 2 7703 4449, +886 2 7703 4450
Findlay NicolsonTel: +886 2 7705 3141, +886 2 7705 3142
Ryland Sandford Consultants Tel: +886 2 7737 4431, +886 2 7737 4434
Irvine Humphries Global Tel: +886 2 7737 4437, +886 2 7737 4446
Lewis Bentley Group Tel: +886 2 7737 4438, +886 2 7737 4443
Gentry Wilson Partners Tel: +886 2 7737 4732, +886 2 7737 4733
Ellis Marshall GlobalTel: +886 2 7737 4738, +886 2 7737 4739
Brook Dawson Alliance Tel: +886 2 7737 4491, +886 2 7741 4670
Radford Taylor Partners Tel: +886 2 7741 4861, +886 2 7741 4862
Benidict Hoffman Tel: +886 2 7741 4876, +886 2 7741 4877
Everitt Lawson Group Tel: +886 2 7741 7927, +886 2 7741 7928
Townsend Cole Group Tel: +886 2 7741 7926, +886 2 7737 4491
The list shows that the numbers were acquired in blocks and their interleaving is a clear indication that they belong together. In addition, the list gives slight clues as to how old the scammers' respective websites are.
Irvine Humphries Global: what should investors do now?
Is there help available for investment scams? Where and what kind? To do this, investors should specifically look for an investment fraud lawyer. Among these, again, there are specialists. A trading lawyer who specializes in representing traders must be able to take criminal action at both the national and international level. In order to successfully prosecute investment fraud cases, an experienced investment fraud lawyer is required in every case. Only they have the know-how to handle international cases efficiently. Thus, they are also practically familiar with the practices of international banks and know how to arouse their willingness to cooperate.
Irvine Humphries Global: Criminal processing
Criminal processing is laborious and must be handled by the lawyer. It only works if the chronically overburdened public prosecutor's office is provided with comprehensive and precise information. As a rule, the public prosecutor's office only becomes active quickly when it receives a completed indictment. And even that only works if there is an established relationship of trust between the lawyer and the public prosecutor's office.
Irvine Humphries Global: Tracking and tracing the money
By their very nature, defrauded investors place far more value on recovering the money than they do on prosecuting. It is beyond the scope of this format to describe the complexities of recovery in an understandable way. It is also not a standardized process, but always requires a case-specific approach, with sometimes very unconventional methods. In most cases, however, the basic principle is based on cooperation with the financial institutions. This is because as soon as they realize that their services could have been misused for illegal transactions and there is a suspicion that they have failed in their duties, this increases the bank's willingness to cooperate enormously.
RESCH Attorneys at Law - Experience in investor protection since 1986
Are you a victim of the alleged investment fraudsters from Taiwan? Do you want to know if and how you can get your money back? Please fill out the questionnaire or call us. You can reach us at +49 30 885 9770 and get a free assessment of your case.