360cryptoexperts: Bitter experience for investors. Where to get help?
09.10.2023
It is an unfortunate reality that scams on the Internet, especially in the field of cryptocurrencies, continue to claim victims. Today, we warn you about a questionable platform called "360cryptoexperts". Our research has shown that 360cryptoexperts is not a serious platform and many investors have had bad experiences with it. In this article, we will give you an insight behind the scenes of this platform, shed light on the negative reviews from investors, and show you where you can find help if you have fallen victim to 360cryptoexperts.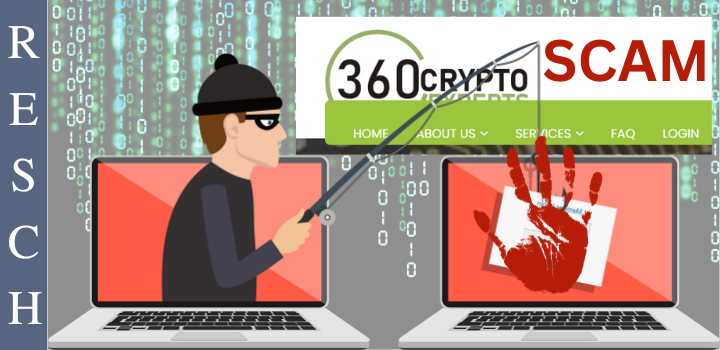 Behind the Scenes of 360cryptoexperts
The website 360-cryptoexperts.com was registered with eNom, LLC on April 14, 2022. Interestingly, the domain originates from Nigeria, which is already a first indication of potential unseriousness.

360cryptoexperts in their own words
360cryptoexperts describes itself as a subsidiary of 362fxoption Plc, a supposedly large company. They claim to have been operating in the investment market since 2012 to provide many people with a real encounter with the investment market. However, the truth behind these words is sobering.

Missing registration and fake address on 360-cryptoexperts.com
Shockingly, the operating company of 360cryptoexperts was not officially registered anywhere. The given address, 1309 S Adams St, Fort Worth, TX 76104, United States, turns out to be fake. The real operator is not physically present at this location.

360-cryptoexperts.com: Poor masthead and insufficient information
The 360-cryptoexperts.com website does not meet the legal requirements regarding imprint and legal notices. There is no imprint at all and no usable legal information.

Unregulated business and lack of security at 360cryptoexperts
360cryptoexperts operates in a gray area. The business is completely unregulated and there are no legal accounts with established banks. In addition, the platform does not offer any collateral for your investments.

360cryptoexperts: Negative Experiences and Pressure on Investors
The first-hand experiences of investors who have experienced 360cryptoexperts are consistently negative. Reports of losses and scams are piling up on popular forums and social media. Even more concerning is the immense pressure put on potential investors to invest quickly. This is often accompanied by emotional manipulation to obtain further deposits.

Resch Attorneys at Law and Chainalysis: Your Salvation
However, there is hope for those who have already fallen victim to 360cryptoexperts. The renowned law firm Resch Rechtsanwälte is working with the American blockchain analysis company Chainalysis. Their investigative team is equipped with Chainalysis Reactor, a proprietary software for investigating financial crimes that enable the tracking and tracing of virtual currencies, including Bitcoin.

360cryptoexperts (360-cryptoexperts.com): Questions and Answers
Question 1: What should I do if I have already lost money to 360cryptoexperts?
Answer: Contact Resch Attorneys at Law immediately to take legal action against the scammers.
Question 2: How can I protect myself from such scams?
Answer: Although not covered in this article, it is generally advisable to be cautious and only invest with reputable platforms.

Conclusion about 360cryptoexperts (360-cryptoexperts.com)
360cryptoexperts turns out to be extremely risky and untrustworthy. The negative experiences of investors and the questionable practices of the platform are alarming. If you have already been a victim of this scam, do not hesitate to contact RESCH Rechtsanwälte GmbH for assistance in pursuing your claims. Stay vigilant and protect your hard-earned money from such fraudulent schemes.

RESCH Rechtsanwälte GmbH - Investor protection experience since 1986
If you have been a victim of 360cryptoexperts (360-cryptoexperts.com) and want to know if and how you can get your money back, call +49 30 885 9770 or request a call back from an investment fraud lawyer. You will receive a free assessment of your case.