Broker doesn't pay - What to do? How do investors get money back?
20.07.2022
Typical problems with brokers in online trading. Investors have successfully invested via a trading platform and then this: The broker does not pay out. Of course not! The broker is an investment fraudster - not serious. He never wanted to pay back! The investors' money has never been invested. It disappeared right into the pockets of the fraudulent broker. What to do in case of online investment fraud? What are the experiences? How do investors get their money back when trading?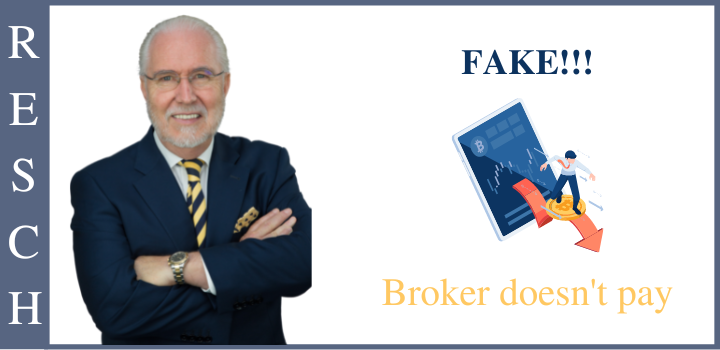 Broker doesn't pay: scheme of investment fraud
The unsuspecting investor is a layman. He hardly has a chance to see through the scheme of investment fraud in time. At first, everything goes perfectly. The investment develops extremely positively. The problems with the broker start when the investor wants to have his money paid out. No problem, explains the broker, but before still taxes, fees, commissions and whatever must be paid. But even if everything is paid: the broker does not pay out!
Broker doesn't pay: Warnings and blacklist for brokers
Slowly, the investor realizes that something is wrong. Has he fallen for an investment scam? He looks to see if there is a blacklist for brokers. With his Google search, he first comes across the warning lists of the SGK Schutzgemeinschaft für geschädigte Kapitalanleger or the current warnings of RESCH Rechtsanwälte GmbH or also the warning list for financial investments of Finanztest, which are mostly more current than the warning lists of BaFin, the federal FIMNA or the investor warnings of the FMA from Vienna.
Broker doesn't pay: The truth is often shocking for investors!
The most important thing is that the investor now does not doubt that he has been deceived. Everything is a lie! Nothing is true! Everything fake! It never made sense to deal with a fraudulent broker, no matter how nice he might have been. Everything was a theater with the sole purpose of depriving the victims of all their assets.

Broker doesn't pay: What to do? What help is there?
Money is not gone, just somewhere else, they used to say. Today, you can add to that: Money can usually be tracked digitally. This is difficult in many respects and - also technically - complex. But it is the most promising way. It's the only way to get money back. And the chances are better than most defrauded investors can imagine. A criminal complaint alone is of little help. Criminal charges are aimed at punishing the perpetrators, so they go in a different direction. What can the investor do then? What help is there?
RESCH Rechtsanwälte - Experience in investor protection since 1986
If you are a defrauded investor whose money is not paid out by the broker and who wants to know if and how he can get his money back call +49 30 885 9770 or fill out the questionnaire. You will receive a free assessment of your case.