Experiences with LegalMarketingFxtrade: Fraud or legit?
10.10.2023
The promises on legalmarketingfxtrade.net sound tempting: an international investment company registered in the USA that supposedly distributes daily profits to investors. But as is often the case in the financial markets, the supposed paradise turns out to be a swamp of fraud. In this article you will learn why LegalMarketingFxtrade is not serious, what experiences investors have made and how the law firm Resch Rechtsanwälte and the blockchain analysis company Chainalysis can help you.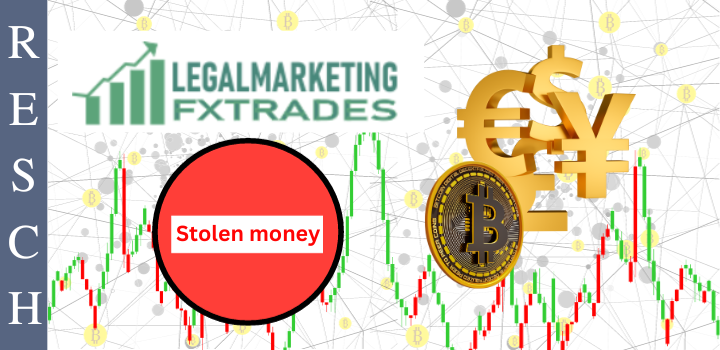 LegalMarketingFxtrade: Deceptive facade
LegalMarketingFxtrade presents itself as the work of a group of professional traders and investors, who have allegedly been making profits and distributing them to investors daily since 2016. However, the facade begins to crumble at first glance. The alleged operating company, LegalMarketingFxtrade LTD, is not officially registered anywhere, and the claim to be registered in the US turns out to be a lie. The given address in Johns Creek, Georgia turns out to be a shell company with no physical presence of the operator.

LegalMarketingFxtrade: Lack of Transparency and Imprint
The opaque nature of LegalMarketingFxtrade is compounded by a lack of transparency in its business practices. The operator's contact information is limited to an e-mail address (support@legalmarketingfxtrade.net), and there is no telephone availability. The imprint on the website does not comply with legal requirements and is completely missing, which raises significant legal concerns.

LegalMarketingFxtrade: Unregulated and no security
Another alarming aspect is the unregulated nature of LegalMarketingFxtrade's business. There are no legal accounts with established banks and no collateral is offered to investors. This means that your invested capital is exposed to significant risk.

LegalMarketingFxtrade: negative experiences and questionable practices
Investors' experiences with LegalMarketingFxtrade have been consistently negative. Reports of missing payouts, inexplicable losses, and unbearable pressure from the platform to make further deposits are piling up in popular forums and social media. Potential investors are being emotionally pushed and manipulated.

LegalMarketingFxtrade: Help for victims
If you are one of the victims of LegalMarketingFxtrade, there is still hope. The renowned law firm Resch Rechtsanwälte is ready to help you in your fight against this scam. They also work with Chainalysis, an American blockchain analysis company that uses its Chainalysis Reactor software to investigate financial crimes and track virtual currencies like Bitcoin.

LegalMarketingFxtrade: Questions and answers
Question: Is it possible to get my money back from LegalMarketingFxtrade?
Answer: Yes, the law firm Resch Rechtsanwälte and Chainalysis can help you get your money back and hold those responsible accountable.
Question: How can I protect myself against such scams?
Answer: Although we do not discuss preventive measures in this article, it is advisable to thoroughly research any investment opportunity and be skeptical of unrealistic promises.

LegalMarketingFxtrade: Conclusion
LegalMarketingFxtrade is a prime example of the dangers lurking in the world of online investments. The platform is not reputable and investors should be well informed and remain skeptical before investing. If you have already been a victim of LegalMarketingFxtrade, you should immediately contact the law firm Resch Rechtsanwälte and Chainalysis to get your money back and take action against this fraudulent platform. Your experience can help prevent others from falling into similar traps and hold those responsible accountable.

RESCH Rechtsanwälte GmbH - Experience in investor protection since 1986
If you have been a victim of LegalMarketingFxtrade (legalmarketingfxtrade.net) and want to know if and how you can get your money back, please call +49 30 885 9770 or request a call back from an attorney specializing in investment fraud. You will receive a free assessment of your case.