Cryptocurrency scam - Where to get help?
19.07.2022
The bitcoin scam is spreading rapidly. Bitcoin victims' experiences are bitter. Many Bitcoin victims have been stripped of all their assets by the investment scammers' cryptocurrency scam. Almost all Bitcoin scam cases have been by phone or email. What to do about crypto fraud, victims of the fraudulent brokers wonder. Should you report the bitcoin scam? What help is there against the bitcoin scam?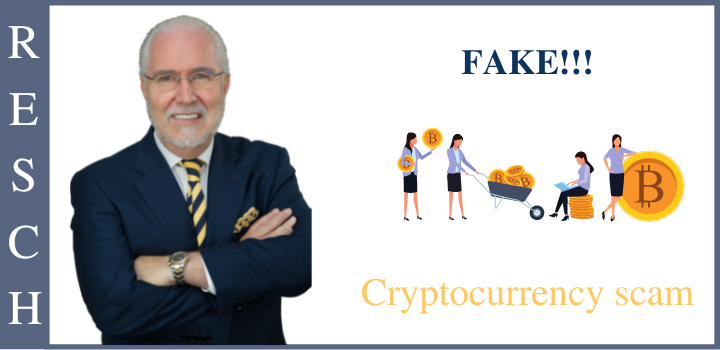 Cryptocurrency scam: Always the same scheme
The cryptocurrency scam runs in the same scheme the investment fraud. With promising ads often also on social media, the Bitcoin victims are lured to reputable-looking trading platforms to trade there with Bitcoin and other cryptocurrencies. Investors do not realize that it is all a scam. It's all fake. Not a cent of their money is invested there. What the victims see on the screen is manipulated. The money has landed right in the pockets of the scammers. In the Bitcoin scam, the investment scammers are only interested in taking as much money from the victim as possible. Completely unscrupulous.
Cryptocurrency scam: What to do about Bitcoin fraud?
Most investors probably do nothing because they are shocked by the cryptocurrency scam which deeply affected their self-esteem. They feel ashamed and can't talk to anyone about it. Some investors file a criminal complaints. But a criminal complaint is primarily for prosecution, but not for recovering the money. What are the alternatives?
Cryptocurrency scam: What help is there?
The scammed Bitcoin victim will be primarily concerned with getting his money back. For this, he needs the help of experts, and trading lawyers familiar with the Bitcoin scam. This is highly complex, both legally and technically, and therefore requires a high level of experience, because practically all cases also have an international connection. It is not enough to write a letter to the house bank or the recipient bank and present the individual case in a criminal complaint and submit it to the locally competent police station.

Cryptocurrency scam: How to get the money back?
By following the trail of the money. This is difficult, especially in the area of tracking bitcoin on the blockchain, but possible if you have the right tools. It's rocket science, and it takes rocket scientists. In parallel, criminal investigations have to be conducted on the whole complex and evidence has to be secured. A complex interplay on the criminal, regulatory and civil international levels.
RESCH Rechtsanwälte - Experience in investor protection since 1986
RESCH Rechtsanwälte GmbH is an international law firm specializing in cryptocurrency scams with legal and technical expertise. If you have become a victim of this scam and want to know if and how you can get your money back call +49 30 885 9770 or fill out the contact form. You will receive a free assessment of your case.