Paraiba stops payouts - What happens next?
29.06.2022
The alarm calls come via Trustpilot, one of the big rating portals. They say that the payouts at Paraiba have been stalling for a fortnight. Of course, Paraiba and Unique Private Bank put forward many reasons, and some investors write that they have received their money several weeks late after all. These could be the last lucky ones. Two proverbs apply to a pyramid scheme: "First come, first served!" and "Last come, first served!".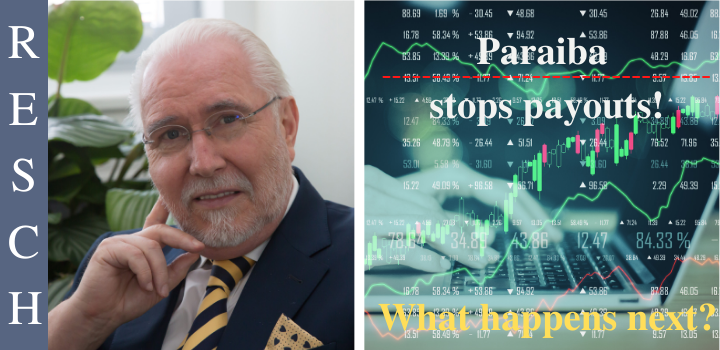 Paraiba stops payouts - The beginning of the end?
Stopping the payouts does not necessarily mean that the Ponzi scheme has to collapse immediately. It also depends on the tact of Erich Ely. He can put off the waiting investors and pay out some in slices, who are then supposed to report on their "good fortune" and reassure all the doubters. Perhaps Ely will also choose another tried and tested trick: the payout will no longer be in money or Bitcoin but a separate "Paraiba Coin" or "Paraiba Token" that has yet to be conjured out of a hat. This would be worthless or could only be used in the Paraiba community. But that will buy some time and maybe some people will fall for it.
Paraiba stops payments - But there are still reserves!
RESCH's research department took a look at the company's own "exchange office", Unique Exchange. With the right tools, you can follow the money's trail in the blockchain. Two results: Only a part of the money has been used for trading and at the same time this means that there are still considerable sums available. More will not be revealed at this point

Paraiba stops payouts - Liability of recommenders
No matter what you want to call them, whether recommender, influencer, or intermediary, all those who actively support a criminal multi-level distribution system (i.e. pyramid scheme) are liable and make themselves punishable. For these gentlemen, it has been very serious for quite a while, because the well-founded warnings of BaFin and other supervisory authorities have been online for quite a while. Moreover, a glance at Google Maps would have been enough to establish that Unique Private Bank does not exist. But perhaps the Paraiba community under the self-proclaimed president Erich Ely is founding its own Paraiba state in the Comoros, where payment can be made with the Paraiba Coin and where the intermediaries can apply for asylum.
RESCH Attorneys at Law - Experience in investor protection since 1986
If you have become a victim of Paraiba and want to know if and how you can get your money back, call +49 30 885 9770 or fill out the questionnaire. You will receive a free assessment of your case.
See also:
Paraiba - Investment fraud risk experience
23.05.2022
Paraiba - Payout
04.07.2022
Paraiba - No license for Unique Private Bank
05.07.2022
Paraiba becomes Trillant - That is why there is no repayment
06.07.2022
Paraiba Investment - Who is responsible for Trading
07.07.2022
Paraiba - Who is responsible for the damage
26.07.2022
Paraiba - Warning about Globalrecoverynetwork.org
04.08.2022