Keychainbanking scams: experiences, reviews and lack of seriousness
06.10.2023
In this day and age, caution is advised when it comes to online financial services. One particularly alarming case that has come to the fore concerns the Keychainbanking.com platform. Masquerading as a multinational financial services company, this website turns out to be a trap for unsuspecting investors. Our research has uncovered shocking results that we would like to share with you today.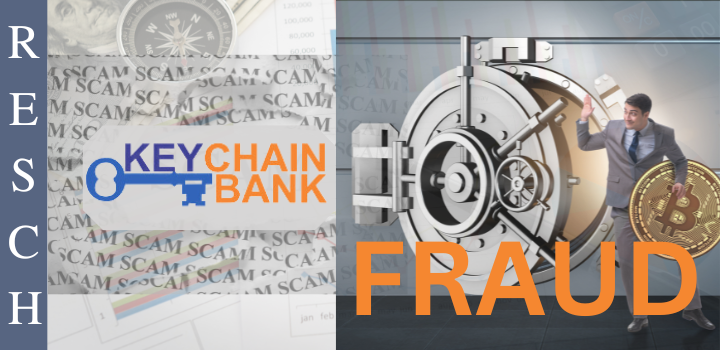 Background: Keychainbank in the crosshairs
On July 13, 2023, the domain Keychainbanking.com was registered and the platform claims to be regulated by the Financial Conduct Authority (FCA). Unfortunately, it quickly becomes apparent that this is not the case. Our research has shown that Keychainbank is not subject to any reputable regulation.

Deceptive facade on Keychainbanking.com
On its website, Keychainbank describes itself as a "multinational regional financial services company dedicated to providing complete solutions". But upon closer inspection, that's just the tip of the iceberg. We came across a shocking fact: the text on Keychainbanking.com was stolen from RHB Turkey and published unchanged on the questionable platform.

The Mysterious Operators of Keychainbanking.com
The alleged operating company of Keychainbank simply calls itself "Keychainbank", without any indication of a legal form. This alone should raise suspicion. Remarkably, there is no evidence of any official registration of this operating company. The address in Cambridge, UK, turns out to be a dummy.

Keychain Bank: Opaque contact details
The contact details provided on the website are as questionable as the rest. Besides the email address support@keychainbanking.com, the only phone number listed is a non-existent +1 234 567 890. Attempts to reach the company by phone were unsuccessful. The imprint on the website does not even meet the basic legal requirements, because it is simply non-existent.

No security, no regulation of Keychainbank
Another alarming fact is that Keychainbank does not have legal accounts with established banks and does not provide any collateral for investors. The platform's business practices are completely unregulated and not verified in any way.

Keychainbank: Pressure on investors
In the well-known forums and social media, the experiences with Keychainbank are consistently negative. In particular, it is noticeable that potential investors are put under massive pressure to invest quickly. This unethical approach is aimed at pressuring emotional investors to make further deposits.

Help in sight for Keychainbank victims
In this time of despair, there is hope for victims of the Keychainbank scam. The renowned law firm Resch Rechtsanwälte is standing by the victims and fighting for their rights. Together with the American blockchain analysis company Chainalysis, which specializes in investigating financial crimes, they have developed the investigative software Chainalysis Reactor. This enables the tracking and tracing of virtual currencies, including bitcoin, to bring perpetrators to justice.

Keychainbank (Keychainbanking.com): Questions and Answers
Question: Is it possible to get my money back from Keychainbank?
Answer: With the help of Resch Attorneys and Chainalysis there is a real chance to recover lost capital. We recommend that you contact these experts immediately.
Question: How can I make sure that I do not fall victim to such scams?
Answer: The best precaution is to thoroughly research the platform you are considering investing with. Look for genuine experiences and reputable reviews, and don't be swayed by pressure tactics.

Keychain Bank: Conclusion
It is of the utmost importance that victims of Keychainbank are not left alone. With Resch Attorneys at Law and Chainalysis, there is hope for recovering lost money and holding those responsible accountable. We hope our information will help you make informed decisions and protect yourself from such scams.

RESCH Rechtsanwälte GmbH - Investor protection experience since 1986
If you have been a victim of Keychainbanking (Keychainbanking.com) and would like to know if and how you can get your money back, please call +49 30 885 9770 or have a lawyer specializing in investment fraud call you back. You will receive a free evaluation of your case.