Amicus Investment Ltd: Investors fall for online investment scammers in rows!
27.09.2023
In the multi-faceted landscape of financial investments, it is essential for investors to be adequately informed about the integrity and legitimacy of potential investment platforms. In the specific case of the platform called Amicus Investment Ltd, some serious concerns have arisen. The following report provides a detailed insight into the findings that our knowledgeable research department has gathered regarding this platform and aims to present investors with an enlightened perspective. One thing is for sure: in the case of Amicus Investment Ltd, which approaches its victims with the domains amicusinvest.com and amicusinvest.net, some things do not add up, and so one is not surprised that the experiences of bounced investors put the reputable appearance of this company in a completely different light. Have you also already made acquaintance with Amicus Investment Ltd. Were you also wrapped around the finger by the employees of this enterprise, and now you do not know, how you are to come to your capital invested there? Then you are like some other investors! We will try to bring light into the darkness and also explain what you can do to possibly get your money back after all.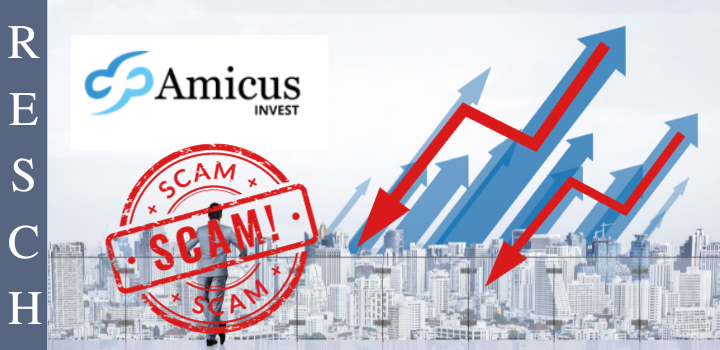 Revealing the illusions
In the course of their investigations, our meticulous research department has gathered essential information about the platform of the so-called Amicus Investment Ltd. The self-exploration reveals that the websites amicusinvest.com and amicusinvest.net exude a thoroughly professional aura. They seduce through direct communication, supposedly attractive offers, and promises of significant returns and profits, orchestrated by careful supervision of employees. However, this apparent respectability cannot hide the deceitful staging and deception that lies at the heart of this operation.

Dark secrets behind the web presence
The web presence of Amicus Investment Ltd. does not reveal an informative masthead, a strategic move that makes it difficult to identify the true operators. Analysis of the domain data for amicusinvest.com and amicusinvest.net reveals no clues about the original registrants, only the registration dates: May 25, 2013, for the former domain and July 5, 2017, for the latter. In both cases, the real owners are disguised by widely used anonymization services, and both domains have been registered with Ascio Technologies, Inc.

Inadequate contact information and investigative dead ends
Although the platform offers support e-mail addresses customerservice@amicusinvest.com and customerservice@amicusinvest.net as well as a telephone number with an Austrian country code (+43720116821), this information does not allow any substantial conclusions to be drawn about the operators or their true location. A variety of business addresses are presented, including two Austrian ones (1. Gumpendorfer Str 142 in 1060 Vienna, 2. Post Box 102827, Industriestrasse 31 in 6923 Lauterach), as well as an address in the Marshall Islands (Trust Company Complex, Ajeltake Road, Ajeltake Island, Majuro MH96960), but all these leads lead nowhere, as there is no proven existence of Amicus Investment Ltd. in these locations. Older versions of the website additionally presented Swiss contact details (Swiss Post Box 102827 Zürcherstrasse 161 in 8010 Zurich and the phone number +41315500166), but these also turned out to be deceptive mirages.
Commercial register entry in the Marshall Islands? Yes and no at the same time!
The websites amicusinvest.com and amicusinvest.net claim that Amicus Investment Ltd. is registered in the Marshall Islands. True, an Amicus Investment Ltd. can be found in the commercial register of the Marshall Islands - registration date: 05.09.2011, registration no.: 63993. However, this company was already canceled on 26.10.2021, so it no longer exists. However, our thorough research methods made it possible to uncover the path of the scammers who left indelible traces in their digital footprint.

Amicus Investment Ltd. has already in the focus of the investigating authorities for a long time!
It is also to be expected that regulatory authorities will soon identify and publicly warn about the illegitimate activities of this company. Warnings have already been issued by the Austrian FMA (warning of 10.11.2017) and the UK FCA (warning of 07.07.2022). Surely other authorities will soon follow suit and warn as well.

Our opinion: Hands off! Amicus Investment Ltd. is not an honest trading partner!
In conclusion, the alleged existence and operation of Amicus Investment Ltd. is overshadowed by serious allegations of fraud. Our meticulous investigation exposes a carefully orchestrated deception in which potential investors are lured into a trap that causes significant financial losses. It is of paramount importance that individuals and authorities alike remain vigilant and continue to question the veracity of such platforms. Exposing such schemes is not only a matter of financial security but also an essential step in maintaining the integrity of the financial market.

Resch Rechtsanwälte GmbH will help you in difficult times!
In the age of rapid digitalization, the number of fraudulent online platforms has unfortunately also increased significantly. This negative side of modern technology can have not only serious financial but also emotional consequences. In this gloomy landscape, we, Resch Rechtsanwälte, stand ready as your trusted alliance partner. Here are some reasons why we are your best ally in this matter:

A legacy of trust: At your side since 1986
Founded in 1986, our law firm has epitomized integrity and commitment since the beginning. With well over three decades of experience helping victims of online investment fraud, we bring not only hope but effective strategies and solutions to recover your lost capital.

Technological expertise: Your first line of defense against scams
In a world where technology plays a dual role, as both a curse and a blessing, we are armed with advanced forensic tools to help you. We are honored to have Chainalysis, a leading blockchain analytics software in the world, in our toolbox. With this technology, we can trace and decipher even the most complex financial trails, whether your money was deposited in traditional bank accounts or cryptocurrencies with fraudsters.

Legal expertise and a dedicated team: your path to justice
The path to recovering your loss is complex and starts with proper tracking of your investments. But that is only the beginning. On our team, you'll find not only attorneys specializing in investment fraud but also certified IT experts and tireless investigators who know and understand the tactics of fraudsters down to the smallest detail.

You are not alone: we are at your side
In these difficult times, we want to assure you that you are not alone. Our multifunctional team is ready to offer you a free, no-obligation analysis of your case. We are just a call or a click away. Contact us at +49 (0)30 8859770 or use the online contact form on our website. We promise to handle your case with the utmost care and professionalism to assist you in this challenging phase.