Investors have a bad experience with enyx.capital (trade.enyx.capital, my.enyx.capital)!
29.09.2023
In the digital age, we are often confronted with various online offers that seem convincing and real at first glance. However, a closer look often reveals deceptive intentions. The platform Enyx Capital is accessible via enyx.capital (trade.enyx.capital, my.enyx.capital), is such an example. Our intensive research has brought to light surprising findings that we do not want to withhold from you and that could save you from making the wrong decisions! And even if you have already been taken in by the scammers - we may be able to help you!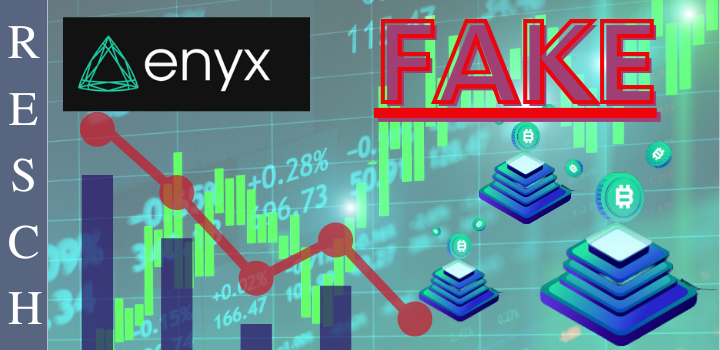 The professional fraud of Enyx Capital
With its website enyx.capital (trade.enyx.capital, my.enyx.capital) Enyx Capital gives the impression of the highest professionalism. Attractive offers, a dedicated support team, and the prospect of attractive returns are hard to miss. But behind this shiny facade are deceptive machinations, where not a penny of investors' money is invested. It is no wonder that many investors are now voicing their displeasure in various forums and expressing negative criticism; all the experiences made by bounced investors speak a clear language. After logging in, it is hardly possible to withdraw the invested capital. What is going on here? Can such behavior be serious? At the moment we doubt it!

Questionable origin: The game of hide and seek on the World Wide Web
A missing imprint on the website of Enyx Capital raises the first question. Our research showed that the domain was registered on 20.06.2023 at NameCheap, Inc. The anonymization services used and the IP location in the Russian Federation make it difficult to identify the website operator.

Many inconsistencies and false identities
If you contact Enyx Capital via the e-mail addresses info@enyx.capital or pr@enyx.capital, you will not receive any further information about the operators. In addition, the website gives only one address: 2 Galane Close, Northampton, England, NN4 9YR. However, our research could not establish a connection between this location and the operators of the enyx.capital website. No phone number is listed on the enyx.capital website.

Mysterious company data: A chaotic mess
The alleged registration number 08007751, which Enyx Capital claims to own, actually belongs to a company called Prive Ltd. The confusion increases when you suddenly come across the name Enyx Solutions Ltd. on the website (even though the company is called Enyx Capital Ltd.), which exists in the UK Commercial Register. However, its actual registration number is 09777180 and not 08007751, as propagated by the creators of enyx.capital - another indication of the fraudulent intentions of Enyx Capital. Using false identities to appear in a legal guise is not a trivial offense!

Conclusion: Choose another platform for your investment, Enyx Capital is not kosher!
The digital world offers forgers and scammers a multitude of opportunities to carry out their perfidious plans. The Enyx Capital platform is a prime example of deceptive promises and fake identities. Investors should always be vigilant and do their due diligence before investing their money. Our findings show that all that glitters is not gold.

Those who have already transferred money to online investment scams: Don't give up!
The digital age has brought us many benefits, from limitless communication to limitless commerce. But with these benefits have come new challenges, most notably the rise of online fraud. For those who find themselves in the clutches of such schemes, however, there is hope in the form of professionals ready to help.

Decades of commitment to injured parties: Resch Rechtsanwälte GmbH
Since our founding in 1986, we at Resch Rechtsanwälte have worked tirelessly to protect the rights of victims of online investment fraud. Our long history and the trust of our clients speak for themselves. We are not only your lawyers but also your guide in these turbulent times.

Use of cutting edge technology: Blockchain analysis with Chainalysis
The digital age demands digital solutions. That's why we use advanced tools like Chainalysis to stay ahead of even the most sophisticated fraudsters. Whether your money has gone to traditional banks or the ever-changing world of cryptocurrencies, we can track it.

Expertise and dedication: a team of just over forty people will take your case!
Recovering lost funds is not an easy task. Our specialized lawyers, IT experts, and in-house investigators work hand in hand to ensure that every stone is turned. With such a dedicated team on your side, you can rest assured that no detail will be overlooked.

For personal contact and support, give us a call! We are here for you!
In such difficult times, it's important to know that someone is there for you. We offer a free initial consultation to anyone affected by fraud. You can reach us by phone at +49 (0)30 8859770 or via the online contact form. Your fight becomes our fight, and we will do everything in our power to help you.