Paraiba Investment - Who is responsible for Trading
07.07.2022
On Tuesday, 17.05.2022 there was another online presentation on Paraiba. A classic multilevel system. Not serious! Because Paraiba is a pyramid scheme, all recommenders or influencers of Paraiba are liable. They may even be liable for prosecution with their online presentations because they are actively promoting a criminal pyramid scheme with Paraiba. After all, there is no question that Paraiba is not legal after BaFin issued a warning. But why does the payout work?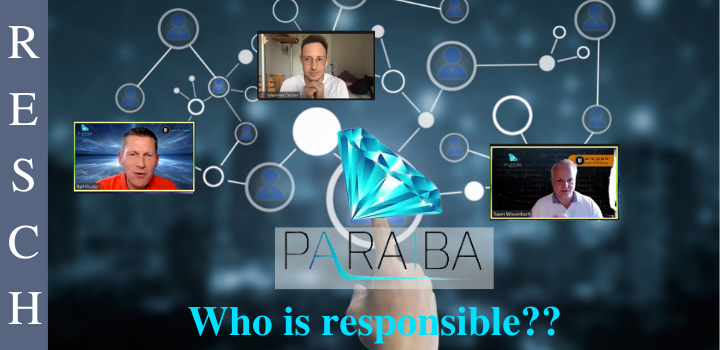 Paraiba: It's all about interest and bonuses
The presentation was only about interest and bonuses, even if the calculation was based on a fantasy product. The two influencers of this evening, Ralf F. and Swen W., also clearly recognized this. It didn't help when it was pointed out that this was all just their personal opinion and that they didn't want to influence anyone. But it is not that simple. They have massively promoted Paraiba and completely faded out or downplayed the risks. The presentation was (almost) exclusively limited to the interest rates, the bonus systems, and the downline. All credits that the investor gets as a gift from Paraiba without depositing any money. Why? That is a swindle and not serious.
Paraiba: Hardly any money left for trading
After all, how is Paraiba's great trading business to be financed if only a portion of the money credited via the Unique Exchange is used for trading? In addition, our investigations have shown that not insignificant parts of the money deposited (without bonuses, etc.) are not used for trading at all. The Paraiba system is a pure incentive system to deposit more and more. The more deposited and left, the higher the interest and bonuses. Psychologically, investors fall into a trap of taking bigger and bigger risks. The numbers look so nice.
Paraiba: Figures without substance behind them
But how is the money earned that is supposed to make Paraiba investors rich? There was no mention of that in the presentation. Of course not! It was a presentation like something out of a mathematics lesson in which students learn the calculation of interest and compound interest. One more bonus and one more downline, then X% will accumulate into fabulous sums in euros - on paper.
Paraiba: There is no serious Unique Private Bank
Rather in passing, there was talk of traders making the money in crypto trading. But how much? And how can that be with such a volatile market? And where? Not at the Paraiba platform operator Unique Private Bank, at any rate. At best, it exists on paper, but not in reality, as a glance at the address of the "global company" Unique Private Bank on Google Maps immediately reveals without a doubt. There is nothing there. And research on the money flows through Unique Exchange also confirms the assessment that at best only a partial amount is invested for real trading on the crypto market.
Paraiba: When will the Ponzi scheme collapse?
But if Unique Private Bank is a pure lie as portrayed on their website, how can their platform Paraiba be genuine? How can righteous investors entrust their hard-earned money to such a fantasy number called Paraiba? Because the investors receive their promised payouts, is the argument of Paraiba fans. Unfortunately, this is no proof at all. Every Ponzi scheme pays out as long as there is enough supply of fresh money. It is therefore only a matter of time before the Paraiba Ponzi scheme collapses.
Paraiba: What can smart investors do?
Withdraw the money as quickly as possible, many will think. Don't be the last. Only the first will succeed. Congratulations to the quick ones. The last ones to bite the dogs? Not necessarily, because there are numerous liability claims. But, of course, that is much harder to enforce than being one of the first to get your money paid out.
Paraiba: Influencer responsibility
In addition to the initiators in the broader sense, the recommenders of a criminal multi-level system are themselves liable and make themselves liable to prosecution. It doesn't help if they want to escape liability with a briefly inserted explanation. If you don't believe it, you can look at the fate of the distributors of the One Coin Ponzi Scheme. In Münster, some are currently facing criminal court and awaiting sentencing.
RESCH Attorneys at Law - Experience in Investor Protection since 1986
If you are one of the victims of the Paraiba Ponzi Scheme and want to know if and how you can get your money back, call +49 30 885 9770 or fill out the questionnaire. You will receive a free assessment of your case.
See also:
Paraiba - Investment fraud risk experience
23.05.2022
Paraiba stops payouts - What happens next?
29.06.2022
Paraiba - Payout
04.07.2022
Paraiba - No license for Unique Private Bank
05.07.2022
Paraiba becomes Trillant - That is why there is no repayment
06.07.2022
Paraiba - Who is responsible for the damage
26.07.2022
Paraiba - Warning about Globalrecoverynetwork.org
04.08.2022