Numex AI: Investors have shocking experiences. BaFin warns.
18.10.2023
In recent years, the world of cryptocurrencies and digital financial services has grown tremendously. However, with this growth, more and more dubious providers have entered the market to take advantage of unwary investors. One of these shady companies is Numex AI, which operates on the website numexai.com. This article is intended for anyone who has fallen victim to this investment scam.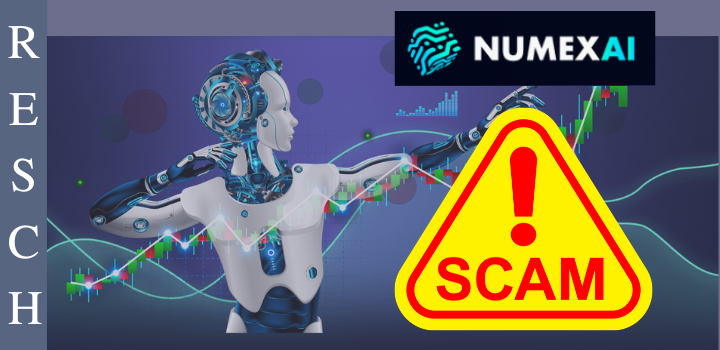 Numex AI: A fraudulent facade
Numex AI describes itself as an "Intuitive AI Based Crypto trading platform" and promises users smart and profitable trades with the help of advanced AI algorithms. However, the reality is quite different. Investor reviews and experiences are consistently negative. Many investors report a lack of payouts and generally unprofessional business practices.

Behind the Scenes of Numex AI
The purported operating company, NumexAI Ltd, is not officially registered anywhere. The address of Numex AI's premises in London, United Kingdom, appears to be a PO Box address at best, as the operator is not physically present there. The contact details, consisting of an email address and a phone number, do not seem very trustworthy either.

Numex AI has no Imprint
There is no legally valid imprint or usable legal notice on Numex AI's website, which is clearly against the law. Numex AI's business is completely unregulated and the company has no legal accounts with established banks. This means that investors have virtually no collateral for their investments.

Numex AI Puts Pressure on Investors
Furthermore, it is advisable to exercise caution and not be persuaded by Numex AI or similar platforms to invest quickly. Often, such companies put massive pressure on interested investors to make further deposits. It is important not to be swayed by emotion and to do your research before investing your money.

BaFin warns against Numex AI
On September 13, the German Financial Supervisory Authority BaFinwarned against the offers of NumexAI Ltd. According to the findings, the company offers financial services on its website numexai.com without authorization.

Help for Numex AI victims
If you have already lost money to Numex AI, professional help is available. The renowned law firm Resch Rechtsanwälte has experience in helping victims of investment fraud. You can contact them to take legal action against Numex AI.

Questions and answers about Numex AI (numexai.com)
Question 1: Can I get my money back from Numex AI?
It is possible that with the help of an attorney, you may be able to get your money back. However, this should be considered on a case-by-case basis.
Question 2: Should I make my experience with Numex AI public?
Yes, sharing your experience can help others protect themselves from similar scams. This is especially important to stop the proliferation of such dubious platforms.
Question 3: How can I be sure that a cryptocurrency investment is legitimate?
There are reputable cryptocurrency platforms out there, but it is advisable to do your research and not be blinded by too-good-to-be-true offers.

Conclusion about Numex AI (numexai.com)
Numex AI is an example of the growing threat posed by rogue financial service providers. People who have been victims of fraud mustn't remain silent, but share their experiences and take legal action. Working with professional attorneys, such as Resch Rechtsanwälte GmbH, can help recover lost money while protecting others from similar scams.

RESCH Rechtsanwälte GmbH - Investor protection experience since 1986
If you have been a victim of Numex AI (numexai.com) and want to know if and how you can get your money back, call +49 30 885 9770 or request a call back from an attorney specializing in investment fraud. You will receive a free evaluation of your case.