WiseWealth: Serious or investment fraud?
13.10.2023
In a world of financial uncertainty, many people seek ways to invest their money wisely. However, not all platforms offering enticing opportunities are legitimate. WiseWealth, a seemingly promising investment opportunity at WiseWealth.ai, has recently made headlines, and unfortunately, investors' experiences have been anything but positive. In this article, we will shed light on the dark side of WiseWealth and show you where to find help if you have fallen victim to this scam.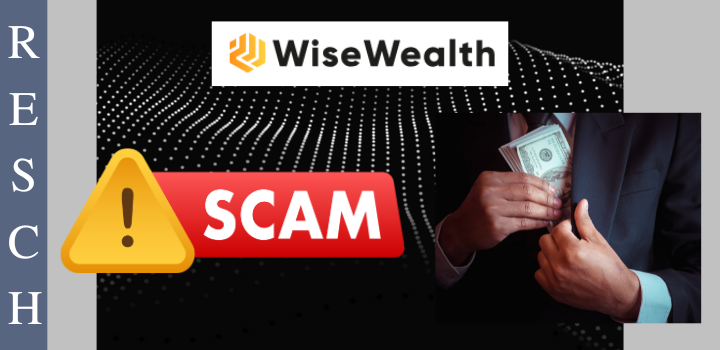 WiseWealth: Background and FMA Warning
On August 21, 2023, the domain WiseWealth.ai was registered with NameSilo LLC. But what immediately catches the eye is the anonymization of the domain information by PrivacyGuardian.org LLC. This raises some questions. Even more alarming is the warning issued by the Austrian Financial Market Authority FMA on September 29, 2023. The reason for the warning is more than serious: WiseWealth has no authorization for banking activities requiring a license in Austria.

WiseWealth: Misleading Description
WiseWealth describes itself as a "market-leading provider of online brokerage services," which sounds promising at first glance. However, don't be fooled by these words. The reality is different.

Questionable Contact Information on WiseWealth.ai
It is difficult to find the operating company of WiseWealth as it is not officially registered anywhere. The given address of the premises at 7 Park Ln Street, Stockport, Cheshire is at best a shell company and the operator is not physically present there. The contact details provided, support@WiseWealth.ai and +44 2080973873, are there, but there is no imprint or useful legal notice on the website.

WiseWealth: No Security
WiseWealth's business is completely unregulated and they have no legal accounts with established banks. This means that your investments have no collateral whatsoever.

Negative experiences with WiseWealth.ai and pressure on investors
Discussions and experiences about WiseWealth on popular forums and social media have been consistently negative. Many investors were put under great pressure to invest quickly and were emotionally urged to make further deposits.

Chainalysis and Resch Attorneys: To your rescue
There is hope for the victims of WiseWealth. The renowned law firm Resch Rechtsanwälte is ready to help you in this difficult situation. They are partners of the American blockchain analysis company Chainalysis, which trained our research team on the investigation software Chainalysis Reactor. This software allows for the tracking and tracing of virtual currencies such as Bitcoin and can help you locate your lost funds.

WiseWealth (WiseWealth.ai) Questions and Answers
Question: What can I do if I am a victim of WiseWealth?
Answer: Immediately contact Resch Attorneys, who work with Chainalysis, to locate your lost funds and take legal action.
Question: How can I protect myself from these scams?
Answer: Although this article does not deal with preventive measures, it is always advisable to think critically before investing your money in an unknown platform.

Conclusion about WiseWealth (WiseWealth.ai)
WiseWealth turns out to be a questionable platform that brings nothing but losses to investors. If you have already fallen victim to this scam, do not hesitate to contact Resch Rechtsanwälte GmbH. Your cooperation with Chainalysis could be the key to recovering your lost funds. Stay vigilant and informed to protect yourself from such dangerous scams.

RESCH Rechtsanwälte GmbH - Experience in investor protection since 1986
If you have been a victim of WiseWealth (WiseWealth.ai) and want to know if and how you can get your money back, call +49 30 885 9770 or ask a lawyer specialized in investment fraud to call you back. You will receive a free evaluation of your case.