Broker Blacklist - Warning about dubious trading platforms
21.07.2022
Is there a blacklist for fraudulent online brokers? Where are the warnings against dubious trading platforms? Not only the German BaFin has a blacklist of warnings against fraudulent brokers. The Austrian FMA and the Swiss FIMNA also have a blacklist with warnings against fraudulent brokers and dubious trading platforms. In addition, there are numerous other warning lists, which in many cases warn against fraudulent brokers faster and more up-to-date than the state supervisory authorities. But warnings alone do not help. How do defrauded investors get their money back?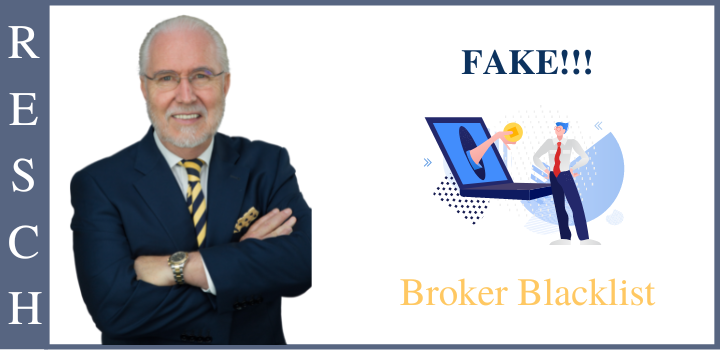 Broker blacklist: Are there problems with a broker?
The broker does not pay out! Even though all fees, taxes, and securities have been paid. This is the moment of awakening for the defrauded investor. Only now do many investors go to the Internet and look for a blacklist of fraudulent brokers. And on the Internet, numerous blacklists are warning against dubious platforms.
Blacklist brokers: Warnings from regulators
By the time state supervisory authorities, such as the German BaFin, the FMA, the finma or even the British FCA, the Italian CONSOB, or the Spanish CNMV, warn against fraudulent brokers, it is often too late. By then, many investors have already become victims of the respective dubious trading platform. This is like things because as long as everything is going well, no one will inform the supervisory authorities. And from the supervisory authorities, the deceived investor can expect also no assistance. They only warn.
Blacklist brokers: What other warning lists are there?
If the defrauded investors enter the search term "investment fraud warning list", they will immediately come across the three most important warning lists, namely the European and international warning lists of the Schutzgemeinschaft für geschädigte Kapitalanleger (SGK e.V.). The SGK also has its section with "Warnings" of fraudulent online brokers, which warns of the dubious trading platforms almost in real-time. Finanztest also maintains a warning list Geldanlage, which is clicked on by many aggrieved investors. But also the investor protection law firm RESCH Rechtsanwälte keeps an up-to-date warning list of investment fraud cases, which is updated several times a day.

Black list brokers: Who helps with investment fraud?
If investors now know from the above-mentioned warning lists that they have fallen for fraudulent brokers, then they ask themselves: What can be done? What help is available in case of investment fraud?
And the most important question is: How do I get my money back? Filing a criminal complaint at the nearest police station will not help. A criminal complaint primarily serves the purpose of prosecution, but not to recover the money.
RESCH Attorneys at Law - Experience in Investor Protection since 1986
If you have become a victim of fraudulent brokers or dubious trading platforms and want to know if and how you can get your money back, call +49 30 885 9770 or fill out the questionnaire. You will receive a free assessment of your case.