MiningFxTrades? MiningFxHub? Mining Fx Hub? Either way, it is an online investment scam!
28.09.2023
In the multifaceted world of digital investments, unfortunately, more and more dubious platforms are appearing, luring innocent investors into their traps with the promise of attractive returns. Amid this deceptive scene, it is essential to conduct a thorough investigation to protect potential investors from the impending financial abyss. Below we present the fruits of an intensive investigation regarding the platform MiningFxTrades / MiningFxHub, also known as Mining Fx Hub (spelled apart), which is targeting victims with the domain miningfx-hub.com. Have you already had experience with this platform and it was more bad than good? Then you should read on because the capital invested there does not always have to remain lost forever.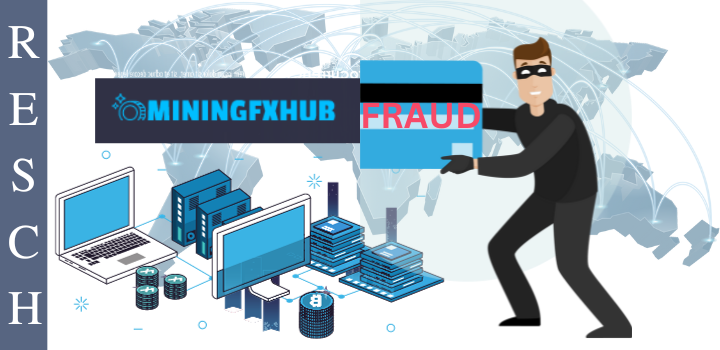 Analysis of the site and business practices
Our in-house research experts were able to gather significant information about the MiningFxTrades/MiningFxHub platform. At first glance, the miningfx-hub.com website appears very professional, with a carefully designed offer and the promise of personalized support from brokers who seem to promise lucrative returns. However, beneath this shiny surface lies a perfidious production where not a single cent of the invested capital is invested. Instead, the financial resources go directly into the pockets of the criminal actors, who in reality do not engage in any trading activities (trades). This is a tragic play whose reality consists only of illusion and deception.

Questionable anonymity and several inconsistencies
The website not only lacks an imprint, which makes it difficult to identify the responsible actors for quite some time but also reveals an opaque domain registration. This was registered on 02.02.2023 with OwnRegistrar, Inc. while the real owners hide behind a common anonymization service. This registration date does not match the information on the website, which claims - quite blatantly, in the manner of a scammer - that the company has existed since 2010. In addition: The phone numbers with US prefixes (+1 2133406575 and +1 3234511489), as well as the incomplete addresses in Nottingham (31 Beeston Road, Nottingham, and 49 Bridgeway Centre, Nottingham), do not provide any substantial clues as to the actual operators. Furthermore, our research department was able to prove that there are no registered companies with the name MiningFxTrades/MiningFxHub at these locations.

Ambiguous operator information and prospects
As our investigation progressed, we found significant inconsistencies in the operator information. Although the website initially mentions Zolarex Ltd (alleged address: Trust Company Complex, Ajeltake Island, Majuro, Marshall Islands) as the operating company, this appears to be a clear case of misrepresentation, as the said company was canceled on April 28, 2021, long before the platform went live. Moreover, elsewhere a British company called PFO AD Ltd. is named as operator, which raises further questions. Nevertheless, thanks to advanced research methods, our investigation team has managed to gather significant clues about the real operators. It seems to be only a matter of time before regulatory bodies such as the German BaFin, the Austrian FMA, or the Swiss FINMA will scrutinize the activities of MiningFxTrades/MiningFxHub and warn about the criminal actions.

Conclusion: This platform does not make a serious impression, better not invest here!
In light of the available evidence, it is clear that the MiningFxTrades / MiningFxHub platform is a well-orchestrated scam designed to rob unsuspecting investors of their hard-earned money. Our thorough investigation not only uncovered the misleading promises and inconsistencies in the operator's information but also revealed significant signs of a planned fraud operation. At this critical juncture, it is of the utmost importance to raise awareness and warn potential investors about the fraudulent schemes of this platform. We remain fully committed to continuing our investigation to expose the true perpetrators and promote just action.

For those who have already fallen for the scammers, don't give up! We are here for you!
In today's era of digital transformation, it is unfortunately all too common for unsuspecting investors to fall prey to online fraudsters. Amid this threatening landscape, we at Resch Rechtsanwälte GmbH strive to be a strong and experienced partner should you be affected by such fraudulent maneuvers. Below you will find the key points of our services and our firm commitment to helping you in your fight against online investment fraud.

Resch Rechtsanwälte GmbH: Your protection against online investment fraud since 1986
In these critical times, when online fraud is dramatically on the rise, it is of the utmost importance to know that you have a reliable partner on your side. At Resch Rechtsanwälte, we are proud to have been a bastion of trust and help for victims of investment fraud since 1986. With a wealth of experience, we can offer you not only hope but proven and effective solutions to save your investments.

Specialized technology: Your fortress against fraud
In an era of widespread digitalization, the implementation of specialized technologies is a necessity. Our use of avant-garde forensic tools, including Chainalysis, a leading blockchain analysis software, positions us as an expert partner in the detection and analysis of complex financial transactions. Whether your funds are invested in traditional banks or cryptocurrencies, our experts are ready to help you trace your investments.

Legal expertise and a dedicated team: Your path to justice
Recovering your money is just the beginning. Fighting online investment fraud requires a team with legal acumen and skilled investigators who understand every nuance of fraudulent schemes. At Resch Rechtsanwälte, we ensure that every phase of the case is handled by professionals who specialize in fighting online investment fraud.

You are not alone in this challenge
We want to assure you that you are not alone in this stressful time. Our proven team of legal professionals, IT experts, and a tireless investigative team is always ready to provide you with a personalized analysis of your situation, free of charge and without obligation. If you are concerned that you have been a victim of fraud, please do not hesitate to contact us. Together, we will strive to achieve the optimal result for you.

Conclusion: We will get to work on your case immediately!
At a time when online fraud is reaching a worrying peak, Resch Rechtsanwälte GmbH is ready to help those affected. Our multidisciplinary team, equipped with cutting-edge technology (we partner with Chainalysis, the world's leading cryptocurrency blockchain tracking tool) and legal expertise, works tirelessly to pave the way to justice for you. Contact us today at +49 (0)30 8859770 or via our online contact formfor a comprehensive, no-obligation evaluation of your case. In these challenging times, we are your trusted partner by your side.