Warrington Shaw - FMA warning from Vienna
Is the Republic of Taiwan really the center of the investment fraud that the Austrian Financial Market Authority is warning about? It is in the nature of things that such authority warnings first give the generally known address, regardless of the correctness. Apparently, there is a network of brokers in Taiwan created by investment fraudsters. The criminals use this network to contact customers worldwide. In addition, they have access to accounts of renowned banks in Hong Kong, which are indispensable for the investment fraud. Many defrauded investors now want to know where they can get help with investment fraud? What to do in case of anal fraud?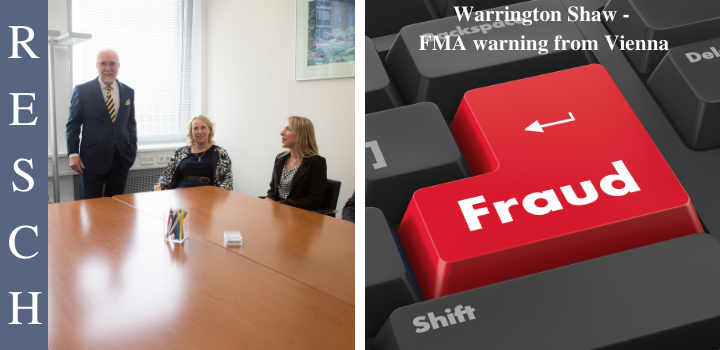 Warrington Shaw: Can investment fraudsters be identified in advance?
For very experienced investors, yes, but they were not targeted by the fraudsters allegedly operating out of Taiwan. It is the still unsuspecting newcomers who are often too easily manipulated. The well-sounding and thus confidence-inspiring company names only initiate the manipulation. The following calls were made by native English speakers without accent. The investment scammers presented themselves with very good and also current knowledge of the capital market. Everything that followed followed the classic pattern of investment fraud, demanding higher and higher stakes from the investors. The investment fraudsters also succeeded in finding victims for their investment fraud in Germany, Switzerland and Austria. The warning of the Austrian FMA seems to be logical. If one correctly classifies the modus operandi of Warrington Shaw, it joins the numerous cases of investment fraud in the Far East.
Warrington Shaw: The Money Trails Can Be Traced to Hong Kong
Initially, the investment fraudsters pretended to their victims that they had exclusive and particularly favorable as well as coveted share packages of world-famous companies at their disposal. It is understandable that many did not want to miss this favorable opportunity.
They were not even suspicious when they were asked to transfer the money for the share packages to accounts of HSBC and Bank of China in Hong Kong, instead of Taiwan. Thus, the center of investment fraud shifts from Taiwan to Hong Kong. What an evil game the investment scammers were playing, the victims realized much too late after they were persuaded to make more and more transfers.
Warrington Shaw: In reality not a broker
On Warrington Shaw's website, instead of facts, only fictions are reproduced. One of the fictions is that Warrington Shaw is a broker. This is just as invented as the alleged company address in Taiwan's capital Taipei. Taiwan was chosen by the investment fraudsters presumably because it has the reputation of being a solid country, with a stable economy and an efficient administration, i.e. a rather unfavorable place for criminal actions. At the same time, for the same reasons, it is a perfect camouflage if you are not there. There are some plausible guesses as to where the investment fraudsters are. Taiwan, however, is certainly not.
Other cases of investment fraud have been committed by the companies listed here, supposedly registered in Taiwan:
Royston Carr Asset Management Tel: +886 2 7703 4447, +886 2 7703 4448
Ward Henderson Management Tel: +886 2 7703 1285, +886 2 7705 4492
Findlay Nicolson Tel: +886 2 7705 3141, +886 2 7705 3142
Ryland Sandford Consultants Tel: +886 2 7737 4431, +886 2 7737 4434
Lewis Bentley Group Tel: +886 2 7737 4438, +886 2 7737 4443
Brook Dawson Alliance Tel: +886 2 7737 4491, +886 2 7741 4670
Gentry Wilson Partners Tel: +886 2 7737 4732, +886 2 7737 4733
Ellis Marshall Global Tel: +886 2 7737 4738, +886 2 7737 4739
Radford Taylor Partners Tel: +886 2 7741 4861, +886 2 7741 4862
Benidict Hoffman Tel: +886 2 7741 4876, +886 2 7741 4877
Townsend Cole Group Tel: +886 2 7741 7926, +886 2 7737 4491
Everitt Lawson Group Tel: +886 2 7741 7927, +886 2 7741 7928
Just by looking at the blocks of digits in the phone numbers, you can see a connection.

Warrington Shaw: Criminal action against the investment fraudsters
Where can those affected by investment fraud get support and help? Victims are in good hands with attorneys who specialize in investment fraud. These always act in parallel in two fields of action. The first field is the criminal one. In order to quickly initiate the criminal prosecution of the investment fraud on a national and international level, a routine approach is required. For this purpose, the criminal facts must be thoroughly recorded and prepared. The best way to do this is to provide the prosecution with ready-made indictments.
Warrington Shaw: Tracking and tracing funds
The second area involves the timely and targeted tracking of money and its unrelenting pursuit. It is beyond the scope of this paper to describe the complex methods in more detail here. To summarize briefly: If banks have failed to follow up on their obligations to stop money laundering and other illegal banking activities, they can certainly be persuaded to cooperate. Lawyers who regularly deal with investment fraud are familiar with the customs of cooperating with internationally established financial institutions. This makes it easier to enforce the application of applicable laws in the prosecution of investment fraud.
RESCH Attorneys at Law - Experience in investor protection since 1986
Are you a victim of the alleged investment fraudsters from Taiwan? Do you want to know if and how you can get your money back? Then fill out the contact form or call +49 30 885 9770 and you will receive a free assessment of your case.