Everitt Lawson Group - Investment Fraud Warning
Taiwan seems to be the center of an investment scam. Is the Everitt Lawson Group one of them? The Austrian FMA warns against four companies that seem to operate from Taiwan and commit a large-scale investment fraud. The Everitt Lawson Group is not warned about directly, but almost everything indicates that it belongs to a group of companies of investment fraudsters, all of which claim to be based in Taiwan. Customers worldwide are being called from the numbers +886 2 7703 1285, +886 2 7705 4492 and +886 2 7705 4493. However, the accounts of these investment scammers operating out of Taiwan are located in Hong Kong. Victims wonder if there is any help for investment fraud. They also wonder: what to do in case of investment fraud?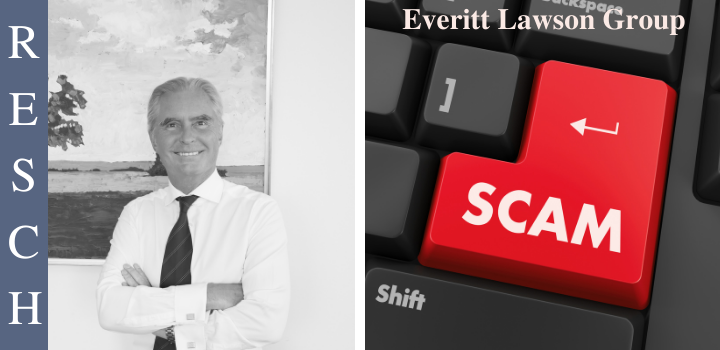 Everitt Lawson Group: further results of researches
Everitt Lawson Group is just one of at least 14 related companies the Taiwan Connection, whose web domains are all registered with the same provider. There are countless of these Taiwanese investment advisors with names such as Tony Lawson, Andrew Powell, Jeremy T. Blythe, Thomas Kemp, David Harper, Jonathan Lyons, Charles Murphy, Jonathan Chapman, Harry Hoffer and Jonathan Gilbert. All of these "investment advisors" are not registered in Taiwan. All of the investment fraud accounts are with Bank of China or HSBC. They belong to the dozens of Hong Kong-based trading firms set up specifically for this purpose.
Everitt Lawson Group: how to expose investment scammers?
The investment scammers are characterized by professionalism, clear pronunciation, education, very good manners and compassion. Every concern of the client is understood. Each offer is followed by a candid line, such as "If you don't feel comfortable doing it, don't do it." Before that, however, feelings of urgency are created and exclusivity and once-in-a-lifetime opportunity are emphasized. Plausible reasons are given as to why new customers are included. Attention is diverted away from risks and toward securities. Attention is diverted from the current to the connection opportunities in the future. Long-term cooperation is emphasized and trust is implied. The psychologically trained callers of Everitt Lawson Group impress the interested parties with good knowledge and current references to the financial market. Even a lawyer specialized in this criminal trading must know the psychological tricks of investment fraud.
Everitt Lawson Group: This is how it works
The cold call begins with a surprise call to a Taiwanese number, mentioning the neatly laid out Everitt Lawson Group website.
As a reference, the caller refers to reports from well-known news formats. More on this below. The investment scammers avoid names and faces in their web presence, in addition they are kept absolutely impersonal. Besides, promotions with companies in Hong Kong are offered, but using false addresses.Before the deal, the called people go through a so-called yes-question street, which results in the positive investment decision.
Everitt Lawson Group: Fake News
In order to dispel any doubts that may arise, the caller asks to Google Everitt Lawson Group along with Wall Street Journal, Forbes and other renowned business publications. In doing so, articles featuring Everitt Lawson Group do indeed appear. These are not editorial, but only what appear to be self-penned, paid articles, all recent. Only Forbes is serious enough and refrains from publishing purchased articles. There the investment fraudsters resorted to an elaborate as well as drastic method. The meanwhile no longer accessible domain forbes-focus[dot]com faked the original completely and linked every single article on forbes.com, except the reports about Everitt Lawson Group. This reveals a lot about the high criminal energy of the investment fraudsters.
Everitt Lawson Group: Also active in German-speaking countries
Using the well-known investment fraud scheme, the perpetrators succeed in persuading the victims to place ever higher stakes. The German-speaking region was not spared either. The perpetrators practiced the investment fraud in Germany, Switzerland and Austria. There is no doubt that these are investment fraud cases, even though the Austrian FMA does not specifically warn against the Everitt Lawson Group.
Everitt Lawson Group: The money goes to Hong Kong
First, the investment fraudsters of the Everitt Lawson Group deceive the victims into believing that they can offer exclusive share packages of global companies at favorable conditions. And at this point the alleged investment fraud Taiwan becomes the actual investment fraud Hong Kong, because the purchase price for share package must be transferred to accounts of HSBC or Bank of China in Hong Kong. After one or more investments of this kind, investors want to collect their profits. Only then, much too late, do they slowly realize that they have fallen for a veritable investment fraud.
Everitt Lawson Group: It is not a broker
What is Everitt Lawson Group then? Since there is no company named Everitt Lawson Group in Taiwan at the given address, it is factually non-existent. Thus, Everitt Lawson Group is nothing more than a website with a fake address that serves as a cover for investment scammers. At the moment, there is only conjecture as to where exactly the investment scammers are. The only certainty seems to be that it is not Taiwan.
Numerous other bogus companies can be attributed to the Taiwan investment fraud complex. These include:
Ward Henderson Management Tel: +886 2 7703 1285, +886 2 7705 4492
Royston Carr Asset Management Tel: +886 2 7703 4447, +886 2 7703 4448
Warrington Shaw Tel: +886 2 7703 4449, +886 2 7703 4450
Findlay Nicolson Tel: +886 2 7705 3141, +886 2 7705 3142
Ryland Sandford Consultants Tel: +886 2 7737 4431, +886 2 7737 4434
Irvine Humphries Global Tel: +886 2 7737 4437, +886 2 7737 4446
Lewis Bentley Group Tel: +886 2 7737 4438, +886 2 7737 4443
Gentry Wilson Partners Tel: +886 2 7737 4732, +886 2 7737 4733
Ellis Marshall Global Tel: +886 2 7737 4738, +886 2 7737 4739
Brook Dawson Alliance Tel: +886 2 7737 4491, +886 2 7741 4670
Radford Taylor Partners Tel: +886 2 7741 4861, +886 2 7741 4862
Benidict Hoffman Tel: +886 2 7741 4876, +886 2 7741 4877
Everitt Lawson Group Tel: +886 2 7741 7927, +886 2 7741 7928
Townsend Cole Group Tel: +886 2 7741 7926, +886 2 7737 4491
Just by skimming the phone numbers, it is clear that they form related groups.
Everitt Lawson Group: What can the investor expect?
At this point, there is the question of help with investment fraud. Injured parties can get this from an investment fraud attorney who is able to pursue criminal action and tracing the funds in parallel. On the one hand, he has to initiate criminal proceedings on a national and international level. To do this, the lawyer has to work through the facts of the case in terms of criminal law. This works best when the public prosecutors, who are chronically pressed for time, receive a completed indictment.
Everitt Lawson Group: Tracking the money
Second, the money must be found and tracked. The question is often asked, how does that work? To describe that in detail is beyond the scope. Many people do not know that banks have well-defined obligations if they suspect money laundering or other illegal transactions. An experienced investment fraud lawyer not only knows the international legal basis for investigating investment fraud cases, but is also familiar with the practices of reputable financial institutions in order to secure their willingness to cooperate.
RESCH Rechtsanwälte - Experience in investor protection since 1986
Are you a victim of the alleged investment fraudsters from Taiwan? Do you want to know if and how you can get your money back? Then fill out the questionnaire or call +49 30 885 9770 and you will receive a free assessment of your case.