Lewis Bentley Group - Investment fraud in the Wild East
Lewis Bentley Group presents itself as a fiduciary agency for individual investors and says about itself that it always has its clients' interests at heart. Lewis Bentley Group, they say, is prudent and effective, diligent and thorough, designed to empower individual investors over institutional ones. Unfortunately, the actual experiences of many investors are diametrically opposed to Lewis Bentley Group's professions. What can Lewis Bentley Group investors do to get their money back?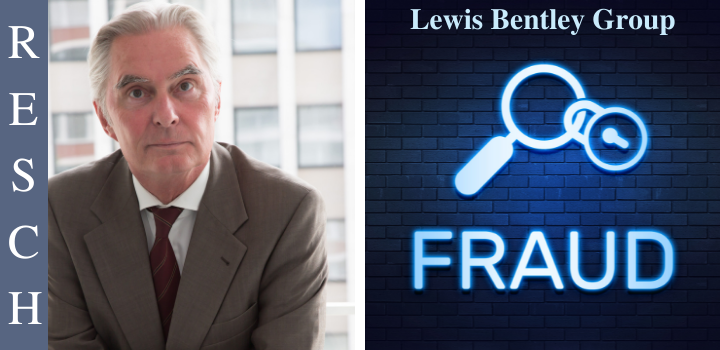 Lewis Bentley Group: Gentry Wilson Partners Taken Over
Actually, we are dealing with two companies at once. There's Lewis Bentley Group on the one hand and Gentry Wilson Partners on the other. There are speculations that Lewis Bentley Group would have taken over Gentry Wilson Partners. We believe that Lewis Bentley Group is the successor company to Gentry Wilson Partners. It is now common for scammers to set up a whole chain of companies that are a little different on the outside, but whose methods of operation are identical.
Lewis Bentley Group: other investment fraud cases
In addition, there are also numerous other cases of investment fraud in Taiwan that can be observed in this context, and not all of them are on the warning lists of the regulatory authorities yet. In addition to Lewis Bentley Group and Gentry Wilson Partners, these include the following swindling companies:
Brook Dawson Alliance
Wallace Williamson
Royston Carr Asset Management
Warrington Shaw
Ward Henderson Management
Townsend Cole Group
Everitt Lawson Group
Radford Taylor Partners
Gentry Wilson Partners
Ellis Marshal Global
Lewis Bentley Group
Findlay Nicholson
Lewis Bentley Group: How to recognize investment fraudsters?
While normal firms usually place a lot of emphasis on transparency and allow for excellent communication options, both verbal and written, criminal firms, such as Lewis Bentley Group or Gentry Wilson Partners, are careful to communicate only by telephone so that the eventual victim has as little in hand as possible when filing a report.
Lewis Bentley Group: similarities with Gentry Wilson Partners
For example, just like Gentry Wilson Partners, Lewis Bentley Group has an address in Taiwan's capital city of Taipei, albeit in a different district. Worryingly, neither of them gives a legal form, which could indicate that they are not registered at all, but are simply letterbox companies. Moreover, the financial sector in Taiwan in particular is very strictly regulated, so Lewis Bentley Group and Gentry Wilson Partners prefer to fly under the radar.
Lewis Bentley Group: Coercion follows persuasion
The modus operandi of Lewis Bentley Group and Gentry Wilson Partners is also identical in the cases we know about. It starts with a surprise call recommending an investment. If the person called agrees to it, he or she is led to believe that the value will grow enormously in a very short time. Now the victim is offered a new, supposedly sensational investment. Then, more and more new stories are invented, which is why more and more money has to be invested in order not to completely lose the investment already made.
Lewis Bentley Group and Gentry Wilson Partners: The way of the money
Moreover, the agents of Lewis Bentley Group and Gentry Wilson Partners additionally require the payments of security deposits, depending on the amount of investments. Both companies never have the money sent to Taiwan in their names. In most cases, the money is sent to accounts in Hong Kong with completely different recipient names, often some kind of limited companies that the fraudsters have set up specifically for this purpose. From there, the money is further transferred to make tracking difficult.
Lewis Bentley Group: file a complaint?
If you have been scammed by Lewis Bentley Group or Gentry Wilson Partners, you can file a police report against the online broker and its backers to increase the investigative pressure on the perpetrators. You won't really get much further in recovering your money in the process, because securing the funds requires much faster action than the authorities are able to take. To recover the money staked at Lewis Bentley Group and Gentry Wilson Partners you will have to use other means.
Lewis Bentley Group: help with investment fraud
All traders harmed by Lewis Bentley Group or Gentry Wilson Partners should take advantage of the knowledge of an attorney specializing in investment fraud who knows ways to trace the path of funds in such global scams. Seek out a specialist attorney first, get your options outlined to you against Lewis Bentley Group and Gentry Wilson Partners, their initiators and helpers. Get certainty from an attorney focused on investment fraud about whether and what options exist for recovering funds from Lewis Bentley Group and Gentry Wilson Partners and how this can be done successfully.
RESCH Rechtsanwälte - Experience in investor protection since 1986
Resch Rechtsanwälte offers traders who have been defrauded of their money by Lewis Bentley Group or Gentry Wilson Partners a free initial assessment of their case. Please fill out the questionnaire or call +49 30 885 97 70.