Zivyard - Experiences: It is undoubtedly investment fraud
29.08.2022
Zivyard gives the impression that investors are granted excellent opportunities to make fast as well as safe money while trading online. At Zivyard, everything is investment fraud. The money has landed right into the pockets of investment scammers. Nothing is traded at Zivyard. Everything the investor sees on his screen is fake. Not a cent has been invested. Can you report similar experiences? What help is there for investment fraud? How does the investor get his money back from dubious providers? What can investors who have been defrauded by Zivyard do?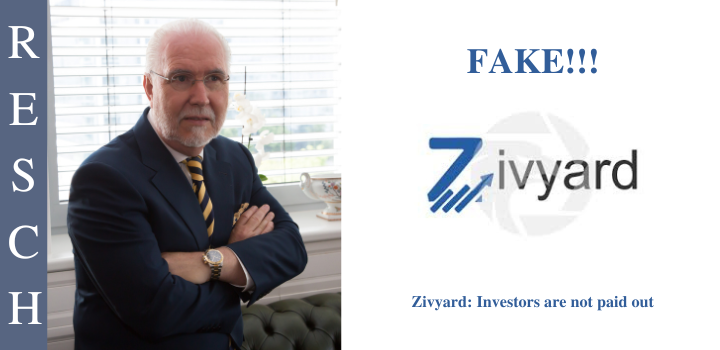 Zivyard: Assurances on the website are groundless and dubious
What are the perplexed investors on the website of Zivyard only made believe? It says: "Investing has never been so easy. Everything you're looking for is on the ultimate investment platform - on your favorite device." And this is just one small example of the implausible promises investors find on Zivyard's website. None of these lofty assurances from Zivyard were delivered. Yet it all seemed very convincing. The unsuspecting investor was barely able to tell that nothing was real. He was being played a game. Not a cent of his money was invested. Everything ended up right in the pockets of the investment scammers. There was no trading. Everything only appearance, no being. And that is why the investor does not get his money paid out. Unfortunately, the disturbing business practices rather make for unhappy investors and miserable experiences!
Zivyard: Domain entry is hidden!
Of course, the investment scammers don't want people to track them down easily. That is why the website did not have a meaningful imprint with the full details and the address of the website's operators. Also, the domain data of the website zivyard.com does not contain any hint of who once registered the site, but only that the registration took place on 10.06.2021 at NameCheap, Inc. and that the real domain owners - quite expectedly for us - hide behind the Icelandic anonymization service Withheld for Privacy ehf based in Reykjavik.
Zivyard: Who is behind it?
Investors will not be able to answer this question. The investment scammers disguise their identity perfectly - almost. This is normal because they regularly operate various websites offering fraudulent business models. In the course of our investigations, the domain zivyard.net still caught our eye, which was registered on 06.01.2022, was also anonymized, and is also no longer accessible.
Zivyard: Who was the operator?
On the zivyard.com website, there was only sparse information about this. In addition to the obligatory support e-mail address Info@zivyard.com, the telephone number +44 1213 14 3345 with a British country code was once listed for potential investors, but this did not allow any conclusions to be drawn about the operators of the platform. The formerly on the web page published, alleged address Trust Company Complex, Ajeltake Road, Ajeltake Iceland, Majuro, MH96960 does not lead further.
Zivyard: Ajeltake Island?
You can safely disregard the further search on this island when looking for the actual platform operators because you will not find them there. Ajeltake is a place of Majuro Atoll, the largest of the Marshall Islands, in the Pacific Ocean, and has well under 2,000 inhabitants. Sounds more like an exotic dream island than a suitable location for a broker empire à la Zivyard, doesn't it? And so it is. If anything, this place functions as a letterbox company. Especially since the named address appears again and again in connection with fraudulent platforms and even with the Panama Papers, not a good sign! Investors' alarm bells should be ringing by now at the latest. A worldwide search for Zivyard in the relevant registers leads to no results. The Zivyard is thus a pure fantasy product. But with our research tools, the Investigations Team has managed to track down the investment fraudsters.
Zivyard: Warnings from regulators
Unsurprisingly, Zivyard's business practices and questionable demeanor have already drawn the attention of the UK's Financial Conduct Authority (FCA). As such, the latter already issued a warning on 05/01/2022, which was updated again on 22/02/2022, here is an excerpt from the published warning: "Zivyard / Zivyard Limited (clone of an FCA-authorized firm) - scammers are using the details of firms we have authorized to convince people that they are working for a genuine, authorized firm. Learn more about this "clone firm". Almost all firms and individuals providing financial services in the UK must be approved or registered by us. This firm is not licensed or registered by us but is targeting people in the UK and claiming to be an authorized firm... The scammers are using or providing the following details as part of their tactics to defraud people in the UK:
Zivyard / Zivyard Limited (clone of an FCA-authorized firm).
Phone: +447537150564, +441213143345
Email: info@zivyard.com
Website: www.zivyard.net, www.zivyard.com"
Zivyard: Scheme of investment fraud
Investment fraud constantly follows the familiar pattern: investors get in with a small sum - usually 250 euros - and quickly experience how this amount multiplies so that they are ready to "invest" higher and higher sums. The problems show up every time investors want to have their money paid out, because then, ostensibly, taxes, commissions, fees, or whatever have to be paid first. Many investors realize far too late that they have fallen for investment scams that never intended to pay out the money again.
Zivyard: What help is available for investment fraud?
How to act in case of investment fraud, many investors ask themselves, because criminal charges hardly make sense, since criminal charges primarily serve the prosecution, but not the recovery of the money. What kind of help is available in case of investment fraud and how do affect investors get their money back? The lawyer specializing in investment fraud knows how to follow the money trail, because as it used to be said, money is not gone, but unfortunately somewhere else. Today one can add: It is tricky, but with the appropriate tools it is possible to track money digitally regularly - even if it was deposited with Bitcoin via a crypto exchanger.
RESCH Attorneys at Law - Experience in investor protection since 1986
If you have been a victim of Zivyard and want to know if and how you can get your money back, call +49 30 885 9770 or fill out the questionnaire. You will receive a free assessment of your case.