Zenith Investment - investors are ripped off
22.02.2023
Zenith Investment pretends that investors are offered fantastic opportunities to make both fast and safe money while trading online. At Zenith Investment, everything is investment fraud. Everything the investor sees on his screen is fake. Not a penny has been invested. The money has gone straight into the pockets of the investment scammers. Nothing is traded on zenith-invests.com. Have you had similar experiences? What help is there for investment fraud? How can investors get their money back from dubious providers? What can investors do who have been defrauded by Zenith Investment?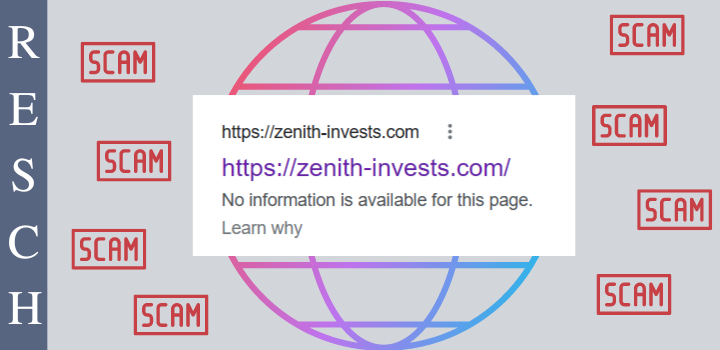 Zenith Investment Partners: Domain entry is hidden!
Of course, the investment scammers do not want people to track them down easily. That is why the website does not have an imprint with the full details and the address of the website operators. Also, the domain data of the website zenith-invests.com does not contain any hint of who once registered the site, but only that the registration took place on 02.02.2022 at CloudFlare, Inc., with Russia as the country of registration, and the real domain owners - quite expectedly - hiding behind an anonymization service.
Zenith Investment Partners: Who is behind it?
Investors will not be able to answer this question. The investment scammers disguise their identity perfectly - almost. This is normal because they regularly operate various websites where they offer their fraudulent business model. For example, the Capital Group (capital-group.ltd) site caught our eye in the course of our research, offering potential investors the same content as Zenith Investment Partners, which is discussed here. Capital Group was registered on 12.07.2022 with Hosting Ukraine, LLC, also anonymously, of course, but Ukraine was entered as the country of registration here.
Zenith Investment: Who is the operator of this construct?
On the website of Zenith Investment Partners, there is only sparse information about this. In addition to the obligatory e-mail address support@zenith-invests.com, the contact telephone number +44 2045258777 with a British country code is listed, but this does not allow any conclusions to be drawn about the operators of the platform. The address is Suite 305, Griffith Corporate Centre, Beachmont, Kingstown, St. Vincent, and the Grenadines. Not only are we already familiar with the Griffith Corporate Centre, a well-known provider of virtual offices, but it is also located in a region that is very popular with offshore companies due to its lax legislation.
Zenith Investment: Worldwide searches
A worldwide search for Zenith Investment Partners in the relevant registers yields no results. Zenith Investment Partners is a fantasy product, even if the platform operators would like to make us believe that they are registered in the Commercial Register of St. Vincent and the Grenadines under the number 1873 LLC 2022. Incidentally, the same information was provided on the site by Capital Group. And - how could it be otherwise - this number is not correct either, such a company does not exist in the Commercial Register of St. Vincent and the Grenadines either. We have checked this. But with our research tools, our Investigations Team managed to track down the investment fraudsters.
Zenith Investment: Scheme of Investment Fraud
The investment fraud plays out unmistakably according to the recurring scheme: investors initially put in a small sum - usually 250 euros - are impressed by how quickly this amount multiplies, so much so that they are ready to "invest" higher and higher sums. The trouble starts when investors want to have their money paid out, because now suddenly taxes, commissions, fees, or whatever have to be paid. Many investors see through much too delayed that they sat down an investment fraud and never the intention existed to disburse the money again.

Zenith Investment: What help is there for investment fraud?
Many angry investors ask themselves how to act in the case of investment fraud because a criminal complaint hardly makes sense since these serve primarily the prosecution and not the recovery of the money. What help can be used in cases of investment fraud and how do defraud investors get their money back? A lawyer specializing in investment fraud knows how to track the money, because as they used to say, money is not gone, but unfortunately somewhere else. Nowadays, it can be added: It is not easy, but with the proper tools it is possible to track money digitally regularly - even if it was deposited with Bitcoin through a Crypto Exchanger.
RESCH Rechtsanwälte GmbH - Experience in investor protection since 1986
If you have been a victim of Zenith Investment and want to know if and how you can get your money back, call +49 30 885 9770 or fill out the questionnaire. You will receive a free assessment of your case.