Yellow Spoon Capital - Warning of the Swiss Financial Market Supervisory Authority
27.03.2023
Yellow Spoon Capital claims to offer investors the very best opportunities to make both fast and safe money through high-quality investments in blockchain projects. Everything at Yellow Spoon Capital is investment fraud. Nothing has been invested. Nothing is traded on yellowspoon.vc. Everything the investor sees on his screen is deception. The money has gone straight into the pockets of the investment scammers. Can you tell me about similar experiences? What help is there for investment fraud? How can investors get their money back from dubious providers? What can investors do who have been scammed by Yellow Spoon Capital?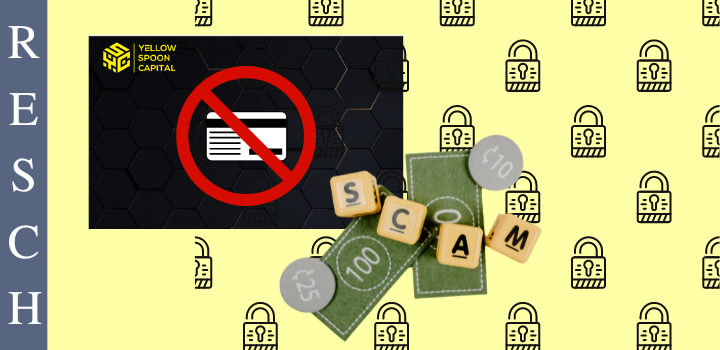 Yellow Spoon Capital: Promises on yellowspoon.vc are exaggerated and dubious!
What are the perplexed visitors on yellowspoon.is vc being served up? "Yellow Spoon Capital is a venture capital firm that provides blockchain startups with capital, technology, operations, and marketing to guide them to long-term organic growth." That's just one small example of the implausible assurances prospective investors can find on Yellow Spoon Capital's website. None of these given assurances by Yellow Spoon Capital have been kept. Unfortunately, the troubling business practices tend to make for disappointed investors and miserable experiences!
Yellow Spoon Capital: Who is behind it?
Very many investors will have a hard time answering this question because the Yellow Spoon Capital makers do everything they can to conceal the true circumstances. This is certainly nothing out of the ordinary because scammers often run several of these websites with the same fraudulent business model. They are produced non-stop, quickly put online and just as quickly taken offline again, plus the top-level domain is changed again and again to fool financial regulators and law enforcement agencies. For the platform yellowspoon.vc there is nevertheless a warning from the Swiss Financial Supervisory Authority (finma) since 20.01.2023.
But who is the operator of Yellow Spoon Capital?
On the website of Yellow Spoon Capital, there is hardly any useful information in this regard. At least the company Yellow Spoon Capital, conspicuously without a legal form, is indicated with the business address Rue de Bourg 15, 1003 Lausanne, there the creators of Yellow Spoon Capital are not to be found however, finally, it concerns only a dummy address. Besides, there is still the E-Mail address contact@yellowspoon.vc, however, is no telephone number. The Domain yellowspoon.vc was registered on 03.01.2022 with OHV.
Yellow Spoon Capital: Scheme of the investment fraud
Investment fraud always plays out according to the same scheme: investors initially put in a small sum - usually 250 euros - and quickly experience how this amount increases, so that they are ready to "invest" higher and higher sums. The annoyance takes its course, as soon as investors want to have their money paid out, because then flimsily at once taxes, commissions, fees, or whatever must be paid. Much too delayed many investors notice that they fell for an investment fraud with yellowspoon.vc and never the intention existed to disburse the money again.

Yellow Spoon Capital: What help is available in case of investment fraud?
Many affected investors wonder how to act in the case of investment fraud, because a criminal complaint makes little sense, since such serves the prosecution and not the recovery of the money. What help can be used in investment fraud cases and how do investors get their money back? A lawyer specializing in investment fraud must know how to track the money because as they used to say, money is never gone, but somewhere else. Now you can add: It is difficult, but with the proper tools it is possible to track money digitally regularly - even if it was deposited with Bitcoin through a Crypto Exchanger.
RESCH Rechtsanwälte GmbH - Experience in investor protection since 1986
If you have been a victim of Yellow Spoon Capital and want to know if and how you can get your money back, call +49 30 885 9770 or fill out the questionnaire. You will receive a free assessment of your case.