Webull Investing - BaFin warned against
05.05.2023
Webull Investing pretends that the investor is offered the best possible conditions to make money with their trading app as fast as it is safe. But everything at Webull Investing is investment fraud. Nothing is traded on webullinvesting.com. Not a penny has been invested. The money has landed right in the pockets of the investment scammers. Everything that the investor sees on his screen serves to deceive investors. Have you had similar experiences? What help is there for investment fraud? How does the investor get his money back from dubious providers? What can investors do who have been defrauded by Webull Investing?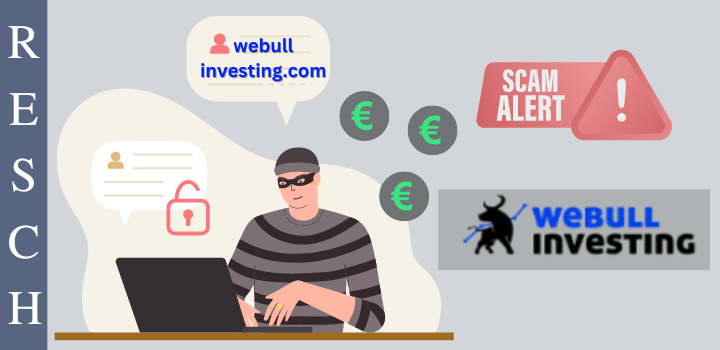 Webullinvesting.com: Promises are untrustworthy and unserious
What do the perplexed prospective investors have to receive on the website of Webull Investing? The webullinvesting.com website initially makes a serious impression. In addition, there is a direct approach, supposedly interesting offers as well as the reference to support by brokers, which is supposed to lead to a convincing return and profits. All this seems very convincing. As an unsuspecting investor, you are not able to recognize that a play is being played for you and that not a cent of your money is being invested. Instead, it ends up directly in the pockets of the perpetrators, who do not trade with the investors' money either. The criminal business practices provide only bad experiences and shocked investors!
Webull Investing: Who is behind it?
Webull Investing does not contain a revealing imprint, which should prevent the perpetrators from being too easy to identify. Also, the domain data of the website webullinvesting.com does not contain any hint of who once registered it, but only that the registration took place on 07.10.2022 at NameCheap, Inc. and that the real domain owners - quite expectedly for us - hide behind an Icelandic anonymization service called Withheld for Privacy ehf based in Reykjavik.
Webull Investing: More platforms for the scammers
In this context, it is important to note that the perpetrators often operate various websites on which they offer their fraudulent business model. For example, we were able to identify links to other platforms, such as DBS Investing (dbsinvesting.com), InvestingCiti (investingciti.com), WTB Investing (wtbinvesting.com) or EjInvesting (ejinvesting.com), which cannot be dismissed out of hand. All of them come from the same platform.
But who is the operator of Webull Investing?
In addition to the e-mail address support@webullinvesting.com, investors are offered the British telephone number +44 2080971126. Besides on webullinvesting.com with a multiplicity of addresses one handles:
30 St Mary Axe, EC3A8BF London,
The London Stock Exchange, 10 Paternoster Square, EC4M7LS London
921 Main St. Antioch, IL 60002-1510
However, there are inconsistencies with these addresses.
Webull Investing: Incorrect address information
The first address mentioned is supposed to represent a branch office in the UK, which seems plausible. But the second address is supposed to represent the branch office in Germany, but it is an address in London. The last address is supposed to be the branch in France - this doesn't fit either, it is an address in the USA. Not surprisingly, we could not find any traces of a company named Webull Investing at any of the addresses.
Webull Investing: International searches
The worldwide search for Webull Investing in the relevant registers leads to no results. Webull Investing is a fantasy product. However, we were able to find the apparent operating company of DBS Investing named Halebore Limited in the commercial register of the United Kingdom. The company registration number is 13457448, this company was registered on 15.06.2021. The business capital amounts to only one British pound.
Webull Investing: Further inconsistencies
It is also noticeable that the address in the register does not match the one on the website. What is correct, and why does the fine print of Webull Investing always refer to Seychelles law, when the operating company is supposed to be based in the United Kingdom? Doesn't sound to us like a serious trading empire that relies on transparency, but rather a dubious dummy company that tries by all means to disguise the way to it. The managing director of Halebore Limited is said to be the Bulgarian Kiril Angelov Genov. With the help of our research tools, our investigation team succeeded in tracking down investment fraudsters.
Webull Investing: In the Sights of the financial regulator
Unsurprisingly, Halebore Limited - we remember, it is ostensibly the Webull Investing operating company - has already come under the scrutiny of the German Federal Financial Supervisory Authority (BaFin) several times with its business practices and questionable appearance. Most recently, the latter issued a warning in this matter on April 19, 2023. Again and again, the activities of other fraud platforms, such as WTB Investing or InvestingCiti, stand out in this context. It is probably only a matter of time before other financial regulators also take notice.
Webull Investing: Investment fraud scheme
The investment fraud plays out according to the same scheme: investors get in with a small sum - usually 250 euros - and quickly experience how this amount multiplies, so that they are ready to "invest" higher and higher sums. The quarrels open up every time an investor wants to have his money paid out, because now ostensibly at once taxes, commissions, fees, or anything else must be paid. Much too delayed, many investors discover that they have fallen for investment fraud and that there was never any intention to pay out the money again.
Webull Investing: What help is there for investment fraud?
What to do in case of investment fraud, many desperate investors ask themselves, since filing a criminal complaint hardly makes sense, because criminal complaints mainly serve the purpose of criminal prosecution, but not the recovery of the money. What kind of help can one hope for in investment fraud cases and how do investors get their money back? The lawyer specializing in investment fraud must know how to trace the money because as it used to be said, money is not gone, but unfortunately somewhere else. Nowadays one can add: It is difficult, but with the proper tools it is possible to track money digitally regularly - even if it was transferred with Bitcoin via a Crypto Exchanger.
RESCH Rechtsanwälte GmbH - Experience in investor protection since 1986
If you have been a victim of Webull Investing and want to know if and how you can get your money back, call +49 30 885 9770 or fill out the questionnaire. You will receive a free assessment of your case.