Vineabnk - Financial Scam Alert
19.04.2023
Vineabnk pretends to offer investors fantastic opportunities to make money as quickly as safely when trading contracts for difference (CFD) on forex, indices, stocks, commodities, and cryptocurrencies. Everything at Vineabnk is investment fraud. The money has landed right in the pockets of investment scammers. Everything the investor sees on his screen is fake. Not a cent has been invested. Nothing is traded on vineacap.com. Can you report similar experiences? What can investors do who have been scammed by Vineabnk? What help is there for investment fraud? How can investors get their money back from dubious providers?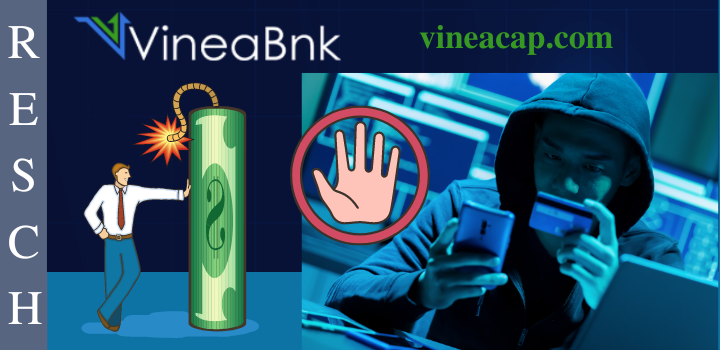 Vineabnk: Affirmations on vineacap.com are dubious and unserious!
What is presented to the perplexed prospective customers on vineacap.com there? "Today we serve customers all over the world. Having been in this business for over 10 years, we understand the importance of having reliable data centers, secure trading platforms, and well-trained, efficient, and experienced support staff to answer any of your questions. Vineabnk does not have a dealing desk. So we make sure there is no conflict of interest and no price manipulation to guarantee you stable trading parameters." This is just a small sample of the questionable promises that curious people can find on Vineabnk's website. None of these full-bodied promises by Vineabnk have been kept. Unpleasantly, the dubious business practices rather make for disappointed investors and miserable experiences!
Vineabnk: Who is behind it?
Since the Vineabnk makers do everything to conceal the true circumstances, very many investors will undoubtedly find it difficult to answer this question. This is unquestionably not uncommon because the perpetrators mostly run several of these websites with the same fraudulent business model. These are created continuously, quickly put online and just as quickly taken offline again. In addition, the top-level domain is often changed, for example, the predecessor domain vinea-b.com is known here, to deceive the financial supervisory and law enforcement authorities. Unsuccessfully, because on 12/19/2022 BaFin published a warning about Vineabnk.
But who runs Vineabnk?
There is hardly anything usable on Vineabnk's website about this. Sure, the operator Ether Arena LTD is listed with the address Trust Company Complex, Ajeltake Road, Ajeltake Island, Majuro, Marshall Islands MH96960, but the creators of Vineabnk can't be found there, since it's a mailbox company. In addition, the e-mail address support@vineacap.com as well as the telephone number +44 7391051411 can be found there. The domain vineacap.com was registered with Hostinger, UAB on 27.12.2022.
Vineabnk: Scheme of the investment fraud
Investment fraud always follows the notorious scheme: investors initially put in a small sum - usually 250 euros - are impressed by how quickly this amount multiplies, so much so that they are ready to "invest" higher and higher sums. The annoyance starts when an investor wants to have his money paid out, because now ostensibly first taxes, commissions, fees, or whatever have to be paid. Much too slowly, most investors discover that they have fallen for investment fraud and never intended to pay out the money again.
Vineabnk: What help is available for investment fraud?
How to act in case of investment fraud, many angry investors ask themselves, but filing a criminal complaint hardly makes sense, because criminal complaints are mainly for prosecution, not for recovering the money. What help is available in investment fraud cases and how do defraud investors get their money back? An attorney specializing in investment fraud knows how to track the money, because as they used to say, money isn't gone, it's just somewhere else. In the present, this can be added to: It is complex, but with the proper tools it is possible to track money digitally regularly - even if it was deposited with Bitcoin through a crypto exchanger.
RESCH Rechtsanwälte GmbH - Experience in investor protection since 1986.
If you have been a victim of Vineabnk and want to know if and how you can get your money back, call +49 30 885 9770 or fill out the questionnaire. You will receive a free assessment of your case.