Viachains - Experiences: It is undoubtedly investment fraud
27.10.2022
Viachains pretends that the investor is provided with optimal conditions to make money in Forex and CFD trading as quickly as safely. But unfortunately, everything about Viachains is an investment scam. What the investor sees on his screen is manipulated. Nothing is traded at Viachains. The experiences show how the operators systematically prevent investors from closing their user accounts and withdrawing their money in a dubious manner. Have you had similar experiences? How do investors get their money back from dubious providers? What can investors do who have been scammed by Viachains? What help is available in case of investment fraud?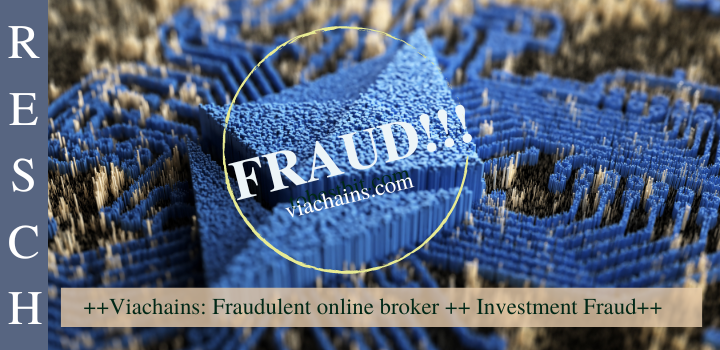 Viachains: Transparent and dubious promises on the website
What are the perplexed visitors being presented with on the Viachains website? "Our administration group here at Viachains is made up of top-notch industry experts with decades of experience in the monetary world, giving them real world information on what it takes to realize victory in online exchanges. Our group has built Dealer House by intellectually sharing, instructing and providing down-to-earth support to dealers at all levels of participation." That's just one small passage of the suspect claims investors find on Viachains website. Not one of these given promises by Viachains has been kept. Sadly, the disturbing business practices rather make for unhappy investors and bad experiences!
Viachains: Who is behind it?
Many investors will probably find it difficult to answer this question, as the Viachains makers do everything they can to conceal the true circumstances. In fact, this is not unusual, as the perpetrators often operate several of these websites with the same fraudulent business model. They are produced continuously, put online without interruption and shut down just as quickly. In addition, the top-level domain is often changed in order to fool financial regulators and law enforcement agencies.


Viachains: Who operates the broker?
There is no usable information on the viachains.com website in this regard. Certainly, Viachains is listed as the operator, albeit without a legal form, with the address 9863 - 9867 MILL ROAD, CAMBRIDGE, MG09 99HT. The makers of Viachains are certainly not to be found at this address, as it is at best a letterbox company. The domain viachains.com was registered on 24.02.2022 with NameCheap, Inc. In addition, the usual support e-mail address contact@viachains.com and the British telephone number +442045427623 can be found there.
Viachains: Scheme of the investment fraud
Investment fraud notoriously follows the same pattern: investors enter with a small sum - usually 250 euros - and quickly experience how this amount multiplies, so that they are prepared to "invest" ever higher sums. The trouble starts when an investor wants to have his money paid out, because now, flimsily, taxes, commissions, fees or anything else have to be paid first. Unfortunately, most investors are slow to realise that they have been duped by investment scammers who never intended to pay out the money again.
Viachains: What help is there for investment fraud?
Many victims of investment fraud ask themselves what they should do as an investor, because it hardly makes sense to file criminal charges, as these are mainly for prosecution, but not for recovering the money. What kind of help is available for investment fraud and how do affected investors get their money back? The lawyer specialising in investment fraud knows how to follow the money trail, because as they used to say, money is not gone, it's just somewhere else. Nowadays, one can add: It is tricky, but with the appropriate tools it is possible to trace money systematically digitally - even if it was transferred with Bitcoin via a Crypto Exchanger.
RESCH Attorneys at Law - Experience in investor protection since 1986
If you have been a victim of Viachains and want to know if and how you can get your money back, call +49 30 885 9770 or fill out the questionnaire. You will receive a free assessment of your case.