UST Markets (ustmarkets.com), ECB Markets (ecbmarkets.com): Two faces of a scam!
04.09.2023
Anyone who searches the Internet for lucrative investment opportunities will often be confronted with dishonest players in the trading scene. This is because not all trading platforms that are accessible to everyone on the World Wide Web are interested in the financial well-being of bona fide traders. Rather, the creators of such fraudulent websites have their wallets in mind and are out to fill them - at the expense of unsuspecting investors. Unsuspecting investors invest on platforms such as UST Markets or ECB Markets, not even realizing that the entire investment capital ends up directly in the pockets of devious online investment scammers. The rude awakening comes when the victims realize that they have been duped and that not everything was as serious as it initially seemed. Requested withdrawals are not made and are continually delayed by the fake brokers. More and more dubious taxes and other fees have to be paid, but the payout ordered by the investors never happens! A financial nightmare that never seems to end! We have already reported about both platforms - UST Markets and ECB Markets - on our website. Still, now it is clear: both have the same origin, which is why the whole thing is aggravated and we decided to warn about them with another article! But what can you do in such a situation and who or what are UST and ECB Markets?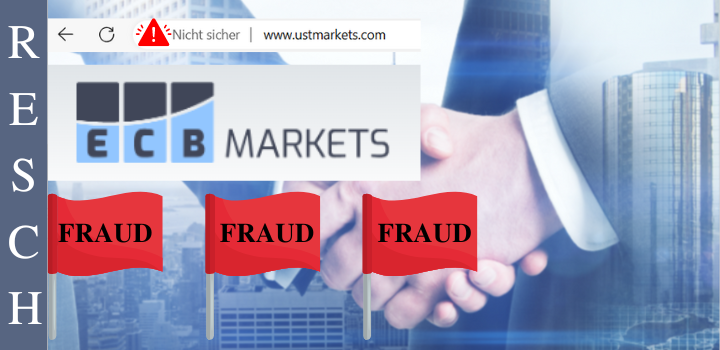 The wheel of names turns again: UST Markets becomes ECB Markets
In order to shine over and over again in new splendor, often only small details within the platform name are changed in order to be able to continue catching victims under a new cover. In this case, UST Markets and the associated UST Management Ltd. were simply changed to ECB Markets and the associated ECB Management Ltd. There is neither UST Management Ltd. nor ECB Management Ltd., both are fictitious companies without any registration in the commercial register. So it is clear: UST Markets and ECB Markets are not legitimate acting players of the online investment market!
The domain data: The game of anonymized data
The domain ustmarkets.com was registered on 01/18/2023, the domain ecbmarkets.com on 04/26/2023. Both at NameSilo LLC, and both in anonymized form. The anonymization game has been discovered by many fraudsters dabbling in cybercrime, as it would allow them to operate under the cloak of the World Wide Web for a period of time without having to reveal their real names.
Austria, Estonia, or England? Where are UST Markets and ECB Markets located?
It is interesting that both platforms, UST Markets, and ECB Markets, pretend to be located in Austria. UST Markets claims to be located at Kärntner Str. 38 in 1010 Vienna, while ECB Markets is located at Donau-City-Str. 3 in 1220 Vienna. Neither of these statements is correct, there are no such companies at either location! And it gets even stranger: Because in the small print of both platforms, it is claimed that Estonian law applies if you do business with UST and/or ECB Markets. What does Estonia have to do with it if the companies are based in Austria? Why should Estonian law be applied in Austria? It makes no sense at all! A red flag that says: Something is wrong here! The many different phone numbers (+4993418580038 (DE), +4922194899034 (DE), +43690106846 (AT), +4369010267022 (AT), +442080978465 (UK)), the contact form offered and the e-mail addresses given (support@ustmarkets.com and support@ecbmarkets.com) do not change anything.
Regular working hours? The scammers do not know!
The authors of the sites themselves do not agree on their working hours. On the one hand, they claim that the support team can be reached between 7:30 am and 2:30 pm, but on the other hand, they talk about 10 am to 6 pm. Which is correct? Strange, usually an office knows its working hours - if it is a severe and professional working office, which we, unfortunately, do not assume in this case!
Official warnings: The BaFin has this scam already on their radar!
It comes as no surprise that the German Federal Financial Supervisory Authority (BaFin) already has the players acting here on its radar. On 25.04.2023 it warned against UST Markets and on 26.07. 2023 followed the warning in the matter of ECB Markets. No wonder, we think! Surely the Austrian FMA will take notice and warn as well as the Swiss FINMA. The evidence is too overwhelming!
We know now: It is a fraud! But what can you do to get your money back?
If you fear that you have become a victim of this group, please contact us. Our team of more than forty people - consisting of experienced lawyers, highly motivated investigators, and certified IT specialists - is ready to help you. We can say with certainty that all financial transactions are traceable, regardless of whether you made them by bank transfer or in the form of cryptocurrencies! We have a whole pool of capabilities that we can draw on to help you get justice! For example, we are partners with Chainalysis, the world's leading tool for tracking cryptocurrencies on the blockchain. So it is no obstacle for us if your financial transactions are in cryptocurrency (such as bitcoin). Even then, we can help you.
We specialize in investment fraud, we know what to do! You can reach us at +49 (0)30 8859770 or contact us via our online form. We offer a free and non-binding analysis of your case.