UniGlobal Assets - Review: Without a doubt it is investment fraud
15.09.2022
UniGlobal Assets pretends that the investor is provided with the best possible conditions to make fast and safe money while trading cryptocurrencies at the same time. At UniGlobal Assets, everything is investment fraud. Not a penny has been invested. Nothing is traded at UniGlobal Assets. Everything the investor sees on his screen is fake. The money has landed right in the pockets of investment scammers. Can you report similar experiences? What can investors who have been scammed by UniGlobal Assets do? How can investors get their money back from dubious providers? What help is available in case of investment fraud?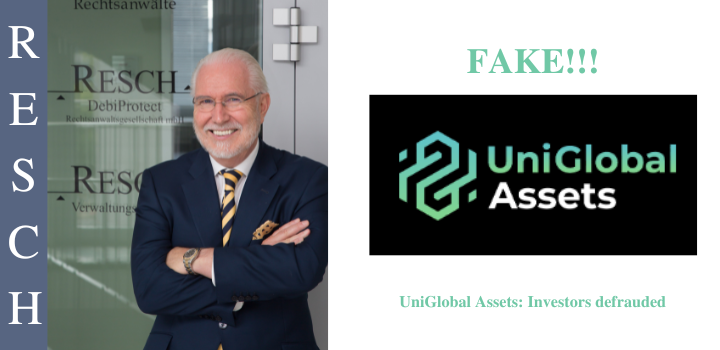 UniGlobal Assets: Promises are dubious and unserious
What must the astonished investors read on the website of UniGlobal Assets? "The only FX broker you will ever need." It goes on to say, "If you are looking for an FX broker that meets all the criteria, Uniglobal Assets is the one for you. We offer a wide variety of trading instruments at low spreads and super fast execution. Manage your funds from one account while getting access to live market information. Trade the markets with ease from anywhere at any time." That's just one small snippet of the text of the over-the-top promises investors can find on UniGlobal Assets' website. Not one of these full-bodied promises from UniGlobal Assets has been delivered. But it all seems very convincing. The unsuspecting investor is hardly able to realize that nothing is real. He has been presented with a play. Not a cent of his money is invested. Everything ends up right in the pockets of investment scammers. There is no trading. It's all appearance, no reality. And therefore the investor does not get his money also paid out. Unfortunately, the dubious business practices provide disappointed investors with bad experiences! The crucial question is, who is behind this investment fraud?
UniGlobal Assets: Domain entry is hidden!
Of course, the investment scammers do not want people to track them down easily. That is why the website does not have an imprint with the full details and the address of the website operators. Also, the domain data of the website uniglobal-assets.com does not contain any hint of who once registered the site, but only that the registration took place on 04/14/2022 at Tucows, Inc. and that the real domain owners - quite expectedly for us - hide behind an anonymization service.
UniGlobal Assets: Who is behind it?
Investors will not be able to answer this question. The investment scammers disguise their identity perfectly - almost. This is normal because they regularly operate various websites where they offer their fraudulent business model. And who is the operator? On the UniGlobal Assets website, there are only sparse details about this. Besides the obligatory support email address support@uniglobal-assets.com, which one finds only after eternal search in the small print of the side, looks for the potential plant prospective customer then however in vain for a contact telephone number. Thus, no conclusions are possible on the Macher of this construct laid out on Abzocke. An address we find on the web page unfortunately also not, one can fill out the form for contact, however one is forced here to leave its data. Not a good idea, because right here, after filling out such a contact form, the trap snaps shut and the victim falls into the clutches of the alleged "brokers" and "investment advisors".
UniGlobal Assets: Further searches
A worldwide search for UniGlobal Assets in the relevant registers leads to no results. UniGlobal Assets is a fantasy product. But with our research tools, our Investigations Team has succeeded in tracking down investment fraudsters. It is only a matter of time until the regulatory institutions - BaFin can be mentioned as an example - will become aware of UniGlobal Assets and warn about their criminal activities.
UniGlobal Assets: Scheme of investment fraud
The investment fraud plays itself again and again after the scheme: Investors put in at the beginning a small sum - usually 250 euro -, are impressed, by how fast this amount increases and are therefore ready to "invest" ever higher sums. The worries take their course, every time an investor wants to have his money paid out, then all of a sudden taxes, commissions, fees, or anything else have to be paid. Unfortunately, many investors are too slow to realize that they have fallen for investment scams that never intended to pay out the money again.
UniGlobal Assets: What help is available for investment fraud?
How to proceed in the case of investment fraud, many desperate investors ask themselves, because a criminal complaint hardly makes sense, because criminal charges serve primarily the prosecution, but not the recovery of the money. What kind of help is available for investment fraud and how do investors get their money back? The lawyer specializing in investment fraud knows how to trace the money, because as they used to say, money is never gone, it's just somewhere else. In the present, you can add to that: It is not easy, but with the right tools it is possible to track money digitally on a regular basis - even if it was transferred with Bitcoin via a Crypto Exchanger.
RESCH Attorneys at Law - Experience in investor protection since 1986
If you have been a victim of UniGlobal Assets and want to know if and how you can get your money back, call +49 30 885 9770 or fill out the questionnaire. You will receive a free assessment of your case.