Umbrella Capital - Experiences: It's investment fraud
13.10.2022
Umbrella Capital pretends that the investor is granted fantastic conditions to make money as fast as safe in their asset management through arbitrage trading. Everything at Umbrella Capital is investment fraud. The money has landed right in the pockets of investment scammers. Everything the investor sees on his screen is a lie. Not one cent has been invested. Nothing is traded at Umbrella Capital. Can you report similar experiences? What help is there for investment fraud? What can investors do who have been defrauded by Umbrella Capital? How can investors get their money back from dubious providers?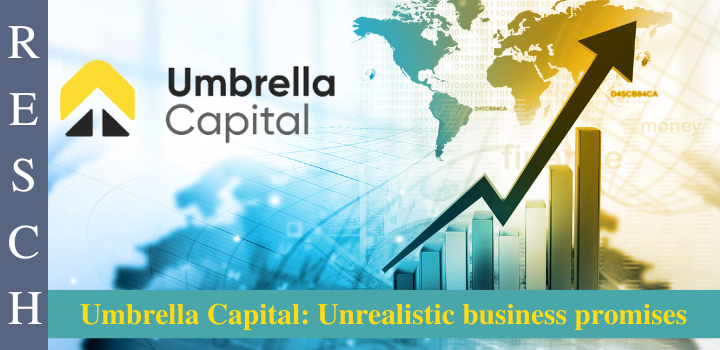 Umbrella Capital: Promises on the website are untrustworthy and dubious
What do the perplexed prospective investors read on umbrellascapital.com? "In 2018, single-family offices Goldensteyn Asset Management and Jupiter Atlantic Trust merged with Global Science Inc. to form UMBRELLA PLC. If the names Goldensteyn Asset Management and Jupiter Atlantic Trust, have stood for traditional values and successful asset management for over 100 years, Global Science, as a developer of intelligent trading software, forms the modern component. Since then, this bundled expertise has been able to convince through above-average performance. Currently, our 16-person team manages total assets of over 355 million euros for us and our clients." That's just one quote from the demonstrably false statements that curious people can find on Umbrella Capital's website. Not one of Umbrella Capital's lofty promises has been kept. Their dubious business conduct invariably ensures disappointed investors and bad experiences!
Umbrella Capital: Who is behind it?
Investors will certainly find it difficult to answer this question, as the Umbrella Capital makers do everything they can to conceal the true circumstances. This is undoubtedly nothing out of the ordinary because scammers often run several such websites with the same fraudulent business model. They are created continuously, uploaded to the Internet without pause, and shut down just as swiftly; moreover, the top-level domain is often changed to confuse financial regulators and law enforcement agencies. In the case at hand, the domain umbrellacapital.co.uk still got into our net.
Umbrella Capital: Who is the operator?
The Umbrella Capital website has a lot to say about this. The company Umbrella Capital Partners PLC with the business address International House, 36-38 Cornhill, London, EC3V 3NG is indicated, under this the creators of Umbrella Capital are certainly not to be found, finally, it concerns a letterbox company. This company was announced on 22.12.2021 by the Germans Lisa Dinges and Jonathan Wiedekind. Whether these function only as straw men, further investigations will show. The domain umbrellascapital.com was registered on 08.12.2021 by GoDaddy.com, LLC. The successor domain umbrellacapital.co.uk was registered on 03/24/2022. Both domains have been anonymized. The usual support email addresses can be found on both, as well as the UK phone number +44 2045 77 4130.
Umbrella Capital: Scheme of the investment fraud
The investment fraud continuously plays out according to the notorious scheme: investors initially put in a small sum - usually 250 euros - are impressed by how quickly this amount multiplies and are therefore willing to "invest" higher and higher sums. The worries set in immediately when an investor wants to have his money paid out, because then supposedly taxes, commissions, fees or whatever have to be paid all at once. Unfortunately, many investors do not realize until it is too late that they have fallen for an investment scam and that there was never any intention of paying out the money again.

Umbrella Capital: What help is there in case of investment fraud?
What to do in case of investment fraud, many aggrieved investors ask themselves, because criminal charges hardly make sense, since criminal charges primarily serve the prosecution, but not the recovery of the money. What kind of help can one hope for in investment fraud cases and how do aggrieved investors get their money back? A lawyer specializing in investment fraud knows how to follow the money trail, because as it used to be said, money is not gone, but somewhere else. Today, one can add: It is tricky, but with the appropriate tools it is possible to trace money systematically digitally - even if it was transferred with Bitcoin via a Crypto Exchanger.
RESCH Attorneys at Law - Experience in investor protection since 1986
If you have been a victim of Umbrella Capital and want to know if and how you can get your money back, call +49 30 885 9770 or fill out the questionnaire. You will receive a free assessment of your case.