TREX - Perfidious rip-off initiated via social media channels
02.01.2023
TREX / trexfx.com pretends to provide investors with perfect opportunities to make both fast and safe money when trading cryptocurrencies online. Everything at TREX is investment fraud. The money has landed right in the pockets of investment scammers. Nothing is traded on trexfx.com. Not a penny has been invested. Everything the investor sees on his screen is fake. Have you had the same experience? How does the investor get his money back from dubious providers? What help is there for investment fraud? What can investors who have been defrauded by TREX do?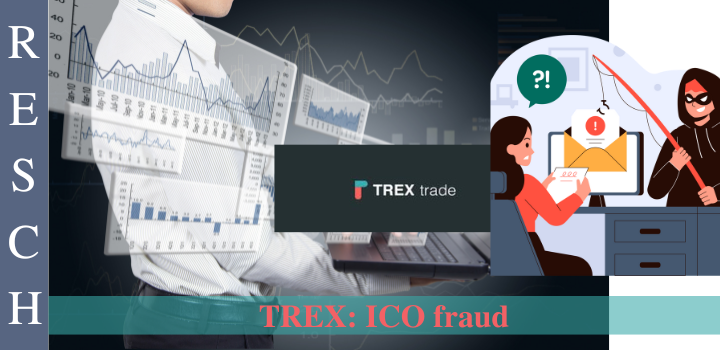 TREX: Promises on the website
What are visitors told on trexfx.com? "TREX trade specializes in providing diversified trading services for online trading of foreign exchange, precious metals, stock indices, and crude oil, and offers full financial investment training and investment advisory services." This is just a small sample of the claims investors will find on TREX's website. None of these given promises by TREX were kept because the trading did not take place. Unpleasantly, the business conduct of TREX, alone ensures bad experiences and unhappy investors!
TREX: Who is behind it?
Very many investors will probably find it difficult to answer this question because the TREX makers do everything they can to conceal the true circumstances. This is nothing out of the ordinary because scammers usually operate several of these websites with the same fraudulent business model. They are stockpiled, uploaded to the Internet one after the other, and shut down just as swiftly; moreover, the top-level domain is often changed to deceive financial regulators and law enforcement agencies.
ICO scam: The method!
ICO? What is that? The so-called "Initial Coin Offering" is a method of raising capital based on blockchain technology. In this process, companies sell their virtual currency to investors, who in return pay for the new currency with real money and hope that the cryptocurrency will increase in value. With this method of raising capital for the first time, cryptocurrency companies avoid the highly regulated process of raising capital mandated by venture capitalists, banks, or exchanges. However, the startling result is that over 80% of all ICOs are scams. This was the conclusion of a study by New York-based research firm Satis Group, which examined Initial Coin Offerings (ICOs) with a market capitalization of at least $50 million in terms of their quality and formed six groups. Fraud, Failed, Dead, Shrinking, Promising, Successful. As a result of the study, the ICOs considered are ranked as follows: 81% Fraud, 6% Failed, 5% Dead, 4.4% Shrinking, 1.8% Promising, and 1.9% Successful. How does an ICO scam work and what is the investors' experience?
ICO scam: Playing hide-and-seek with the domain entry!
In ICO scams, websites play a major role as a marketing tool, however, there are warning signs here that can also be found in other fraudulent cyber trading models. It is also always interesting to examine the domain data of the websites in ICO fraud. The websites are characterized by absolute short-liveness. Barely registered and used for ICO fraud, they are soon burned and shut down again. Not so, however, TREX. The platform has existed for several years.
Who is the operator of TREX?
There are details about it on the trexfx.com website. Thus the company Trex LLC with the address First Floor, First ST Vincent Bank LTD Building, James Street, Kingstown VC0100, St. Vincent and the Grenadines is indicated, there the Macher of TREX is not to be found however, finally, it concerns an offshore letterbox company. In addition, the e-mail address cs@trexfx.com and the three Vietnamese telephone numbers +1784 4856124, 12280872 (Viettel network), and 12032559 (VNPT network) can be found there. But allegedly the head office is located in Australia. The domain trexfx.com was registered on 05/09/2018 with Name.com, Inc. through Trex LLC with the address First Floor, First St Vincent Bank Ltd Building, James Street, P.O. Box 1574. however, the website mentions a TREX trade LIMITED.
TREX: Initiation of the fraud
Here you can find the same approach over and over again. Investors are looking for alternative investment opportunities. And for this target group, for example, advertising is then placed on social media, such as Facebook or Instagram. Here, supposed celebrities report their experiences with online trading and cryptocurrency trading. Likewise, social media are used for direct contact initiation. However, other Internet platforms are also often misused to initiate contact. While dating platforms are primarily known for the phenomenon of love scams, they are also used to initiate other transactions. The dating platform Tinder is also perfect for this, where trust is first built up and then a switch to WhatsApp communication takes place.
TREX: Criminal business practices!
In the process, the financial circumstances are often investigated and alleged business ideas are subsequently offered. Gladly, the ladies also report that they would have become rich with Bitcoin and were only looking for the right man. And this is practiced again and again. The phenomenon of identity theft is just as common, and the perpetrators use the names of real people. As soon as the customer has registered on the trading platform, he receives calls from alleged financial brokers who like to refer to their years of experience and their satisfied customer base. In many cases, however, the makers of this business model are fraudsters, against whom the Federal Criminal Police Office and the Federal Financial Supervisory Authority (BaFin) also warn. Does Mrs. "Li Li" also belong to it? Or does she even come from China? We assume so!
TREX: Fraudulent transactions!
Mostly the investors start with a small sum as a stake. Beforehand, investors are also often motivated to install remote maintenance software, such as Anydesk or Teamviewer on their computers, so that assistance can supposedly be provided with the first steps. In many cases, the computer is subsequently manipulated and unwanted transactions are carried out. In the process, investment fraudsters also frequently gain access to their victims' online banking. In this case, the transactions were initiated via the crypto exchange www.crypto.com. It is operated by Foris DAX Asia Pte. Ltd, a subsidiary of Foris DAX MT Limited, a Malta-registered company headquartered in Singapore. The exchange had nearly 10 million users and about 3,000 employees in 2021.
TREX: Change from a reputable to an unregulated platform
So far so, so normal, however, in the process the acquired USDT was then transferred to TREX with Ms. Li Li, and a supposed trade was started there. It is particularly criminal, however, when alleged profits are displayed on the trading platform to seduce the customer into further high stakes.
TREX: The big rip-off
Here, an investment in DNTP tokens was recommended. The DNTP project (Delta National Treatment Programme) was initiated to build an experimental blockchain for EHR. It overcomes the shortcomings of the traditional EHR system and is also different from other EHR blockchains. The emergence of DNTP will propose a DNTP concept to solve the problems of the EHT industry. The EHR blockchain is a growing list of blocks consisting of records linked with cryptographic hashes. The issue price for a DNTP token is 0.35 USD. Here we are then again in the world of ICOs and ICO fraud. All possibilities were exhausted here by Ms. Li Li to channel as large an investment as possible to TREX. In some cases, even small sums are paid back to lull investors into a sense of security. Who does not want then to increase the stakes further? But what happens next?
TREX: Scheme of investment fraud
Investment fraud follows the usual pattern: investors enter with a small sum - usually 250 euros - and quickly experience how this amount increases, so they are willing to "invest" higher and higher sums. The worries show up when an investor wants to have his money paid out, because then flimsy taxes, commissions, fees, or anything else have to be paid first. Most investors are far too slow to realize that they have fallen for investment fraud and that there was never any intention of paying out the money again.
TREX: What help is available for investment fraud?
What to do in the case of investment fraud, many investors ask themselves, makes yet a criminal complaint little sense, because these serve the prosecution, but not the recovery of the money. What help is available in investment fraud cases and how do defraud investors get their money back? The attorney specializing in investment fraud knows how to follow the money trail because as they used to say, the money is never gone, it's just somewhere else. Nowadays, one can add: It is exhausting, but with the proper tools it is possible to track money digitally regularly - even if it was deposited with Bitcoin through a Crypto Exchanger.
RESCH Rechtsanwälte GmbH - Experience in investor protection since 1986.
If you have been a victim of TREX and want to know if and how you can get your money back, call +49 30 885 9770 or fill out the questionnaire. You will receive a free assessment of your case.