Treasury Financial Service (MMI) - It is undoubtedly investment fraud
26.09.2022
Treasury Financial Service (MMI) pretends to provide investors with the best possible conditions to make both fast and safe money while trading online. At Treasury Financial Service (MMI), it's all investment fraud. Not a penny has been invested. Everything the investor sees on their screen is fake. The money has landed right in the pockets of investment scammers. Nothing is traded at Treasury Financial Service (MMI). Can you tell of any experiences like this? What help is there for investment fraud? How can investors get their money back from dubious providers? What can investors who have been defrauded by Treasury Financial Service (MMI) do?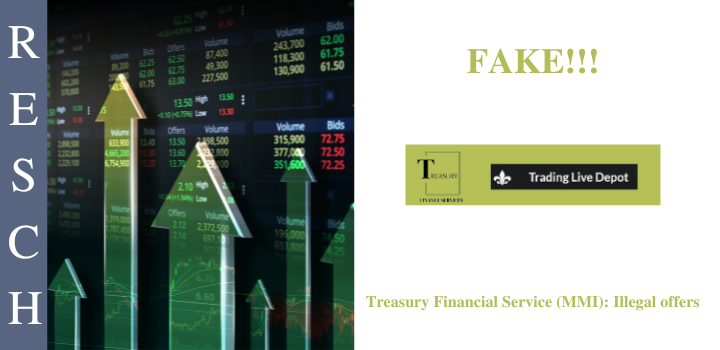 Treasury Financial Service (MMI): Promises on the website are dubious and dubious
What are the surprised investors presented with on mmi.tradinglivedepot.com or the websites linked to it? "30 years of service - MMI was founded in 1991. Since then, we have been a leader in the wholesale financial markets globally and the EU, providing deep market liquidity and price discovery for OTC products... Experience Counts - We are proud that our employees have been with MMI throughout its journey. The vast experience our clients bring to the table is invaluable when it comes to executing trades and gaining a market advantage." This is just a small sampling of the questionable claims prospective clients will find on the Treasury Financial Service's (MMI) website. Not one of these lofty promises made by Treasury Financial Service (MMI) has been delivered. Regrettably, shady business practices tend to make for unhappy investors and bad experiences!
Treasury Financial Service (MMI): Who is behind it?
Investors will have quite a bit of trouble answering this question, as Treasury Financial Service (MMI) makers do everything they can to disguise the true circumstances. This is practically nothing unusual because the scammers mostly run several of these websites with the same fraudulent business model. They are continuously produced, put on the web without interruption, and just as swiftly taken down; moreover, the top-level domain is often changed to fool financial regulators and law enforcement agencies.
Treasury Financial Service (MMI): Brazen cloning
First of all, it is necessary to know that there is an Irish company with a good reputation built for decades, called Money Markets International Limited, with the website money markets.ie. This company is regulated by the Central Bank of Ireland and is registered there under CRO Number: 32995 and Central Bank Ref: C29076. All other companies and websites with similar names or the abbreviation MMI are cloning attempts by scammers.
Treasury Financial Service (MMI): Who operates the platform?
On the website mmi.tradinglivedepot.com or moneymarketsinternational.com there is hardly any usable information about this because both adorn themselves with other people's feathers. Although various companies are named and addresses such as 32 Rue du Laboratoire 1911 Luxembourg or 11 wall street, NY, 10005, United States are given, the makers of Treasury Financial Service (MMI) cannot be found under these addresses, as they are fake. The web page mmi.tradinglivedepot.com was registered only on 10.02.2022 with the Dutch service provider Hosting Concepts B.V. Besides still the obligatory support email address, as well as the telephone numbers +352 2 033 4020 for Luxembourg and +1 646 8545554 for the USA, are to be found on the web pages.
Treasury Financial Service (MMI): Investment fraud scheme
The investment fraud usually plays out according to the recurring scheme: investors enter with a small sum - usually 250 euros - and quickly experience how this amount multiplies so that they are ready to "invest" higher and higher sums. The worries show up as soon as an investor wants to have his money paid out, because now blandly first of all taxes, commissions, fees or whatever have to be paid. Most investors realize far too late that they have fallen for investment scams that never intended to pay out the money again.

Treasury Financial Service (MMI): What help is available for investment fraud?
Many desperate investors wonder how to proceed with investment fraud since criminal charges make little sense because criminal charges are primarily for prosecution, not for recovering money. What kind of help can be used in case of investment fraud and how do affect investors get their money back? The lawyer specializing in investment fraud knows how to follow the trail of money, because as it used to be said, money is not gone, but unfortunately somewhere else. Today one can add: It is challenging, but with the right tools it is possible to track money digitally regularly - even if it was deposited with Bitcoin via a Crypto Exchanger.
RESCH Attorneys at Law - experience in investor protection since 1986
If you have been a victim of the Treasury Financial Service (MMI) and want to know if and how you can get your money back, call +49 30 885 9770 or fill out the questionnaire. You will receive a free assessment of your case.