Tradeuros Review – is tradeuros.com scam or good forex broker?
19.07.2023
In the age of online trading, platforms such as Tradeeuros attract private and institutional investors looking for above-average opportunities and profit prospects. However, caution is advised in the world of financial markets. It is important to check the seriousness and reliability of a broker like Tradeeuros before investing your hard-earned money. In this article, we will take a closer look at Tradeeuros and analyze the experiences of other investors as well as warnings from authorities to make an informed assessment.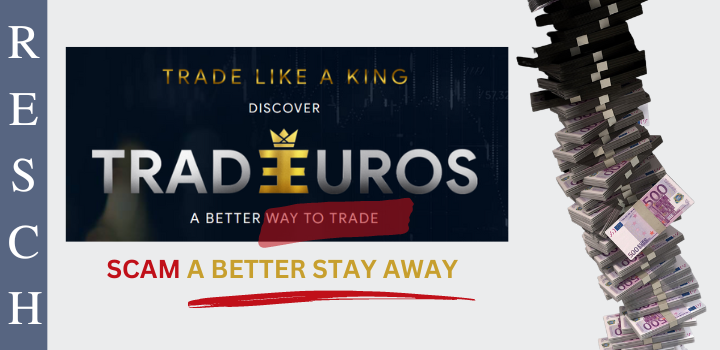 Tradeeuros Business Model
Tradeeuros describes itself as an award-winning global leader in online trading with investors from over 180 countries in Europe, Asia, the Middle East, Africa, and Latin America. It is an online broker that enables the trading of Contracts for Difference (CFDs) on various financial markets. With 10 platforms and over 200 tradable instruments in Forex, Spot Metals, Stocks, and Futures, Tradeeuros serves clients from all over the world. Alleged.

Experiences and disappointments
However, there are numerous reports from investors who have been severely disappointed by their experience with Tradeeuros. Some report that when they requested a withdrawal, the previously friendly customer service representatives cut off contact or even demanded additional deposits. Tradeeuros provides its clients with a manipulated account where trading is only done for appearances. The fake profits and the prospect of even higher profits seduce many investors to invest more and more.

Tradeeuros deception and trap
The trading activities displayed on Tradeeuros are only pretended to investors and do not take place in reality. Although the platform gives the appearance of a legal and regulated broker, funds are always accepted but never paid out. Numerous investors report about denied payouts, loss of their invested capital, and the lack of contact options. There is only a contact form and the email address contact@tradeuros.com.

Authorities warn against Tradeeuros
On May 10, the FINMA (Swiss Financial Market Supervisory Authority) published an official warning about Tradeeuros. Rightly so, because according to investigations by Resch Rechtsanwälte, Tradeeuros is a fraudulent company that has already systematically defrauded investors under various names such as Tradesmart1, Acronisfx, Bbgroupfx, My24coin, Natatrade, Morganfxcapital, and Cryptopiatrade.

Tradeeuros: Fake address and identity fraud
The operating company Tradeeuros Limited, with the address CF10 3AT, Cardiff, Wales, United Kingdom, is revealed to be a shell company at best, according to our classification. The postcode CF10 3AT is a postcode in Cathays, Cardiff, which is mainly used for commercial purposes and does not describe a physical location. FX Publications, INC, which is mentioned elsewhere as the operator, is a US company that certainly has nothing to do with tradeuros.com, so the fact that it is mentioned as the operator is probably a case of misuse of identity.

Experiences of other investors with Tradeeuros (tradeuros.com)
Affected investors share their experiences and warn against Tradeeuros. One of the victims says: "They steal my money and run away, and the account they created for me is fake". Another says, "Very dangerous scams from Cyprus or Bulgaria. Check CySEC for them. They are changing their domains to avoid detection. Most of the domains were created a few months ago. They change domains to lure victims." These testimonies highlight the fraudulent nature of Tradeeuros and the danger of this platform.

Who is behind Tradeeuros?
The domain information is anonymized. All you can find out is that the domain was registered at GoDaddy.com, LLC on January 26, 2021. Based on the modus operandi and the typical investment fraud scheme, we are sure that the fraudsters are from Southeastern Europe (Greece, Albania, Cyprus, Bulgaria) and have previously operated other fraudulent projects under the names Tradesmart1, Acronisfx, Bbgroupfx, My24coin, Tradeeuros, Tradeeuro, Natatrade, Morganfxcapital, and Cryptopiatrade.

Tradeeuros (tradeuros.com) - Questions and answers
Question: What is the minimum deposit for Tradeeuros?
Answer: The minimum deposit at Tradeeuros is 250 Euros.
Question: Do Tradeeuros trade?
Answer: No, Tradeeuros simulates trading activities that do not take place in reality.
Question: Who warns about Tradeeuros?
Answer: The FINMA has issued an official warning against Tradeeuros.

Conclusion regarding Tradeeuros (tradeuros.com)
Based on the information gathered and the experiences of other investors, it can be concluded that Tradeeuros is a fraudulent online broker. The offered trading opportunities and profit prospects are only bait to entice clients to invest. As soon as withdrawals are requested, the broker loses interest in its clients. Investors should beware of Tradeeuros and not invest their money in this fraudulent company.

RESCH Rechtsanwälte GmbH - Experience in investor protection since 1986
If you have been a victim of Tradeeuros (tradeuros.com) and want to know if and how you can get your money back, call +49 30 885 9770 or fill out the questionnaire. You will receive a free evaluation of your case.