Tradesparkle - Reviews: Without a doubt investment fraud
28.10.2022
Tradesparkle pretends to offer investors optimal opportunities to make money online trading as fast as it is safe. However, countless reviews, ratings and experience reports give a completely different impression. At Tradesparkle, everything is obviously an investment scam. The money has landed straight into the pockets of the investment scammers. Nothing is traded at Tradesparkle. Not a cent has been invested. Everything the investor sees on his screen is fake. Have you had the same experience? What can investors do who have been scammed by Tradesparkle? How can investors get their money back from dubious providers? What help is there for investment fraud?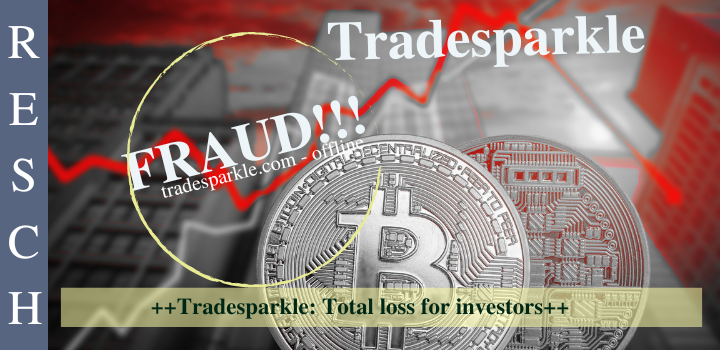 Tradesparkle: Questionable and dubious claims
What are the unsuspecting prospective investors being presented with on the Tradesparkle website? "Our team consists of experienced professionals who have come a long way in the financial field. Thanks to their many years of experience, the team offers high-quality services in the field of internet trading. Professionalism, openness and customer orientation are the main principles of work at all stages - from opening an account to paying out profits." This is only a small part of the questionable assurances that interested parties can find on Tradesparkle's website. Not a single one of these given promises by Tradesparkle has been fulfilled. Sadly, the dubious business practices rather make for unhappy investors and miserable reviewss!
Tradesparkle: Who is behind it?
Very many investors might find it difficult to answer this question, because the Tradesparkle makers do everything they can to conceal the true circumstances. This is really nothing out of the ordinary, because the scammers often run a number of such websites with the same fraudulent business model. They are continuously produced, put online one after the other and just as quickly taken offline again. In addition, the top-level domain is often changed in order to deceive financial supervisory authorities and law enforcement agencies.


Tradesparkle: Who is the operator of Tradesparkle?
There is hardly any usable information about this on the Tradesparkle website. Admittedly, the company Tradesparkle, admittedly without a legal form, is given with the business address 40 Bank Street, London E14 5AB, but unfortunately the makers of Tradesparkle cannot be found at this address, because it is a fake address. The domain tradesparkle.comwas registered on 27.06.2022 with NameCheap, Inc. On tradesparkle.com you can still find the obligatory support email address support@trade-sparkle.me as well as the telephone number 240-9696-850 without a national dialling code.
Tradesparkle: Scheme of the investment fraud
The investment fraud obviously follows a well-known pattern: investors initially invest a small sum - usually 250 euros - are impressed by how quickly this amount increases and are therefore prepared to "invest" ever higher sums. The problems arise as soon as an investor wants to have his money paid out, because now, flimsily, taxes, commissions, fees or whatever have to be paid all at once. Unfortunately, most investors only realise belatedly that they have fallen for investment fraudsters who never intended to pay out the money again.
Tradesparkle: What help is there for investment fraud?
How to act in case of investment fraud, many defrauded investors ask themselves, because filing a criminal complaint hardly makes sense, because criminal complaints mainly serve the purpose of criminal prosecution, but not the recovery of the money. What help is available in the case of investment fraud and how do aggrieved investors get their money back? A lawyer specialised in investment fraud knows how to follow the money trail, because as they used to say, money is never gone, but unfortunately somewhere else. Nowadays, you can add to that: It is tricky, but with the right tools it is possible to systematically trace money digitally - even if it was transferred with Bitcoin via a Crypto Exchanger.
RESCH Attorneys at Law - Experience in investor protection since 1986
If you have been a victim of Tradesparkle and want to know if and how you can get your money back, call +49 30 885 9770 or fill out the questionnaire. You will receive a free assessment of your case.r case.