Toroption - Experiences: Without a doubt it is investment fraud
27.06.2022
Toroption implies that the investor is granted perfect conditions to make both fast and safe money with trading. With Toroption, it is all investment fraud. The money has gone straight into the pockets of the investment scammers. Everything the investor sees on his screen is fake. Not a cent has been invested. Nothing is traded at Toroption. Can you report similar experiences? What can investors do who have been scammed by Toroption? What help is there for investment fraud? How do investors get their money back from dubious providers?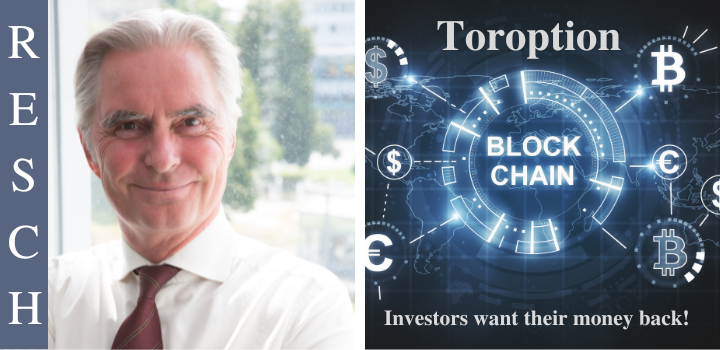 Toroption: Promises on the website are dubious and unserious
What are the dumbfounded visitors to www.toroption.com being served up? "TorOption makes sure you never miss a trading opportunity with a fully functional mobile website that has all the features of the desktop so you can easily trade currencies, commodities, stocks and indices wherever you are, whenever you want. Just type toroption.com into the web browser on your iPhone, Android or tablet device, log in to your TorOption account and start trading immediately." This is just a small sample of the untrustworthy promises that interested parties can find on Toroption's website. Not one of these given promises by Toroption has been kept. Regrettably, the disturbing business practices rather make for unhappy investors and bad experiences!

Toroption: Who is behind it?
Most investors will certainly find it difficult to answer this question, because the Toroption makers do everything they can to conceal the true circumstances. This is nothing out of the ordinary, as the scammers often operate several of these websites with the same fraudulent business model. These are produced incessantly, uploaded to the internet without pause, and just as swiftly shut down; moreover, the top-level domain is often changed in order to fool financial regulators and law enforcement agencies. But who is the operator of Toroption? There is no usable information about this on the toroption.com website. Certainly, the business address 272 Bath Street, Glasgow, UNITED KINGDOM, G2 4JR is given, but the makers of Toroption cannot be found there, as it is a letterbox company. In addition, the obligatory support e-mail address and the British telephone number +44 2035192667 can be found there.

Goal option: FCA warning
The UK Financial Conduct Authority (FCA) warned on 7 March 2018 about the online broker toroption.com: "Almost all firms and individuals offering, promoting or selling financial services or products in the UK must be authorised or registered by us. This firm is not authorised by us and is targeting people in the UK. You can't go to the Financial Ombudsman Service and you're not protected by the Financial Services Compensation Scheme (FSCS), so it's unlikely you'll get your money back if something goes wrong.
Unauthorised company - TorOption
Address: 272 Bath Street, Glasgow, UNITED KINGDOM, G2 4JR
Phone: 2035192667, 2030311057
E-mail: support@toroption.com
Website: www.toroption.com
Other Information: TorOption is in no way affiliated with Spark Advisory Partners Limited (FRN: 182762) and/or its director/partner Matthew James Davis.
Be aware that some companies may release different details or change their contact details over time to new email addresses, phone numbers or physical addresses."
Goal option: Investment fraud scheme
Investment fraud clearly follows the well-known pattern: investors initially put in a small sum - usually 250 euros - and quickly experience how this amount increases, so that they are prepared to "invest" higher and higher sums. The arguments start when investors want their money paid out, because now, ostensibly, taxes, commissions, fees or whatever have to be paid first. Unfortunately, many investors realise far too late that they have been defrauded and that they never intended to get their money back.

Toroption: What help is available in case of investment fraud
How to proceed in the case of investment fraud, many defrauded investors ask themselves, because filing criminal charges hardly makes sense, because criminal charges mainly serve the purpose of prosecution, but not the recovery of money. What help is available in investment fraud cases and how do aggrieved investors get their money back? A lawyer specialising in investment fraud must know how to trace the money, because as they used to say, money isn't gone, it's somewhere else. Now you can add to that: It's not easy, but with the right tools it is possible to track money digitally on a regular basis - even if it was transferred with Bitcoin via a Crypto Exchanger.

RESCH Attorneys at Law - Experience in investor protection since 1986
If you have become a victim of Toroption and want to know if and how you can get your money back, call +49 30 885 9770 or fill out the questionnaire. You will receive a free assessment of your case.