TheFX24 - FCA Blacklist Warnings
19.09.2023
On July 6, 2023, thefx24.com appeared for the first time. It was registered with PDR Ltd, but this is where the dubious practices of the platform began. Anonymized under the protection of Privacy Protect, LLC, TheFX24 (thefx24.com) seems to be anything but reputable. In this article, we will take an in-depth look at TheFX24's fraudulent practices, share investors' experiences, and take a closer look at its negative reviews.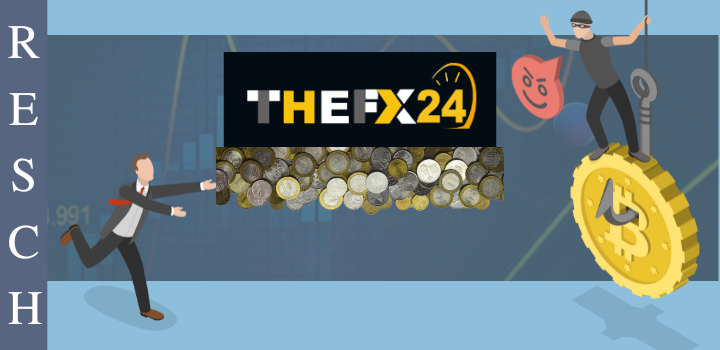 TheFX24: A business model for financial freedom?
On the website of TheFX24, the operators describe themselves with the words: "Business model for FINANCIAL freedom". But how serious is this claim? According to their own account, they are major players in forex trading, aerospace technology, and renewable energy. An ambitious portfolio, but one that lacks credibility due to a lack of evidence and transparency.

TheFX24: Phantom operator's bogus address
The exact address of TheFX24 is Dock 5 Atlantic Way Barry Vale of Glamorgan, Wales, CF633RA. However, this address turns out to be an apparent headquarters, as the operator cannot be physically found on site. Rather, it is a bogus address that exists only on paper. This shows the lack of seriousness at TheFX24.

TheFX24: Unusable contact details
The only stated contact option for TheFX24 is the email address noreply@thefx24.com. They cannot be reached by phone. Such obfuscations and lack of communication channels raise further doubts about the credibility of the provider.

TheFX24: Incomplete imprint and unknown founders
The FX24 website does not meet the legal requirements for an imprint and contains insufficient information. In addition, the founders are unknown and there is no officially registered operating company. The legal form remains in the dark, which further underlines the already questionable legitimacy of TheFX24.

TheFX24: Lack of collateral and supervision
The FX24 has no legal accounts with established banks, offers no collateral, and is not listed on any recognized trading lists or exchanges. No authority can confirm the licensing or existence of the operator. These shortcomings raise significant concerns about its seriousness.

TheFX24: Negative experiences and pressure on investors
Discussions and experiences regarding TheFX24 in popular forums and social media are consistently negative. Investors report pressure from TheFX24 to invest quickly and are emotionally pushed to make further deposits. This casts a questionable light on the platform's business practices.

TheFX24: Questions and answers
Q: How do investors protect their money from fraudulent platforms like TheFX24?
A: One way to protect yourself from fraudulent platforms is to thoroughly research the provider. Look for missing information, and be wary of offers that sound too good to be true. In addition, working with experts like Resch Rechtsanwälte GmbH, who work with Chainalysis, can help protect your investment.
Q: What is Chainalysis and how can it help?
A: Chainalysis is a blockchain analytics company that specializes in financial crime investigation. Their software, Reactor, allows them to track and trace virtual currencies like Bitcoin. Working with experts like Chainalysis can help uncover fraudulent transactions and protect investors.

TheFX24: Conclusion
TheFX24 (thefx24.com) gives the appearance of respectability but turns out to be a highly questionable provider upon closer inspection. From the lack of transparency to incomplete information to negative investor experiences and the warning by the FCA, there are numerous reasons to be cautious. Investors should inform themselves carefully and, if necessary, seek professional assistance to protect themselves from fraudulent platforms like TheFX24. Chainalysis and law firms like Resch Rechtsanwälte can play a crucial role in this process.

RESCH Rechtsanwälte GmbH - Experience in investor protection since 1986
If you have been a victim of TheFX24 (thefx24.com) and want to know if and how you can get your money back, call +49 30 885 9770 or ask a lawyer specialized in investment fraud to call you back. You will receive a free assessment of your case.