SwissFXM - Experiences: This is an investment fraud
29.07.2022
SwissFXM creates the impression that investors are granted excellent conditions to make both fast and safe money while trading online. Everything at SwissFXM is investment fraud. The money is immediately landed in the pockets of the investment scammers. Everything that the investor sees on his screen is fake. Nothing is traded at SwissFXM. Not a cent has been invested. Can you report similar experiences? How does the investor get his money back from dubious providers? What help is available in case of investment fraud? What can investors who have been defrauded by SwissFXM do?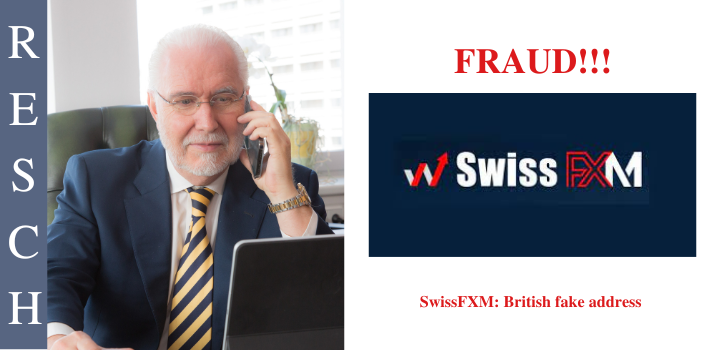 SwissFXM: Baseless and dubious statements on swissfxm.com
What are the surprised investors presented with on the SwissFXM website? It says: "As usual, we recognize that traders have multiple brokerage options. We respect our competitors and always keep them in mind. However, we believe our broker offers traders a variety of benefits that many of our competitors struggle to match. The company aims to provide its clients with a well-rounded trading experience. Are you looking for educational opportunities? SwissFXM offers similar opportunities to clients for free. Are you concerned about the safety of your funds? We have a high level of account security. Looking for a considerable selection of markets, with favorable trading conditions, good customer service, and mobile trading capabilities? We have all that and more." This is just a small sample of the questionable promises prospective customers will find on SwissFXM's website. None of these full-bodied assurances from SwissFXM were kept. But everything seemed very convincing. The unsuspecting investor was hardly able to realize that nothing was real. A play was played for him. Not a cent of his money was invested. Everything ended up right in the pockets of the investment scammers. There was no trading. Everything only appearance, no being. And therefore the investor does not get his money also paid out. Unpleasantly the suspicious business behavior provides rather for disappointed investors and miserable experiences! The big question now is, who is behind this investment fraud?
SwissFXM: Domain entry is hidden!
Of course, the investment scammers do not want to be easily tracked down. That is why the website does not have an imprint with the full details and the address of the website operators. If you look at the corresponding domain data of the website www.swissfxm.com, you will not find any reference to the operators there and you will notice that the website was registered on 14.06.2021 and no company is listed as the registrant. The registrar is CloudFlare, Inc.
SwissFXM: Who is behind it?
Investors will not be able to answer this question. The investment scammers disguise their identity perfectly - almost. This is normal because they regularly operate various websites where they offer their fraudulent business model. And who was the operator? On the website www.swissfxm.com there is only sparse information about this. The contact details include a support e-mail address support@swissfxm.com and the telephone number +442037699204 with a British country code. As an address, one finds the following information on the website: "SwissFXM, 125 Old Broad St, London EC2N 1AR, UK" If one checks this address in London, one does not find a SwissFXM company there, but only an office service. However, experts know that the trading platform SwissFXM is also associated with the company Yourt North Ltd. Here you can find in the English company register the company Yourt North Ltd, which was registered on 06.05.2021 under the company number 13380649. The registered office is located at 7 Bell Yard, London, United Kingdom, WC2A 2JR. The business purpose listed is the management of computer equipment. The Managing Director is Christian Vandaele, a French national born in December 1952, who is also still active with Investigator Ltd and is said to be at the correspondence address 520 Route De La Foret De Seillion, Peronnas, France, 01960.
SwissFXM: Warnings from the supervisory authorities
Unsurprisingly, SwissFXM has already come under the scrutiny of financial regulators with its business practices and questionable demeanor. Thus, already on 09.05.2022, the Spanish financial regulator CNMV warned against the activities of SwissFXM with its operating company Yourt North Ltd. This warning was joined by the financial supervisory authorities of Belgium and Norway.
SwissFXM: Scheme of investment fraud
The investment fraud plays out according to the recurring scheme: investors initially put in a small sum - usually 250 euros - quickly experience how this amount multiplies so that they are ready to "invest" higher and higher sums. The annoyance takes its beginning, as soon as an investor would like to have paid out its money, because then ostensibly first taxes, commissions, fees, or otherwise what must be paid. Unfortunately much too sluggishly it becomes clear to most investors that they fell for investment fraud and never the intention existed to disburse the money again.

SwissFXM: What help is there for investment fraud?
Many investors wonder how to proceed in the case of investment fraud because a criminal complaint hardly makes sense since such primarily serves the prosecution and not the recovery of the money. What help is available in cases of investment fraud and how do affect investors get their money back? The lawyer specializing in investment fraud knows how to follow the trail of money, because as it used to be said, money is not gone, but somewhere else. Today one can add: It is not easy, but with the right tools it is possible to systematically track money digitally - even if it was transferred with Bitcoin via a Crypto Exchanger.
RESCH Attorneys at Law - Experience in investor protection since 1986
If you have been a victim of SwissFXM and want to know if and how you can get your money back, call +49 30 885 9770 or fill out the questionnaire. You will receive a free assessment of your case.