Swiss4Trade - On the target of UK financial regulator (FCA)
08.12.2022
Swiss4Trade / swiss4trade.com creates the impression that investors are provided with excellent conditions to make both fast and safe money with CFD and Forex trading. Everything at Swiss4Trade is investment fraud. The money immediately landed in the pockets of the investment scammers. Nothing is traded on swiss4trade.com. Not a cent has been invested. Everything the investor sees on his screen is deceptive. Have you had the same experience? What can investors do who have been deceived by Swiss4Trade? How does the investor get his money back from dubious providers? What help is available in case of investment fraud?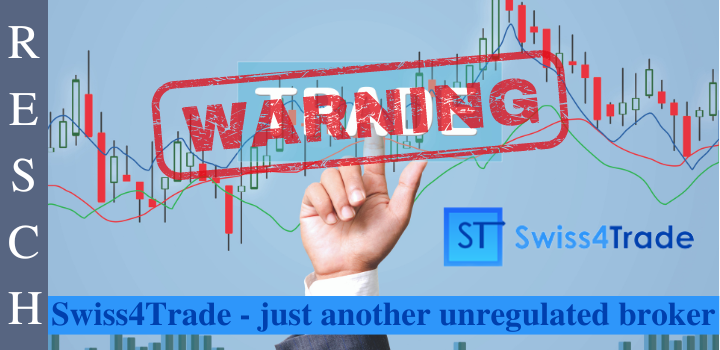 Swiss4Trade: Information on swiss4trade.com is dubious and dubious!
What are the perplexed investors on swiss4trade.com being presented with? "What we do - As one of the successful brands within the group, we are specialists in leveraged trading, offering you the potential to achieve financial returns on both rising and falling prices in currencies, indices, commodities, and equities. Whether you're an experienced trader or completely new, we're here to help you find freedom in the financial markets." This is just a small part of the untrustworthy promises investors can find on Swiss4Trade's website. None of these given promises by Swiss4Trade have been kept. Unfortunately, if anything, the suspect business practices make for unhappy investors and miserable experiences!
Swiss4Trade: Hide-and-seek game with the domain entry!
Remarkable for the business practices of the Swiss4Trade makers is that the website does not contain any imprint with complete information about the legally responsible operators of the website. If one looks at the appropriate Domainindaten of the Website www.swiss4trade.com, then one finds there no reference to the operators and states that the Website on 16.08.2022 was registered and the real Domaininhaber behind the Icelandic Internet service provider Withheld for Privacy ehf hides itself.
Swiss4Trade: Who is behind it?
Investors will not be able to answer this question. The investment scammers disguise their identity perfectly - almost. This is normal because they regularly operate various websites where they offer their fraudulent business model. And who is the operator? On swiss4trade.com only the following contact details can be found:
+35725255140
info@swiss4trade.com
Connoisseurs of the scene are already familiar with the phone number +35 725255140 because it leads to the alleged trading platform www.win-traders.com, which will be looked at in more detail later.
Who is the operator of Swiss4Trade?
Here, the following information can be found on swiss4trade.com in the footer: "Copyright 2022 SWISS WATCH TRADER LIMITED." SWISS WATCH TRADER LIMITED? Here, a company named Swiss Watch Trader Limited has been registered in the English company register since 07/05/2017 under company number 10850708. However, this is a watch dealer and jeweler, so it can be assumed that the fraudsters misuse the company name Swiss Watch Trader Limited for their purposes. This is a clone of the company.
Swiss4Trade: International searches
Further worldwide searches for Swiss4Trade in the relevant registers lead to no results. Swiss4Trade is a fantasy product to deceive investors. But with our research tools, our investigation team has succeeded in tracking down investment fraudsters. The key here is to follow the money trail!
Swiss4Trade: Connections to Win Traders!
It is also interesting to note that the same telecommunication infrastructure is used. For example, the phone number +357255140 is used by both the Swiss4Trade crime complex and Win Traders. If you look at the domain data of win-traders.com, you will notice that the website was registered on 04.08.2022 and the same Internet service providers are used as in the case of Swiss4Trade. As operator information, one finds on the website of Win Traders the TRADING 212 LTD, with company headquarters in Bulgaria.
Swiss4Trade: Win Traders in the sights of the British FCA!
Unsurprisingly, Win Traders has already been targeted by financial regulators for its business conduct and questionable appearance. For example, on 01.11.2022, the FCA published the following warning: "Win Traders (clone of an FCA-authorized firm) - ... The following is being used or shared by fraudsters as part of their scam tactics in the UK:
Win Traders (clone of an FCA-authorized company).
Phone: +357255140
Email: info@win-traders.com
Website: win-traders.com
... The FCA-authorized company for which the scammers allegedly work has no connection with the "clone company". Presumably, it is only a matter of time that not only Win Traders (www.win-traders.com) but also Swiss4Trade (www.swiss4trade.com) will be warned by financial regulators.
Swiss4Trade: Scheme of investment fraud
Investment fraud usually follows the same scheme: investors initially put in a small amount - usually 250 euros - are impressed by how quickly this amount increases, so they are ready to "invest" higher and higher sums. The worries emerge as soon as investors want to have their money paid out, because now pretextually at once taxes, commissions, fees, or anything else must be paid. Most investors realize unfortunately much too delayed that they have fallen for investment fraudsters, who never had the intention to pay out the money again.
Swiss4Trade: What help is there for investment fraud?
How to proceed in the case of investment fraud, many affected investors ask themselves, because a criminal complaint hardly makes sense, since criminal charges serve primarily the prosecution, but not the recovery of the money. What kind of help is available in case of investment fraud and how do affect investors get their money back? The lawyer specializing in investment fraud must know how to trace the money, because as it was said in the past, money is not gone, but somewhere else. In the present, one can add: It is tricky, but with the appropriate tools it is possible to trace money systematically digitally - even if it was transferred with Bitcoin via a Crypto Exchanger.
RESCH Rechtsanwälte GmbH - Experience in investor protection since 1986.
If you have been a victim of Swiss4Trade and want to know if and how you can get your money back, call +49 30 885 9770 or fill out the questionnaire. You will receive a free assessment of your case.