Swiss Roi - The scam already started on the website!
16.12.2022
Swiss Roi implies that investors are provided with excellent conditions to win fast and safe money by investing in stocks, commodities, currencies, and bonds at the same time. With Swiss Roi, everything is investment fraud. Everything the investor sees on his screen is meant to deceive. Nothing is traded on swissroi.com. Not a penny has been invested. The money has gone straight into the pockets of the investment scammers. Can you tell us about similar experiences? What can investors do who have been defrauded by Swiss Roi? What help is available in case of investment fraud? How do investors get their money back from dubious providers?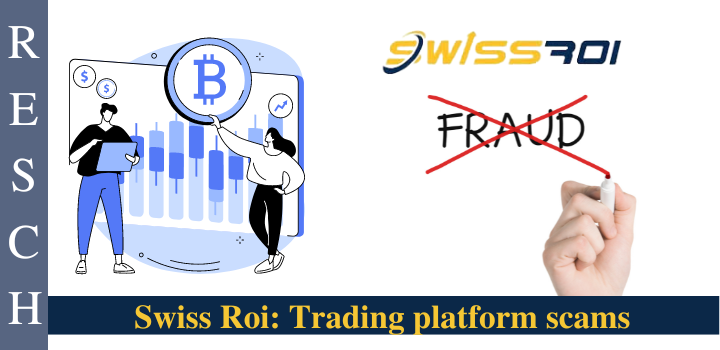 Swiss Roi: Information is transparent and dubious
What must the perplexed investors receive on swissroi.com? "ProWave is a simple and easy-to-use platform that is suitable for both beginners and experienced traders. It offers sophisticated tools, methods, and charts for analyzing assets and predicting future values. Customize your account and highlight the information you need to trade successfully." This is just a small sample of the suspect assurances that interested parties can find on Swiss Roi's website. None of these full-bodied assurances from Swiss Roi have been kept. Unfortunately, the suspect business practices tend to make for unhappy investors and bad experiences!
Swiss Roi: Who is behind it?
Very many investors might find it difficult to answer this question because the Swiss Roi makers do everything to conceal the true circumstances. Without question, this is not out of the ordinary, as scammers often operate several such websites with the same fraudulent business model. These are mass-produced, quickly uploaded to the Internet, and just as swiftly taken offline again, moreover, the top-level domain is repeatedly changed to fool financial regulators and law enforcement agencies.


Who is the operator of Swiss Roi?
On the website swissroi.com there is hardly any useful information in this regard. Among other things, the operator SWISS CRYPTO ADVISORS LONDON LIMITED with the address 25 Walbrook, London EC4N 8AF, United Kingdom is clearly stated, but the creators of Swiss Roi cannot be found under this address, since it is at best a mailbox company. In addition, the e-mail address support@swissroi.com as well as the British telephone number +442033196112 can be found there. Swiss Roi claims to be regulated by CySEC, but the specified registration number does not exist at all at the Cypriot financial supervisory authority. The domain swissroi.com was registered on 12/07/2022 with NameSilo, LLC.
Swiss Roi: Scheme of the investment fraud
The investment fraud plays itself out conspicuously according to the well-known scheme: investors initially put in a small sum - usually 250 euros - are impressed by how quickly this amount multiplies and are therefore prepared to "invest" higher and higher sums. The trouble starts immediately when investors want to have their money paid out, because now taxes, commissions, fees, or anything else have to be paid first. Unfortunately only with delay did many investors determine that they sat on an investment fraud and never the intention existed to disburse the money again.
Swiss Roi: What help is there for investment fraud?
Many investors ask themselves how to proceed in the case of investment fraud because a criminal complaint hardly makes sense since criminal complaints primarily serve the prosecution and not the recovery of the money. Which help can be used in case of investment fraud and how do affect investors get their money back? The lawyer specializing in investment fraud must know how to trace the money, because as it used to be said, money is never gone, but somewhere else. Nowadays, it can be added: It is complex, but with the proper tools it is possible to track money digitally regularly - even if it was transferred with Bitcoin via a crypto exchanger.
RESCH Rechtsanwälte GmbH - Experience in investor protection since 1986.
If you have been a victim of Swiss Roi and want to know if and how you can get your money back, call +49 30 885 9770 or fill out the questionnaire. You will receive a free assessment of your case.