Swapnex - What is your review of swapnex.io?
05.12.2022
Swapnex pretends that the investor is offered the very best opportunities to make money in online trading as quickly as safely. Everything with Swapnex is investment fraud. Not a cent has been invested. The money has landed right into the pockets of investment scammers. Nothing is traded at Swapnex. Everything the investor sees on his screen is fake. Can you report similar experiences? What help is there for investment fraud? What can investors do who have been defrauded by Swapnex? How can investors get their money back from dubious providers?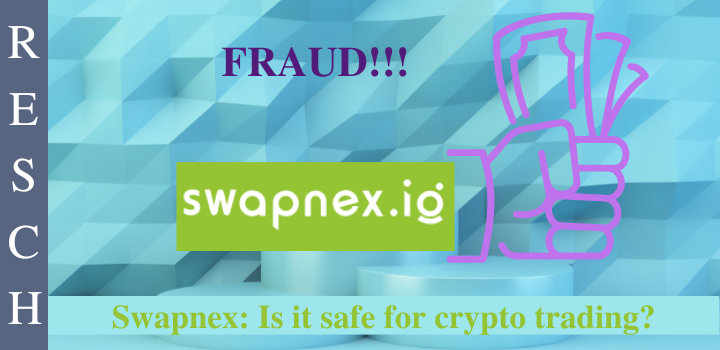 Swapnex: False and dubious promises on swapnex.io!
What are the dumbfounded investors being served up on the Swapnex website - swapnex.io? "Multifunctional arbitrage trading platform. Access Binance, Coinbase, Bithumb, Kraken, and other world-renowned exchanges through one platform.... Swapnex allows traders to buy and sell cryptocurrencies on multiple forex exchanges simultaneously within seconds. We've placed all the widely used forex exchanges on one website, so traders can quickly open and close orders at the best prices." This is just one passage of the questionable promises investors can find on Swapnex's website. None of these lofty assurances by Swapnex have been delivered. There is no viable business model. It's all appearance, no reality. Nevertheless, such a snowball system can run for a long time. Only when the supply of fresh money stops, the payouts come to a standstill and the Ponzi scheme collapses. The exciting question is, who is behind this investment fraud?
Swapnex: The domain entry is hidden!
Of course, the investment scammers don't want people to track them down easily. That is why the website swapnex.io did not have a meaningful imprint with the full details of the website operators as required by law. Also, the domain data of this website do not contain any hint of who once registered the site, but only that the registration was done on 12/17/2020 at NameCheap, Inc. and that the real domain owners - quite expectedly for us - are hiding behind an Icelandic anonymization service called Withheld for Privacy ehf based in Reykjavik.
Swapnex: Who is behind it?
Investors will not be able to answer this question. Investment scammers disguise their identity almost perfectly. This is normal because they regularly operate various websites offering fraudulent business models. Although it is no longer possible to access the former swapnex.io website, it is possible to access its successor, a swapnex.business. So the creators of the past continue to catch victims. swapnex.business was registered on 29.07.2022 with an extremely dubious 1API GmbH from St. Ingbert, also anonymized of course. And who is the operator? On swapnex.io there was only sparse information about it. Besides the obligatory support e-mail address support@swapnex.io, the phone number +442045773164 with British country code was listed.
Swapnex: Different addresses
Within the former Swapnex website, potential investors were presented with two addresses. On the one hand, the Australian address is Level 1 2-26 Park St, Sydney NSW 2000, on the other hand, the British address is St Martin's Ln, London WC2N 4JS. Neither the Australian nor the British address led us to the creators of the Swapnex construct, no trace of them there. And as far as the alleged CEO of this company is concerned, Mr. "Marcus Huber", we can only inform you at this point that his real name is Rupert Godman. An Englishman who has been living in Russia for a long time. Per se, not an unintelligent man, after all, he speaks several languages fluently. I wonder if he is aware of what he has gotten himself into after taking on the role of "Marcus Huber".
Swapnex: International searches
A worldwide search for Swapnex in the relevant registers leads to one result. A Swapnex PTY Limited can be found in the Australian commercial register under ACN number 646 838 753. Further investigations will show us whether this company, which can be found in the commercial register, is the initiator of the swapnex.io website. And we will also investigate the striking number of parallels with another platform called Attiora, which has already been exposed as fraudulent. It cannot be ruled out that there is a connection here. With our research tools, our investigation team has succeeded in tracking down investment fraudsters.
Swapnex: Criminal business practices!
There is a classic scheme of investment fraud. Swapnex is a multi-level marketing scheme - and a criminal one at that. Such a marketing system becomes criminal whenever there is no actual business model behind it, but it is essentially about generating commissions on the different levels of MLM. This is the case with Swapnex. The persons on the upper levels act at least negligently if they do not recognize that the business model behind it cannot be able to generate profits in addition to the commissions. These individuals are liable to their victims for the damage that has occurred. But what happens next?
Swapnex: Scheme of investment fraud
The investment fraud plays itself out conspicuously after always the same pattern: Investors enter with a small sum - usually 250 euros - and experience fast, how this amount multiplies so that they are ready to "invest" ever higher sums. The troubles begin as soon as an investor wants to have his money paid out, because now ostensibly first taxes, commissions, fees, or anything else must be paid. Unfortunately, most investors find out much too late that they have fallen for investment scammers who never intended to pay out the money again.
Swapnex: What help is there for investment fraud?
Many aggrieved investors ask themselves what to do in case of investment fraud, since filing a criminal complaint hardly makes sense, because criminal complaints mainly serve the purpose of criminal prosecution, but not the recovery of the money. What kind of help is available in case of investment fraud and how do the affected investors get their money back? A lawyer specializing in investment fraud knows how to follow the money trail because as they used to say, money is not gone, it's just somewhere else. Now you can add: It is exhausting, but with the right tools it is possible to track money digitally regularly - even if it was deposited with Bitcoin through a crypto exchanger.
RESCH Rechtsanwälte GmbH - Experience in investor protection since 1986.
If you have been a victim of Swapnex and want to know if and how you can get your money back, call +49 30 885 9770 or fill out the questionnaire. You will receive a free assessment of your case.