SoltechX - Reviews: It is another unregulated offshore broker
15.12.2022
SoltechX implies that investors are provided with ideal opportunities to make quick as well as safe money while trading online in forex, cryptocurrencies, stocks, bonds, and commodities. But at SoltechX, everything is investment fraud. Nothing is traded on soltechx.com. Everything the investor sees on their screen is a scam. Not a cent has been invested. The money has landed right in the pockets of the investment scammers. Have you had similar experiences? What help is there for investment fraud? How can investors get their money back from dubious providers? What can investors do who have been defrauded by SoltechX?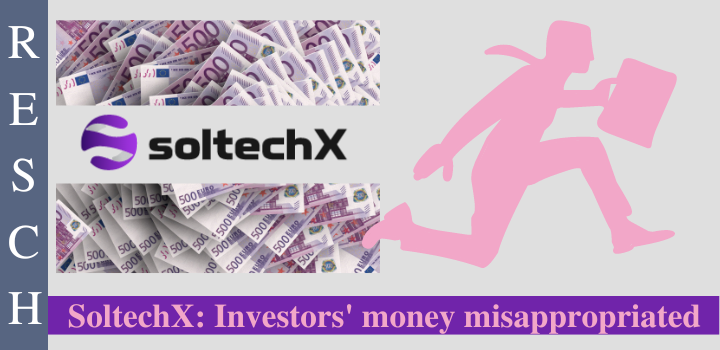 Half-silent and dubious promises on soltechx.com
What must the perplexed investors read on www.soltechx.com? "Regardless of your skill level, you can find the appropriate learning material and practice trading with Soltechx's best. Whether company specialists or active traders on the platform, our community is always ready to work side by side with traders to improve results and profits." This is just a small example of the suspect assurances that interested parties can find on SoltechX's website. Not one of these given promises by SoltechX has been fulfilled. Disappointingly, dubious business practices tend to make for disappointed investors and bad experiences!
Experiences of other investors with SoltechX
"Everything is a complete scam, you will never get any profit from them" and " they will call and ask you for more money every day to save your "investments," another one says "Everything is just a scam planned by people with no scruples, like my supposed broker, named Zach, and Marcos Conde from the supposed finance department. All of them disappeared as soon as I requested a withdrawal from my account." One investor concluded his review by saying, "These people should be in jail for life."
SoltechX: Who is behind it?
Almost all investors should have a hard time answering this question, as the SoltechX makers do everything they can to conceal the true circumstances. This is by no means unusual, as the perpetrators usually operate several of these websites with the same fraudulent business model. They are continuously created, put online without interruption, and just as quickly taken offline again. In addition, the top-level domain is often changed to fool the financial supervisory and law enforcement authorities.
But who is running SoltechX?
The soltechx.com website provides little useful information in this regard. Certainly, the company Maxx LLC with the address First Floor, St Vincent Bank Ltd Building, James Street, Kingstown, St. Vincent, and the Grenadines is given, but the makers of SoltechX are not to be found there, after all, it is at best a letterbox company. This domain soltechx.com was registered on 10.11.2021 with GoDaddy.com, LLC. You can also find the usual support email address support@soltechx.email and the UK phone number +44 1312975921.
SoltechX: Scheme of the investment fraud
The investment fraud follows the same pattern: investors initially put in a small sum - usually 250 euros - are impressed by how quickly this amount increases and are therefore willing to "invest" higher and higher sums. The conflicts arise when investors want to have their money paid out, because now, speciously, taxes, commissions, fees, or whatever have to be paid all at once. Far too slowly, most investors see through that they have fallen for investment scammers who never intended to pay out the money again.
SoltechX: What help is available for investment fraud?
Many deceived investors ask themselves what to do in case of investment fraud since a criminal complaint hardly makes sense because criminal complaints serve above all the prosecution, not the recovery of the money. What kind of help can be used in case of investment fraud and how do the defrauded investors get their money back? The lawyer specializing in investment fraud knows how to follow the traces of money, because as it used to be said, money is not gone, but unfortunately somewhere else. Now it can be added: It is complicated, but with the right tools it is possible to track money digitally regularly - even if it was transferred with Bitcoin via a Crypto Exchanger.
RESCH Rechtsanwälte GmbH - Experience in investor protection since 1986.
If you have been a victim of SoltechX and want to know if and how you can get your money back, call +49 30 885 9770 or fill out the questionnaire. You will receive a free assessment of your case.