Sendai Mebuki Holdings - Japanese Financial Supervisory Authority Warns of Investment Fraud
The supposed financial consultancy Sendai Mebuki Holdings sells itself as a credible market participant for investment advice. However, there are numerous indications that there are serious abuses at Sendai Mebuki Holdings. Reports from investors about Sendai Mebuki Holdings are piling up, talking about telephone terror, rip-offs and investment fraud. Investors have lost all of their capital invested with Sendai Mebuki Holdings. All Sendai Mebuki Holdings investors are wondering if they have been victims of investment scammers? And what can Sendai Mebuki Holdings investors do if the suspicion of investment fraud is confirmed? Will Sendai Mebuki Holdings investors get their money back? Does it make sense to file a criminal complaint against Sendai Mebuki Holdings with the police? Where can I get help for investment fraud?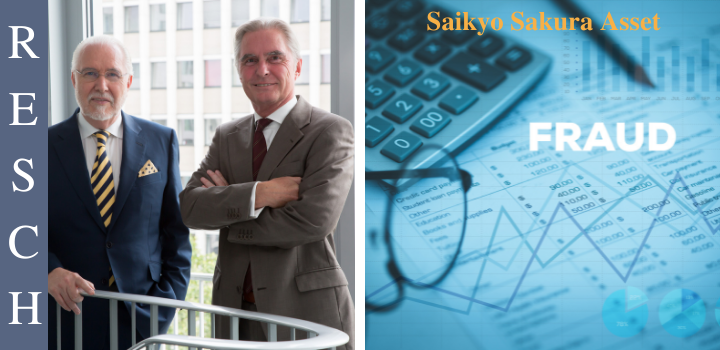 Sendai Mebuki Holdings: Doubtful promises on the website www.smhpartners.com!
What do the perplexed prospective investors read on Smhpartners.com? "Sendai Mebuki Holdings has made strides since its inception to help numerous companies and institutions worldwide. We offer a wide range of consulting practices and can assist with financial business plans, long-term financial projections, and a variety of other solutions.
● IPO listings
● Mergers & acquisitions
● Corporate restructuring
● Corporate expansion
For over a decade, Sendai Mebuki Holdings has provided consulting services and support for management buy-outs (MBOs) to its clients. For more information, please contact us Sendai Mebuki Holdings." This is just a small sampling of the questionable claims investors will find on Sendai Mebuki Holdings' website. Not one of these given assurances by Sendai Mebuki Holdings has been kept. Disappointingly, the suspect business practices tend to make for frustrated investors and miserable experiences!
Sendai Mebuki Holdings: Hide-and-seek game with domain entry!
Remarkable for the business practices of the Sendai Mebuki Holdings makers is that the website does not contain any imprint with complete information about the legally responsible operators of the website. However, this is a legal obligation for companies that directly address customers on the German market. Consequently, the operators of the website have a legal obligation to provide a summonable address of the owner of the website in the imprint. If these minimum requirements of the Telemedia Act are violated by the operators of a website, this is also a cause for concern. If you look at the relevant domain data of the website www.smhpartners.com, you will not find any reference to the operators there and you will find that the real domain owners are hiding behind the anonymization service WhoisGuard, Inc. This cannot be a coincidence! Is this another one of the many fake companies that are making trouble on the Internet?
Sendai Mebuki Holdings: Who is it?
Answering this question will be very difficult for many traders and investors, as the Sendai Mebuki Holdings makers do everything they can to conceal the true circumstances. However, this is not unusual, as the perpetrators often operate various of these websites with the supposedly same business model and quickly put them online, but also shut them down again just as quickly. In many cases, the operator's name is also frequently changed, possibly in order to deceive the financial supervisory and law enforcement authorities. And who is the operator? On the website, one finds very contradictory information. The following contact information can be found:
● HEAD OFFICE
○ 31F Osaka Kokusai Building, 2-3-13 Azuchi-cho, Chuo-ku, Osaka, Japan.
○ +81-6-4560-4410
○ info@smhpartners.com
● RESEARCH OFFICE
○ 7F Haesung Building, 504 Tehran-ro, Gangnam, Seoul, South Korea.
○ research@smhpartners.com
If you look at the supposed company headquarters at 31F Osaka Kokusai Building, 2-3-13 Azuchi-cho, Chuo-ku, Osaka, Japan you will find only one virtual office provider in the Kokusai Building in Osaka. This company is always popular with investment scammers. The same pattern can be found at the supposed Research Office at 7F Haesung Building, 504 Tehran-ro, Gangnam, Seoul, South Korea. Again, the same virtual office provider, but no Sendai Mebuki Holdings company. Checking the Japanese company registry, there is no Sendai Mebuki Holdings company listed. A worldwide search in the relevant company registers is also unsuccessful. Is the company Sendai Mebuki Holdings a fantasy product? Investors rightly have to ask themselves how, in this game of hide and seek, the business practices of Sendai Mebuki Holdings are to be classified? Is it serious or unserious? What judgment will investors come to?
Sendai Mebuki Holdings: Acquisition for investment fraud
Here, the same approach can be found again and again: In order to attract new customers, the offers of Sendai Mebuki Holdings are advertised in all conceivable media and channels. For example, advertisements are placed in social media, such as Facebook. Often, these are false promises. In addition, they upload promotional videos on YouTube, in which interested investors are convinced with false references. As soon as the customer has registered, he receives calls from alleged financial brokers who are happy to refer to their years of experience and satisfied customer base. With the same intention, a usually aggressive affiliate program is launched to spur others to intensively promote Sendai Mebuki Holdings.
Sendai Mebuki Holdings: Criminal Business Practices
Frequently, so-called cold calls are also made via dubious call centers, which are prohibited, anti-competitive advertising calls intended to lure investors. Here telephone salesmen are at work, who want to make the customers, share purchases of renowned companies palatable. Often it concerns however with the Machern of this business model around presumed swindlers, before whom also the Federal Criminal Police Office and the Federal Institution for supervision of financial service (BaFin) warn. Do "Nick Gilbert", "Michael Fox" and "John Wells" also belong to it? Disappointed investors in Sendai Mebuki Holdings should simply take the plunge and look on the Internet to see whether their supposed financial broker has already left scorched earth elsewhere.
Sendai Mebuki Holdings: Deception with big names and fake profits!
Again, you have the phenomenon that the makers of the trading platforms advertise with big names and offer supposed big deals. However, it is particularly dubious when supposed profits are displayed on the trading platform to entice the customer to make further high stakes. In the case of Sendai Mebuki Holdings, these are shares of Galaxy Entertainment Group and Energy Asia (Hong Kong). Wild stories are often told here, especially fond of unique trading options. Investors are often invented, who allegedly want to take over a co-financing, but unfortunately are not available. Repeatedly then also the advisor jumps in or the customer must raise the money for the "unique" opportunity. Similarly, an alleged IPO is brought into play again and again. But also here there is then again no security folder or other facts, which would occupy the absonderlichen history. Just as unserious are the abstruse stories, over certain threshold values with the number of shares, which would be necessary for the resale to an alleged investor. This also applies to demanded percentage guarantee payments, which would be necessary before a payment of the alleged profit.
Sendai Mebuki Holdings: Exit without losses impossible?
However, an exit from the investment is then usually no longer possible, rather a repayment of the money is linked to absurd conditions or even further deposits. In the later course of the transactions, alleged tax debts and commission payments are then claimed. These would have to be settled first, then it would come to the disbursement of the allegedly earned profits. However, offsetting against the supposedly earned profits is never possible. If one refuses these further deposits, the alleged profits are often turned into losses and the customer is harmed to the maximum. Equally abstruse is the reference to allegedly secret transactions or even the threat to deny access to the supposedly acquired portfolio. Completely far from reality and absolutely dubious! And here the investment fraudsters also like to operate several trading platforms with the same scam and the notorious "Boiler Room Scam" and which then partly because of their dubious business also landed on the warning lists of the financial supervisory authorities. This is of course well known to connoisseurs of the scene.
Sendai Mebuki Holdings: Targeted by the Financial Supervisory Authority!
The Japanese Financial Supervisory Authority warned the public on 12.12.2019 about the activities of Sendai Mebuki Holdings and placed the company on its warning list. This warning list includes companies that make unsolicited advertising calls, so-called cold calls. The warning list also includes companies that are not registered or authorized to conduct financial transactions. This also shows that the Japanese financial supervisory authority will have come to the conclusion that this is a fake company. And what do these warnings mean for customers who have had a bad experience with the company Sendai Mebuki Holdings and the trading platform www.smhpartners.com?
Sendai Mebuki Holdings: No trades without a securities prospectus!
A crucial question is also whether the company Sendai Mebuki Holdings is supervised by a financial supervisory authority, such as the Federal Financial Supervisory Authority (BaFin) or the Swiss Financial Market Supervisory Authority (FINMA). There is no evidence of this and this is another warning sign. And what to make of the alleged financial transactions of the company Sendai Mebuki Holdings with German investors? In principle, the prospectus obligation exists in Germany for financial transactions of this kind. The German financial regulator BaFin explains: "In Germany, securities may not in principle be offered to the public or admitted to trading on an organized market without the publication of a prospectus previously approved by BaFin. As part of such approval, BaFin examines whether the prospectus contains the minimum information required by law and whether the prospectus content is comprehensible and coherent (free of contradictions). However, it does not check the accuracy of the content of the prospectus. Likewise, it does not check the seriousness of the issuer or the product. Issuers are liable for the accuracy of the information provided in the securities prospectus." If a company violates these requirements when offering shares to the public, this offer will be prohibited due to the violation of Article 3 (1) of the EU Prospectus Regulation. The prohibition occurs because the company has not published a prospectus for this security that has been approved by BaFin and contains the information required under Article 6 et seq. of the EU Prospectus Regulation. Companies, including Sendai Mebuki Holdings, must inform their customers about this. If they fail to do so, they are liable for damages and investors can claim their money back. But where can the traces of the money be found?
Sendai Mebuki Holdings: Traces to the Hong Kong financial hub!
What happens when you follow the money trail? Basically, most investors assume that they normally transfer the money to their contractual partner, such as a bank or a fund company. But here it went completely different, but not untypical for actors in the Boiler Room Scam. The companies HK Promn Trade Ltd, Jiagya Trade Co. Ltd, Muling Trading Co. Ltd, Daye Trade Ltd, which were only founded in 2019, also acted as recipients for the money of the unsuspecting investors. Here again, the usual "Virtual Office Solution" can be found, which are also readily used by investment scammers. This often causes the Hong Kong Financial Supervisory Authority to point out that the suspicious companies use a "secretarial service". Firms of this type allegedly act as so-called financial agents through which investor payments are to be processed and disguised. We are well aware that accounts of the Hongkong and Shanghai Banking Cooperation Limited (HSBC) are used for this purpose. Just as often in use are accounts of the Bank of China (Hong Kong) Limited. The companies involved, as well as the banks HSBC and Bank of China, will have to face some unpleasant questions about the role they played in the alleged fraud. A question that will also be of great interest to law enforcement and regulatory authorities.
Sendai Mebuki Holdings: scheme of investment fraud?
There is no authorization of Sendai Mebuki Holdings financial advisory. Sendai Mebuki Holdings lacks legitimacy from a recognized European financial regulator, such as the UK Financial Conduct Authority (FCA). Likewise, there is no authorization from the Swiss Federal Financial Supervisory Authority (finma) or the Financial Market Authority (FMA) of Austria, which is responsible for Switzerland. For this, there is a warning from the FSA. This is the Japanese supervisory authority for the financial market and financial services. It is effortless to see that Sendai Mebuki Holdings is a scheme of capital investment fraud. All investors harmed by Sendai Mebuki Holdings are advised to consult an investment fraud attorney immediately.
Sendai Mebuki Holdings: Where do the investment fraudsters operate actively?
Investors are dealing with Sendai Mebuki Holdings investment fraud in Germany, Switzerland and Austria. Unfortunately, the illegal activities of Sendai Mebuki Holdings were not limited to the DACH region. Because Sendai Mebuki Holdings targets English-speaking investors as well, it is not surprising that people who have been defrauded come forward from elsewhere. Going through the list of regulators is advisable before any financial engagement to reduce the risk of becoming a victim of investment fraud.
Sendai Mebuki Holdings: claims for damages against involved banks
A license from the German Federal Financial Supervisory Authority (BaFin) is a mandatory requirement for financial services and investment transactions in Germany. Doing, supporting or facilitating such business, including cross-border business into Germany, is prohibited. Persons who nevertheless participate in such transactions are obliged to pay damages to the injured parties. Such investment fraud cases would not have been conceivable without such banks.
Sendai Mebuki Holdings: Investors want their money back!
The circumstances are by far more promising than it seems. The aggrieved investors can take countermeasures and demand the return of the invested capital. As of today, it is not expected that the investment fraudsters of Sendai Mebuki Holdings will be caught soon, but there is still reason to hope. This is especially true because the money transactions were made through accounts provided by financial institutions that were concerned about good reputation. Unfortunately, their managers failed to check the investors' deposits, some of which were large and therefore subject to controls, and their onward transfer for illegality. Such delays enabled the investment fraudsters to carry out their criminal activities in the first place.
Sendai Mebuki Holdings: They want their money back! How does it work?
Equipped with this knowledge, no investor would have entered into a business relationship with Sendai Mebuki Holdings. Now the only alternative left for those who were defrauded is to seek compensation for the loss. Many investors cannot even imagine that there is any real chance of ever seeing their money back. Clearly yes! There are numerous legal bases to fall back on. The generic term is "money laundering." When investment fraudsters collect money, the crime of money laundering is committed. Financial institutions have a duty to take action against money laundering. This is where one starts with good chances of success. In this regard, relevant points must be clarified. To what destination have the funds moved by Sendai Mebuki Holdings been taken? Are there realistic prospects that the aggrieved investors will get back their money invested with Sendai Mebuki Holdings? What precautions are obligatory from now on? You can get the answers to these questions from a lawyer specializing in capital investment fraud.
Sendai Mebuki Holdings: Who can help?
What to do in case of investment fraud? What kind of investment fraud help can Sendai Mebuki Holdings victims hope for? Sendai Mebuki Holdings victims can ideally find the help they need from an experienced investment fraud attorney. He or she will be able to take care of your Sendai Mebuki Holdings case both in terms of the criminal aspects of the investment fraud, as well as the recovery of funds and possible claims for damages. A lawyer for trading can also be considered, because he is also familiar with the methods of fraudulent brokers, such as Sendai Mebuki Holdings.
Sendai Mebuki Holdings: Follow the money trail!
The investor protection law firm Resch Rechtsanwälte has been investigating such abuses on the gray capital market for more than three decades. The conduct of Sendai Mebuki Holdings is therefore nothing new. Over the years, Resch Rechtsanwälte has developed effective equipment for tracking down the money that has been taken away and tracing the money flows. In times of the Internet, it is becoming more and more difficult to actually make money disappear. The faster those affected can follow the money trail, the better the chances are that they will get back the capital they have invested. Now it is important that investors who have been harmed by Sendai Mebuki Holdings take immediate action.
RESCH Attorneys at Law - Experience in Investor Protection since 1986
If you have become a victim of Mebuki Holdings and want to know if and how you can get your money back, call 030 885 9770 or fill out the questionnaire. You will receive a free assessment of your case.