Saqs Investment - Finma: No entry in the commercial register
13.02.2023
Saqs Investment pretends that investors are granted excellent conditions to make money as quickly as safely by investing in the asset classes offered. Everything at Saqs Investment is investment fraud. Nothing is traded on saqsinvestment.com. Not a penny has been invested. Everything the investor sees on their screen is deception. The money has gone straight into the pockets of the investment scammers. Have you had the same experience? What can investors do who have been defrauded by Saqs Investment? What help is available in the case of investment fraud? How can investors get their money back from dubious providers?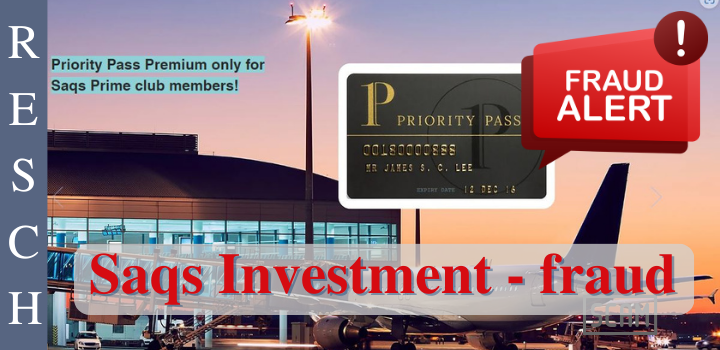 Saqs Investment: Promises on saqsinvestment.com are suspect and dubious
What do the perplexed visitors read on saqsinvestment.com? "Saqs Investment draws on eight years of experience in various sectors, which means our portfolio and projects are fast-growing and sustainable because we use the latest theories and technologies in management. We are always adapting to an ever-changing and fast-growing environment. Saqs Investment is an international investment holding company headquartered in Hong Kong. The company stands for real success factors with a qualified and motivated team." This is just a small sample of the exaggerated claims investors will find on Saqs Investment's website. Not a single one of these full-bodied promises by Saqs Investment has been kept. Unfortunately, the dubious business practices tend to make for unhappy investors and bad reviews!
Saqs Investment: Who is behind it?
Many investors will undoubtedly find it difficult to answer this question, as the Saqs Investment makers do everything they can to conceal the true circumstances. This is not unusual, however, because the perpetrators often operate several of these websites with the same fraudulent business model. These are created continuously, uploaded one after the other on the internet and shut down just as quickly. In addition, the top-level domain is changed again and again to confuse financial regulators and law enforcement agencies. On 25.01.2023, Finma published a warning about Saqs Investment.
But who is the operator of Saqs Investment?
There is hardly any usable information about this on the Saqs Investment website. The company Saqs Investment LTD is listed with the business addresses 3rd Floor 207 Regent Street, London, Greater London, United Kingdom, W1B 3HH and Dreikönigstrasse 31A, 8002 Zurich, but the makers of Saqs Investment cannot be found there, as in both cases it is only a bogus address. In addition, the Swiss telephone number +41435507988 can be found there, but no e-mail address. The domain saqsinvestment.com was registered on 21.07.2020 with NameCheap, Inc., but there was an update on 23.06.2022, which indicates a change of ownership.
Saqs Investment: Scheme of the investment fraud
The investment fraud apparently follows the same pattern: investors initially put in a small sum - usually 250 euros - are impressed by how quickly this amount multiplies and are therefore prepared to "invest" ever higher sums. The arguments start as soon as investors want to have their money paid out, because then, ostensibly, taxes, commissions, fees or whatever have to be paid first. Many investors realise far too late that they have fallen for investment fraudsters who never intended to pay out the money again.
Saqs Investment: What help is there for investment fraud?
What to do in case of investment fraud, many aggrieved investors ask themselves, but filing a criminal complaint hardly makes sense, because criminal complaints are mainly for prosecution, but not for recovering the money. What kind of help can be used in case of investment fraud and how do the defrauded investors get their money back? The lawyer specialized in investment fraud knows how to trace the money, because as they used to say, money is not gone, but unfortunately somewhere else. Nowadays one can add: It is not easy, but with the proper tools it is possible to track money digitally on a regular basis - even if it was deposited with Bitcoin through a Crypto Exchanger.
RESCH Rechtsanwälte GmbH - Experience in investor protection since 1986
If you have been a victim of Saqs Investment and want to know if and how you can get your money back, call +49 30 885 9770 or fill out the questionnaire. You will receive a free assessment of your case.