Sanders & Partner AG - Investment scammers embezzle investors' money
18.10.2022
Sanders & Partner AG pretends to provide investors with fantastic opportunities to make fast and secure money with the supposed investment advisor. But everything with Sanders & partner AG is investment fraud. Everything the investor sees on his screen is fake. Nothing is traded at Sanders & Partner AG. Not a cent is invested. The money has landed right in the pockets of investment scammers. Can you tell us about similar experiences? What help is available in the case of investment fraud? How do investors get their money back from dubious providers? What can investors do who have been defrauded by Sanders & Partner AG?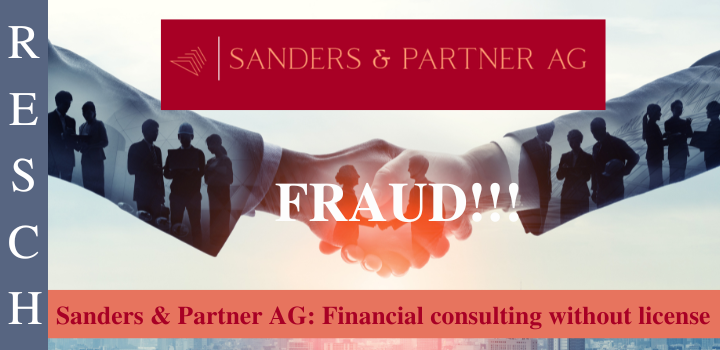 Sanders & Partner AG: Half-silk and dubious statements on the website
What is being served up to unsuspecting prospective investors on the Sanders & Partner AG website? "We rely on active fund management and build portfolios "bottom-up", i.e. we select companies based on their opportunities. This gives us the competitive edge we need to achieve above-average returns for our clients. Since markets are generally not efficient, we develop our investment ideas and convictions based on our research." This is just a small excerpt of the suspect affirmations that interested parties can find on the Sanders & Partner AG website. Not one of these noble assurances of Sanders & Partner AG was kept. Unpleasantly, the dubious business practices rather provide unhappy investors and miserable experiences!
Sanders & Partner AG: The domain entry is hidden!
Of course, investment scammers do not want to be easily tracked down. That is why the website does not have an imprint with meaningful details and an address of the website's operators, only this: the details you find on the page are all fictitious. Also the domain data of the web page www.sanders-partner-ag.com do not contain any reference, to who registered the side once, but only that the registration took place on 18.01.2022 with Enom, Inc. and the real Domainbesitzer hides - for us completely as expected - behind an anonymization service.
Sanders & Partner AG: Who is behind it?
Investors will not be able to answer this question. The investment fraudsters disguise their identity perfectly - almost. This is normal because they regularly operate various websites on which they offer their fraudulent business model. And who is the operator? On the website of Sanders & Partner AG, there is only insufficient information about this, because - as mentioned before - the published information was fictitious. At the mondänen address stock exchange place 2 in 60313 Frankfurt, which was presented to the potenziellen plant prospective customer on the web page as company headquarters, is however definitely no company named Sanders & partner AG. Besides the info. email address one is offered still the telephone number 069 87 0 00 184, which does not permit however any conclusions on the operators of the platform.
Sanders & Partner AG: Ominous connection
Sanders & Partner AG often directs its gullible investors further to a company called Umbrella Capital. We cannot report anything good about this company at this point either. The addresses in the USA (1000 5th Street STE 200 Miami Beach, FL 33139), the United Kingdom (152 - 160 Kemp House City Road, London), and Sweden (Östermalmstorg 1, 114 42 Stockholm) given on the web pages umbrellascapital.com and umbrellacapital.co.uk are nothing but hot air because one does not find an Umbrella Capital there, very well however offerers of virtual offices. With the help of these virtual offices, anyone can organize an office address at the addresses given without having to be physically there. Practical, when visitors are generally rather undesirable.
Sanders & Partner AG: International searches
The worldwide search for a possible Sander & Partner AG in the relevant registers leads to no results. Sander & Partner AG is a fantasy product. And even if Umbrella Capital can show registration in the United Kingdom, this does not mean that everything is above board. In any case, we will take a closer look at the managing directors Lisa Dinges and Jonathan Wiedekind who are acting according to the commercial register. Do they know what they have let themselves in for here? With our research tools, our investigation team has succeeded in tracking down investment fraudsters. In this context, we therefore already see parallels to Sanders & Partner AG, which also forwarded investors to Umbrella Capital.
Sanders & Partner AG: When will the supervisory authorities react?
It is only a question of time until the regulatory institutions - exemplarily BaFin, FMA, or FCA - will become aware of Sander & Partner AG as well as Umbrella Capital and will warn about their criminal activities.
Sander & Partner AG - Criminal business practices! Investment fraud with alleged time deposits runs regularly after the same pattern. Investors enter with a relatively small sum as a time deposit. Given the good interest rates and the alleged securities, many gratefully take the opportunity to increase the time deposit once again. Too late most investors notice that everything was swindled. There is no such thing as a time deposit. Everything was lies and deception. Is the money now lost forever?

Sanders & Partner AG: What help is there for investment fraud?
Many aggrieved investors ask themselves what to do in the case of investment fraud. Criminal charges hardly make sense, because criminal charges are primarily for prosecution and not for recovering money. What kind of help can be used in investment fraud cases and how do affect investors get their money back? A lawyer specializing in investment fraud must know how to follow the money trail, because as it used to be said, money is never gone, only somewhere else. Today, you can add to that: It is not easy, but with the right tools it is possible to track money systematically digitally - even if it was deposited with Bitcoin via a Crypto Exchanger.
RESCH Attorneys at Law - Experience in investor protection since 1986
If you have become a victim of Sanders & Partner AG and want to know if and how you can get your money back, call +49 30 885 9770 or fill out the questionnaire. You will receive a free assessment of your case.