Saikyo Sakura Assets - Experience - Warning
Many investors have had bad experiences with Saikyo Sakura Assets. They have made large investments hoping for a good return. Is there an investment fraud? Have the investors of Saikyo Sakura Assets fallen for investment scams? What can investors do to get their money back? What help is available for Saikyo Sakura Assets investors?
Saikyo Sakura Assets: Who is it?
First of all, if you take a close look at the Saikyo Sakura Assets website, you will look for an imprint but will not find one. The next question to check is where the company is headquartered. So the headquarters should be in Osaka and here: 26F Shin Daibiru Building, 2-1 Dojimahama, Kita-ku, Osaka, Japan. However, it is very questionable whether you will find Saikyo Sakura Assets in the Shin-Daibiru Building - The Skyscraper Center with its 31 floors. And whether one will find here 9F Pan Ocean Building, 102 Jungang daero, Jung-Gu, Busan, South Korea? But here Busan only premises of the company Regus can be found, where virtual offices can be rented, but probably the company Saikyo Sakura Assets is not located. Neither in Osaka nor Busan, but also in the Japanese company register Saikyo Sakura Assets cannot be found. Even if one undertakes a worldwide search, Saikyo Sakura Assets remains a phantom. Again, one of the many fake companies that are doing their mischief on the Internet.
Saikyo Sakura Assets: Hide and seek with the domain entry!
But maybe the domain entry of the website www.ssaholding.com offers further information about the companies involved. But also here the game of hide and seek continues. Although the website was registered in 2011, it was not used by Saikyo Sakura Assets, but by a company from Abu Dhabi. On 06/19/2019 an update of the domain data was made and now the company Saikyo Sakura Assets also appears, but hides everything else behind the internet service provider GoDaddy. Quite strange for a company that is supposed to have been around since 2011, but only takes over the website in 2019. But it's not just the website that's newly registered, it's also the company's Twitter account, which was only set up in August 2019 and is referenced by a link on the website. Also, the YouTube channel was installed only on 28/08/2019 and there is the big emptiness, just like the offer of the fake company Saikyo Sakura Assets. Likewise, photos from the ssaholding.com website can be found in image databases and many times they are also used by other websites. Again, no trust, but only fake, to deceive potential customers and other Internet visitors.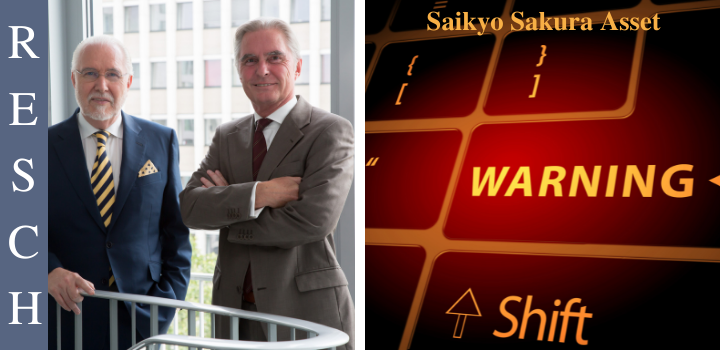 Saikyo Sakura Assets: Dubious business practices!
Here, too, you can find the old behavior patterns and the same approach over and over again: As soon as the customer has registered on the trading platform, he receives calls from alleged financial brokers who like to refer to their years of experience and their satisfied customer base. In some cases, the customer data from other transactions is also resold and further business is initiated. In many cases, the makers of this business model are suspected fraudsters, of whom the Federal Criminal Police Office and the Federal Financial Supervisory Authority (BaFin) also warn. Here, disappointed traders of Saikyo Sakura Assets should simply do the test and look on the Internet, whether their alleged financial broker has already left scorched earth elsewhere.
Saikyo Sakura Assets - Deception with big names and fake profits!
Again and again there is the phenomenon that the makers of trading platforms, whether they call themselves Saikyo Sakura Assets or also Mirai Life Securities, advertise with big names and offer supposed big deals. This also applies to the companies Galaxy Entertainment Group Ltd and EnTech International HK Limited. However, it is particularly dubious when supposed profits are displayed on the trading platform in order to seduce the customer into further high stakes. Thus, the alleged increase in value at Galaxy Entertainment Group Ltd seems completely implausible. It is equally questionable that the alleged profit from the Galaxy Entertainment Group Ltd transaction was invested precisely in securities of EnTech International HK Limited. It is particularly abstruse when the documents used in the transactions only have a different company name, but are completely identical in structure. Quasi fake twins! Whether there are still further "brothers and sisters" here? An exit from the investment is then however usually no longer possible, rather a repayment of the money is attached to absurd conditions or even further deposits. Equally abstruse is the reference to allegedly secret transactions or even the threat to deny access to the supposedly acquired portfolio. Completely far from reality and absolutely dubious!

Saikyo Sakura Assets: Traces to the financial hub Hong Kong!
Kaler Trading Limited and Hanming Trading Co. Limited are stated as one of the payees. Kaler Trading Limited, which was registered under registration number 2887011 in the Hong Kong Companies Registry on 10/28/2019, also acted as the recipient for the funds of the unsuspecting traders. Similarly, Hanming Trading Co. Limited was incorporated on 10/31/2019 under registration number 2888236 and acted as the payee. These companies are allegedly acting as so-called financial agents through which investors' payments are to be processed and disguised. We are well aware that accounts at HSBC and Bank of China are used for this purpose. Again, we do not understand why the payments cannot be executed in the financial center of Osaka, the alleged headquarters of Saikyo Sakura Assets.
Saikyo Sakura Assets: Also soon in the sights of financial regulators?
On Dec. 12, 2019, Japan's financial regulator FSA warned the public about the activities of Mirai Life Securities and placed the firm on its warning list. On this warning list are companies that make unsolicited advertising calls, so-called cold calls. The warning list also includes companies that are not registered or authorized to conduct financial transactions. This also shows that the Japanese financial supervisory authority will have come to the conclusion that this is a fake company. We will see if the Saikyo Sakura Assets company feels the same way. The business practices of Saikyo Sakura Assets are already very similar to those of Mirai Life Securities and it would not be surprising if the makers of these dubious business models were the same.
Saikyo Sakura Assets: Investors want their money back!
If investors had known all this, they certainly would never have gotten involved in this business. Investors will now ask themselves how they will get their money back and whether it has not long since gone somewhere else. These are legitimate concerns and questions that a lawyer specializing in investment fraud can probably answer.
Saikyo Sakura Assets: Tracking the money!
For over 30 years the investor protection Kanzlei Resch attorneys pursues all variants of the investment fraud. In this respect, the activities of Saikyo Sakura Assets are nothing really new. A set of instruments has been built up to track the money. In the age of the Internet, it has become very difficult to make funds really disappear. The important thing is that investors act IMMEDIATELY. The faster the trail of the money is followed, the greater the chances that the money can be secured!
RESCH Attorneys at Law - Experience in investor protection since 1986
If you have become a victim of Saikyo Sakura Assets and want to know if and how you can get your money back, call 030 885 9770 or fill out the questionnaire. You will receive a free initial assessment of your case.