SaaS GTR - It's investment fraud
19.09.2022
SaaS GTR pretends that investors are offered ideal conditions to make money as fast as safe thanks to artificial intelligence through online trading. With SaaS GTR, everything is investment fraud. Everything the investor sees on his screen is fake. The money has landed right in the pockets of investment scammers. Not a penny has been invested. Nothing is traded at SaaS GTR. Have you had similar experiences? What help is there for investment fraud? What can investors who have been defrauded by SaaS GTR do? How can investors get their money back from dubious providers?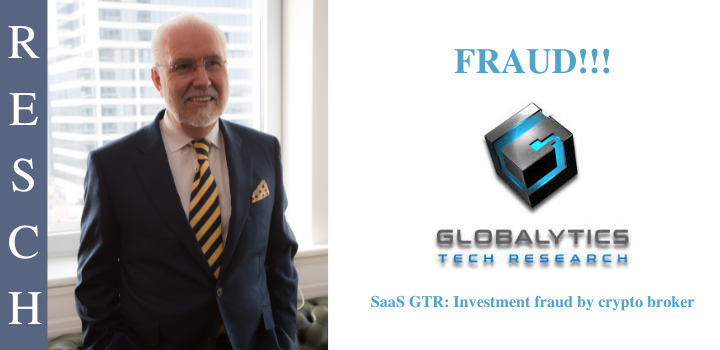 SaaS GTR: Promises are questionable
What do the astonished investors read on gtr.tech? "GTR has also created a VIP service for our valuable customers. In addition to distributing our Star products, a portion of the subscription fee income is allocated to the Asset Under Management (AUM) pool for trading purposes. This profit is then shared with our customers under the SAAS program when the AUM reaches a targeted percentage of profit." This is just one small passage of text from the implausible assurances investors find on SaaS GTR's website. Not a single one of these lofty promises by SaaS GTR has been delivered. Disappointingly, the disturbing business practices rather make for disappointed investors and miserable experiences!
SaaS GTR: Who is behind it?
Since the SaaS GTR makers are doing everything they can to conceal the true circumstances, investors will tend to have a hard time answering this question. This is certainly not unusual because the perpetrators often run several of these websites with the same fraudulent business model. They are created continuously, put online without pause, and taken offline just as quickly; moreover, the top-level domain is often changed to confuse financial regulators and law enforcement agencies.
SaaS GTR: Who is the operator?
There is little usable information about this on the SaaS GTR website. Although the operator Globalytics Research Systems Enterprise is listed with the address International House, 24 Holborn Viaduct, London EC1A 2BN, United Kingdom, the creators of SaaS GTR are certainly not to be found there, as it is merely a letterbox company. This is probably also true for the second given address 30, Peel House, Suite 28 The Downs Altrincham Cheshire United Kingdom WA14 2PX. The domain gtr.tech was registered at Namecheap on 13.10.2020. In addition, there is the obligatory support email address contact@gtr.tech and the UK phone number +44 20 8895 6331.
SaaS GTR: Scheme of the investment fraud
Investment fraud usually follows a recurring scheme: investors initially deposit a small amount of money - usually 250 euros - are impressed by how quickly this amount increases and are therefore willing to "invest" higher and higher sums. The conflicts start, as soon as an investor would like to have his money paid out, because now flimsily first of all taxes, commissions, fees or anything else must be paid. Much too delayed most investors discover that they have fallen for investment fraud and never the intention was to pay out the money again.
SaaS GTR: What help is there for investment fraud?
How to proceed in case of investment fraud, many desperate investors ask themselves, since a criminal complaint hardly makes sense, because criminal complaints primarily serve the prosecution, but not the recovery of the money. What kind of help can one hope for in the case of investment fraud and how do investors get their money back? The lawyer who specialized in investment fraud knows how to follow the traces of money, because as it was said in the past, money is never gone, but unfortunately somewhere else. Nowadays this can be added: It is complicated, but with the right tools it is possible to systematically track money digitally - even if it was deposited with Bitcoin via a crypto exchanger.
RESCH Attorneys at Law - Experience in investor protection since 1986
If you have been a victim of SaaS GTR and want to know if and how you can get your money back, call +49 30 885 9770 or fill out the questionnaire. You will receive a free assessment of your case.