Royal Investment Consortium - Experiences: Ponzi scheme
15.02.2023
Royal Investment Consortium creates the impression that investors are provided with ideal opportunities to make money as fast as they can with extremely high interest investments. Everything at Royal Investment Consortium is investment fraud. Everything the investor sees on his screen serves to deliberately mislead him. Not a cent has been invested. The money has gone straight into the pockets of the investment scammers. Nothing is traded on royalinvestmentconsortium.com. Have you had similar experiences? What help is there for investment fraud? What can investors do who have been defrauded by the Royal Investment Consortium? How can investors get their money back from dubious providers?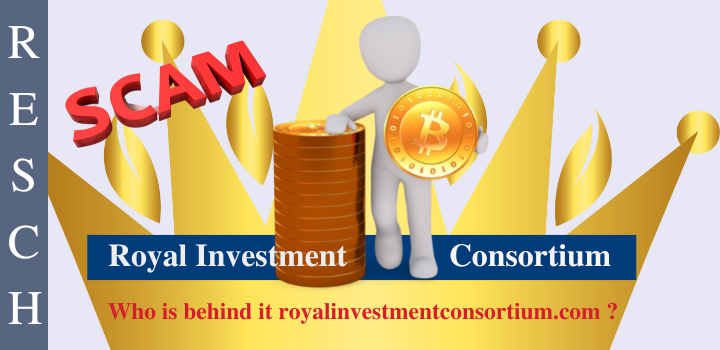 Royal Investment Consortium: Dubious statements on royalinvestmentconsortium.com
What do dumbfounded investors read on royalinvestmentconsortium.com? "The Royal Investment Consortium is an association of wealthy families and family trusts based in the United Arab Emirates, China, Russia and Spain. It has a long and chequered history and was founded in 1828 by several wealthy families in the United Arab Emirates and Saudi Arabia. Originally, the consortium operated as a merchant bank, lending to local businesses. Slowly but surely, it started acquiring private banks and then moved on to developing and distributing financial products and services for private and institutional investors." Yes, there is lying till the beams bend. Unfortunately, the shady business practices of the Royal Investment Consortium make for bad experiences and disappointed investors!
Royal Investment Consortium: Who is behind it?
Since the Royal Investment Consortium makers do everything they can to conceal the true circumstances, almost all investors will find it quite difficult to answer this question. This is undoubtedly not unusual, because the perpetrators usually operate several of these websites with the same fraudulent business model. Such websites are created continuously, uploaded on the internet without interruption and shut down just as swiftly; moreover, the top-level domain is often changed in order to confuse the financial supervisory and law enforcement authorities. The Italian financial supervisory authority CONSOB has meanwhile confirmed that the alleged branch in Venice is also operating without a licence.
But who operates royalinvestmentconsortium.com?
On the website royalinvestmentconsortium.com there are a few usable details in this regard. For example, the company Royal Investment Consortium s.r.l., managed by the Austrian Janko Franz Fritz Rottmann, is listed with the business addresses Konstitucijos pr. 7, LT-09308 Vilnius and 182 Budapest, Batthyány Lajos utca 117. Of course, the makers of the Royal Investment Consortium are not to be found among these, as they are letterbox companies. In addition, the e-mail address royalinvestmentconsortium@gmail.com and the Lithuanian telephone number +370 611 11153 can be found. The domain royalinvestmentconsortium.com was registered with REGISTER4LESS, INC. on 25 May 2017.
Royal Investment Consortium: Who is the managing director Janko Rottmann?
Mr Janko Rottmann was born in Austria and applied for German citizenship in Bavaria in the early 2000s. After German authorities discovered that he had concealed a conviction for serious fraud in Austria, his German citizenship was retroactively revoked. The European Court of Justice later confirmed the legality of this action.
Royal Investment Consortium: Scheme of the investment fraud
Investment fraud unmistakably follows the usual pattern: investors enter with a small sum - usually 250 euros - and quickly experience how this amount increases, so that they are prepared to "invest" ever higher sums. The trouble starts when an investor wants to have his money paid out, because then, flimsily, taxes, commissions, fees or something else must be paid at once. Unfortunately, most investors are far too slow to realise that they have fallen for an investment scam on royalinvestmentconsortium.com and that there was never any intention of paying out the money again.

Royal Investment Consortium: What help is there for investment fraud?
Many defrauded investors ask themselves how to proceed in the case of investment fraud, because criminal charges hardly make sense, since criminal charges are mainly used for prosecution, but not for recovering the money. What kind of help can be used for investment fraud, like that of the Royal Investment Consortium, and how do investors get their money back? The lawyer specialising in investment fraud must know how to follow the money trail, because as it used to be said, money is never gone, only somewhere else. In the present, this can be added to: It is difficult, but with the right tools it is possible to trace money digitally on a regular basis - even if it was transferred with Bitcoin via a Crypto Exchanger.
RESCH Rechtsanwälte GmbH - Experience in investor protection since 1986
If you have been a victim of Royal Investment Consortium and want to know if and how you can get your money back, call +49 30 885 9770 or fill out the questionnaire. You will receive a free assessment of your case.