Romos LLC - Investors have lost everything
07.12.2022
Romos LLC pretends to offer investors fantastic opportunities to make money in Forex trading as fast as it is safe. At Romos LLC, everything is investment fraud. Not a penny has been invested. The money has gone straight into the pockets of the investment scammers. Everything the investor sees on their screen is fake. Nothing is traded at Romos LLC. Can you report any similar experiences? What can investors who have been scammed by Romos LLC do? How can investors get their money back from dubious providers? What help is available in case of investment fraud?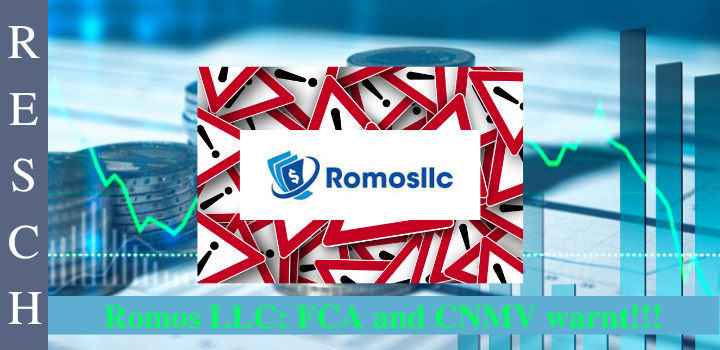 Romos LLC: Unsubstantiated and dubious promises on the website
What do unsuspecting investors read on the website of Romos LLC www.romosllc.com? "ROMOS LLC is a UK asset management and investment company focused on generating profits from various financial markets in the UK and worldwide. ROMOS LLC aims to be the leading source of growth capital for brands and assets with world-class potential. To achieve this, ROMOS LLC works closely with the brands and management team, following the principles of reliability, knowledge, and transparency." That's a quote from the implausible assurances that interested parties can find on Romos LLC's website. None of these full-bodied assurances by Romos LLC have been delivered. Unfortunately, the half-silly business conduct rather provides disappointed investors and bad experiences!
Romos LLC: Who is behind it?
Since the Romos LLC makers do everything to conceal the true circumstances, very many investors will probably have trouble answering this question. This is practically not unusual because the perpetrators usually operate several of these websites with the same fraudulent business model. Such are created in series, put online one after another, and just as swiftly taken offline again, moreover, the top-level domain is changed again and again to deceive financial regulators and law enforcement agencies.
But who is the operator of Romos LLC?
There is hardly any usable information about this on the website romosllc.com. Admittedly, the company Romos LLC is given an address in London, without naming it. Therefore, it is not possible to verify whether the creators of Romos LLC can be found there. The domain romosllc.com was registered on 11.07.2021 with NameCheap, Inc. In addition, the usual e-mail address contact@romosllc.com and the British telephone number +44 7418361105 can be found there.
Romos LLC: Warnings from regulators
Unsurprisingly, Romos LLC (www.romosllc.com) has already come under the scrutiny of the UK Financial Conduct Authority (FCA) for its business practices and questionable appearance. Thus, the latter already issued the following warning on 02/11/2022: "This firm is not authorized by us and is targeting people in the UK.
Unauthorized firm - ROMOS LLC
Address: 29-30 Fitzroy Square, Fitzrovia, London, UNITED KINGDOM, W1T 6LQ
Telephone: +447418361105
Email: contact@romosllc.com
Website: www.romosllc.com
Be aware that some firms may give out other details or change their contact details over time to new email addresses, telephone numbers, or physical addresses."
Romos LLC: Scheme of the investment fraud
The investment fraud usually follows the notorious scheme: investors initially put in a small amount of money - usually 250 euros - are impressed by how quickly this amount increases and are therefore willing to "invest" higher and higher sums. The conflicts start when investors want to have their money paid out because now all of a sudden taxes, commissions, fees, or whatever have to be paid. Only belatedly do many investors realize that they have fallen for investment fraud and that there was never any intention to pay out the money again.
Romos LLC: What help is there for investment fraud?
What to do in case of investment fraud, many desperate investors ask themselves. Filing criminal charges hardly make sense, because criminal charges are mainly for prosecution, not for recovering money. What kind of help is available in cases of investment fraud and how do the aggrieved investors get their money back? The lawyer specializing in investment fraud must know how to follow the trail of money, because as they used to say, money is not gone, but somewhere else. At the present, one can add: It is complicated, but with the proper tools it is possible to track money digitally regularly - even if it was deposited with Bitcoin through a Crypto Exchanger.
RESCH Rechtsanwälte GmbH - Experience in investor protection since 1986.
If you have been a victim of Romos LLC and want to know if and how you can get your money back, call +49 30 885 9770 or fill out the questionnaire. You will receive a free assessment of your case.