Robotics Online - A Ponzi scheme falling apart
10.03.2023
Robotics Online pretends to provide investors with excellent opportunities to make money as fast as they can with extremely short-term investments. Everything at Robotics Online is investment fraud. www.robotic.online is a scam website. You can invest and watch your money grow but when it comes to withdrawing it's impossible. Everything the investor sees on his screen is deception. Have you had similar experiences? What help is there for investment fraud? What can investors do who have been scammed by Robotics Online? How can investors get their money back from rogue providers?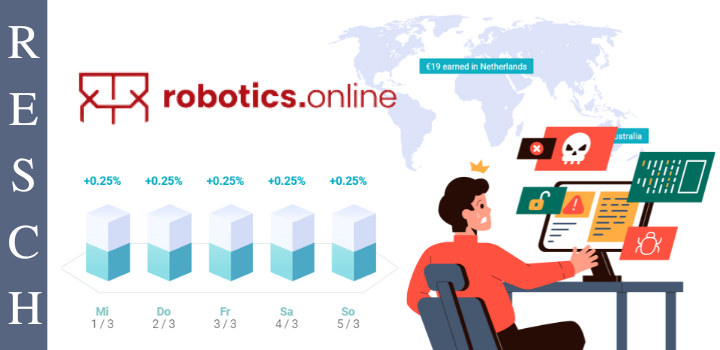 Robotics Online: Untrustworthy and dubious statements on robotics.online!
You have noticed that the website robotics.online make a very professional impression. A direct approach, supposedly interesting offers as well as the reference to support by the in-house employees, which should lead to a respectable return and profits. All this seems very convincing. As an unsuspecting investor, you are not in a position to realize that you are merely being played a game and that not a single cent of your money is being invested. All the money ends up right in the pockets of the perpetrators, who of course do not trade with the investors' money either. Everything is just staging an illusion, even if the system behind Robotics Online was promising at the beginning and seemed to work, after all, there were profit distributions.
Robotics Online: Who is behind it?
The Robotics Online site does not contain a revealing imprint, which should prevent the perpetrators from being too easy to identify. The domain data of the robotics.online website also contains no indication of who once registered the site, only that the registration took place on February 15, 2018, with NameCheap, Inc. and that the real domain owners - quite expectedly for us - are hiding behind an Icelandic anonymization service called Withheld for Privacy ehf based in Reykjavik.
But who is running Robotics Online?
The robotics.online website is available in German, English, Russian and Ukrainian. However, apart from the support e-mail address info@robotics.online, the prospective investor is then not offered a contact telephone number. The address of the enterprise is to be in the USA: 1201N Orange pc Suite 7160, Wilmington, DE 19801. There one finds indeed each quantity of virtual offices, however no commercial empire à la Robotics online. In addition, the Ukrainian address 18 Borysa Hmyi St. in 02144 Kyiv appeared in correspondence with possible victims. Not only that the address in question is a high-rise housing estate/residential area, but at this point, we naturally wonder why the company's address should now be in Ukraine and not, as consistently presented, in the USA. And it gets even more curious.
Robotics Online: Unbelievable information
All the names of the alleged employees sound very German, especially the company's alleged CEO Michael Stark. However, as we found out, the man presented to us on robotics.online as Michael Stark is not Michael Stark at all, but Richard Wolf, and he is an actor. It is also highly suspicious that all the alleged employees of this company, for example, Nicole Meyer, have no digital background. Hardly possible in today's times. A U.S. company that ostensibly employs German staff (who are sometimes impersonated by actors), and which also uses a Ukrainian address. Would you want to entrust your savings to such a company?
Robotics Online: Is it a pyramid scheme?
There are indications that this could be a pyramid scheme. Within such systems, it is of enormous importance that new investors are brought in again and again because only in this way the profits of the already integrated investors can be paid out. No wonder then that Robotics Online offers good commissions for each new investor. In addition, YouTubers were contacted in 2022 to advertise the system on their channels - for a fee. Are there not enough investors joining the system in the normal way? Was the system already threatening to collapse in 2022 and were the payouts already in danger there? All this sounds very suspiciously like a Ponzi scheme to our ears.
Robotics Online: International searches
A worldwide search for Robotics Online in the relevant registers leads to one result. There is an entry in the commercial register of Delaware for a Robotics Online LLC, registration number 6865710. At least at this point, the Robotics Online makers have not lied. However, one should not read too much into this, because a commercial register entry does not say anything about the intentions of a company, in the case of Robotics Online these do not bode well!
Robotics Online: Dubious business conduct
It is not without reason that cases are piling up in which Robotics Online has prevented the disbursement of earnings by reinvesting the earned money via autopilot, which miraculously switched on by itself - without the consent of the investors, of course. So there was no chance to get one's capital because it was reinvested again and again without consent. If one contacted customer service in this matter, victims were put off and stalled.
Robotics Online: On the trial of the perpetrators
We also wonder why, according to the commercial register entry, the address of the company should now be 16192 Coastal Hwy, Lewes, Sussex, DE, 19958. Especially since we can't find any traces of Robotics Online here either. It seems that the Robotics Online makers don't want to be found at all. But with our research tools, our Investigations team has managed to track down the investment scammers.
Robotics Online: Scheme of the investment fraud
Investment fraud regularly follows the same pattern: investors initially invest a small amount - usually 250 euros - are impressed by how quickly this amount increases and are therefore willing to invest higher and higher sums. The disputes then begin as soon as an investor wants to have his money paid out, because now allegedly taxes, commissions, fees, or whatever have to be paid all at once. Unfortunately, much too delayed, most investors realize that they have fallen for an investment scam and that there was never any intention to pay out the money again.
Robotics Online: What help is available for investment fraud?
How to proceed in the case of investment fraud, many affected investors ask themselves, since filing a criminal complaint makes little sense, because criminal complaints primarily serve the purpose of criminal prosecution, but not the recovery of the money. What help is available for investment fraud and how do affect investors get their money back? A lawyer specializing in investment fraud must know how to track the money, because as they used to say, money is never gone, but unfortunately somewhere else. Today, that can be added to: It is challenging, but with the right tools it is possible to track money digitally regularly - even if it was deposited with Bitcoin through a Crypto Exchanger.
RESCH Rechtsanwälte Gmbh - Experience in Investor Protection since 1986
If you have been a victim of Robotics Online and want to know if and how you can get your money back, call +49 30 885 9770 or fill out the questionnaire. You will receive a free assessment of your case.