Paraguay Fresh S. A. - BaFin warns: no sales prospectus
01.06.2023
Paraguay Fresh S. A. implies that investors are provided with the very best opportunities to make quick and safe money with an investment (shares) in a manufacturer of fruit preparations. At Paraguay Fresh S. A. everything is investment fraud. Nothing is produced at Paraguay Fresh S. A.. Not a cent is invested. Everything the investor sees on their screen is to deceive investors. The money has landed straight into the pockets of the investment scammers. Have you had the same experience? What can investors do who have been defrauded by Paraguay Fresh S. A.? How can investors get their money back from dubious providers? What help is available in the event of investment fraud?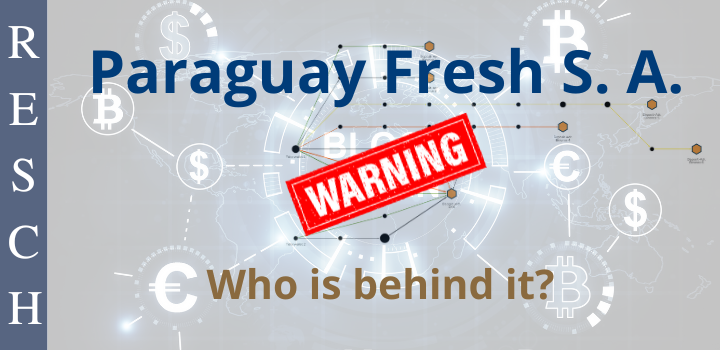 Paraguay Fresh S. A.: Exaggerated and dubious promises on paraguay-fresh.com!
What do the surprised prospective buyers read on www.paraguay-fresh.com? "All the prerequisites, conditions and accompanying circumstances of our project suggest that it will be a complete success. An investment in our company is perfectly suited for portfolio diversification - far away from Europe and the USA. We would like to encourage interested parties to take a look at our business model against this background." This is only a small selection of the exaggerated promises that investors find on the website of Paraguay Fresh S. A.. Not one of these given promises by Paraguay Fresh S. A. has been kept. Sadly, the dubious business practices rather make for disappointed investors and miserable reviews!
Paraguay Fresh S. A.: Who is behind it?
Investors will find it quite difficult to answer this question, as the Paraguay Fresh S. A. makers do everything they can to conceal the true circumstances. This is undoubtedly not unusual, as the perpetrators often operate several of these websites with the same fraudulent business model. These are produced in series, put online without interruption and shut down just as quickly; in addition, the top-level domain is often changed in order to confuse financial supervisory authorities and law enforcement agencies. Here we are still dealing with Hydro Invest S.A. (hydro-invest.net) and MudaPar S.A. (muda-par.com), among others. Carsten Pfau is stated as the CEO of all of them. BaFin warns against all three platforms.
But who runs Paraguay Fresh S. A.?
On the website of Paraguay Fresh S. A. there is no usable information about this. Admittedly, the company Paraguay Fresh S.A. is listed with the business address Cruz del Defensor 1302. Asunción Paraguay, but the makers of Paraguay Fresh S.A. cannot be found at this address, as it is a letterbox company. In addition, there is the e-mail address info@paraguay-fresh.com as well as the telephone number +595 (0) 984 920 695. The domain paraguay-fresh.com was registered on 04.04.2020 with RegistryGate GmbH.
Paraguay Fresh S. A.: Scheme of the investment fraud
The investment fraud always follows the same pattern: investors initially put in a small sum - usually 250 euros - are impressed by how quickly this amount increases and are therefore prepared to "invest" ever higher sums. The problems start every time investors want to have their money paid out, because then, flimsily, taxes, commissions, fees or whatever have to be paid first. Unfortunately, most investors do not realise until it is too late that they have fallen for investment fraudsters who never intended to pay out the money again.

Paraguay Fresh S. A.: What help is there for investment fraud?
Many desperate investors ask themselves how to proceed in the case of investment fraud, since criminal charges hardly make sense, because criminal charges are primarily for prosecution and not for recovering money. What kind of help can be used in cases of investment fraud and how do investors get their money back? A lawyer specialising in investment fraud must know how to follow the money trail, because as they used to say, money is never gone, but unfortunately somewhere else. Nowadays it can be added: It is exhausting, but with the right tools it is possible to systematically track money digitally - even if it was transferred with Bitcoin via a Crypto Exchanger.
RESCH Lawyers – Experience in investor protection since 1986
If you have become a victim of Paraguay Fresh S. A. and want to know if and how you can get your money back, call us at +49 30 885 9770 or fill out the questionnaire. You will receive a free assessment of your case.