Nordic Financial Services - Investors deceived
01.11.2022
Nordic Financial Services implies that the investor is granted the very best opportunities to make money quickly and safely by buying coveted shares. With Nordic Financial Services, everything is investment fraud. Not a cent has been invested. The money has landed right in the pockets of investment scammers. Everything the investor sees on their screen is fake. Nothing is traded at Nordic Financial Services. Can you report similar experiences? How does the investor get his money back from dubious providers? What can investors who have been scammed by Nordic Financial Services? What help is available in case of investment fraud?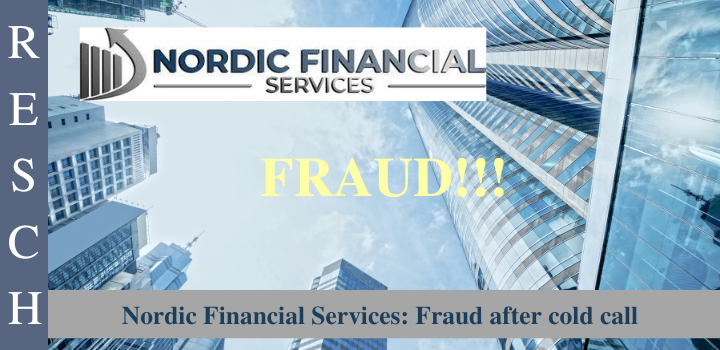 Nordic Financial Services: Half-silk and brazen lies on the website
What do the perplexed visitors have to read on nordicfinancialservices.com? "When our company was established in 2012, our founder, Ingwar Claus Nordström, searched the world for the brightest minds, the innovative, and the free spirits, with this he wanted to help our clients access excellent investment opportunities. The roots of the company lie in the management of private wealth. Our clients include many high-net-worth individuals and institutional investors. Our corporate DNA is to preserve and grow wealth by allocating it to different asset classes. It doesn't matter whether an investor entrusts us with several million euros or pays 50 euros a month into a fund savings plan - our responsibility to him is the same." This is just a small excerpt of the questionable assurances that interested parties can find on the Nordic Financial Services website. None of these full-bodied promises by Nordic Financial Services have been kept. Regrettably, criminal business conduct only makes for miserable experiences and unhappy investors!
Nordic Financial Services: Treacherous domain data!
Of course, the investment scammers don't want you to be able to track them down easily. If you examine the domain data for nordicfinancialservices.com, you will find that the website was registered on 11/20/2021 via the Internet service provider Internet Domain Service BS Corp, and the server is hosted at IP 5.252.179.224 via the company Mivocloud Srl. But that's not all. The Internet domain nfs-exchange.com is also used. This website was registered on 03.12.2021 via the Internet service provider Hosting Concepts B.V. d/b/a Registrar.eu and is hosted in the Netherlands via the company AS-HOSTINGER. Thus, the operators are trying to hide behind the Internet service providers.
Nordic Financial Services: Who is behind it?
The investment fraudsters disguise their identity perfectly - almost. So who is the operator? On the website nordicfinancialservices.com there is an imprint, from which the following information can be taken:
Head office: Nordic Financial Services, 1185 Avenue of the Americas, NY 10036, New York, USA.
Tel: +1 646 663 6105
Tel: +1 646 663 6106
Fax: +1 646 663 6107 (Fax)
headoffice@nfs-exchange.com
Europe office: Nordic Financial Services, Fleminggatan 18, 112 26 Stockholm, Sweden
Tel: +46 81 21 621 57
Tel: +46 81 216 30 06
Fax: +46 85 250 46 70
office@nfs-exchange.com
Organization number: 556073-2596
Board of directors: Ingwar Claus Nordstroem, Peter Forsberg, Jeffrey Holland
Supervisory authority: Financial Supervisory Authority (Finansinspektionen), Box 7821, 103 97 Stockholm
Frank Straub is responsible for the content of the website.
Nordic Financial Services: All just deception
If you check the relevant company registers, you will find companies with the name Nordic Financial Services, but these are other companies that have nothing to do with the present complex of facts. There is no question of an alleged company foundation in 2012. Rather, the possibility is used here that investors confuse companies and thus cause confusion. This also applies to the alleged managers "Ingwar Claus Nordström", "Peter Forsberg" and "Jeffrey Holland". Once again, the names of athletes and actors are used here to make investigations more difficult. There are also no references to Nordic Financial Services at the supposed locations in New York and Stockholm. Nevertheless, we are well aware of the modus operandi of the perpetration of the crime and, based on our extensive investigations, we can also already make a preliminary assignment to a specific group of perpetrators.
Nordic Financial Services: Warnings from the Financial Supervisory Authority!
It is not surprising that Nordic Financial Services has already come under the scrutiny of the German financial supervisory authority (BaFin) due to its business practices and questionable appearance. Thus, BaFin already published the following warning on 24.08.2022: "BaFin is investigating Nordic Financial Services - BaFin clarifies by Section 37 (4) of the German Banking Act (KWG) that Nordic Financial Services does not have a license to conduct banking business or provide financial services. The company is not supervised by BaFin. Nordic Financial Services, New York, USA, and Stockholm, Sweden, contacts consumers to offer them the brokerage of exchange-traded funds (ETF) and discount certificates of certain issuers. In this context, the provider also issues a "warranty guarantee". On its website, nordicfinancialservices.com, the company also represents itself as an asset management firm...."
Nordic Financial Services: Affiliation with Euro Finance Group
The financial regulator BaFin is also active with Euro Finance Group! It is not surprising that investors are led over several platforms and are to be deceived there. For example, the Euro Finance Group's fraud platform eurofinglobal.com is also used in conjunction with Nordic Financial Services. Here, the same group of perpetrators is at work, so BaFin not without reason published the following warning on 14.10.2022: "Euro Finance Group, operator of the website eurofinglobal.com: Sufficiently justified suspicion for missing prospectus regarding the public offer of alleged shares of the "Porsche AG" - The Federal Financial Supervisory Authority (BaFin) has the sufficiently justified suspicion that the Euro Finance Group, according to own information with seat in New York, the USA, offers alleged shares of the "Porsche AG" publicly in Germany without the necessary prospectus. In doing so, the impression is created misleadingly that these are shares in Dr. ing. h.c. F. Porsche Aktiengesellschaft; however, there is no connection with this company."

Nordic Financial Services: Scheme of investment fraud
The investment fraud unmistakably follows the same pattern: investors enter with a small sum - usually 250 euros - and quickly experience how this amount multiplies so that they are willing to "invest" ever higher sums. The problems start as soon as investors want to have their money paid out, because now allegedly taxes, commissions, fees or whatever have to be paid first. Unfortunately, many investors do not realize until it is too late that they have fallen for an investment scam and that there was never any intention of paying out the money again.
Nordic Financial Services: What help is available for investment fraud?
How to act in case of investment fraud, many angry investors ask themselves, because filing a criminal complaint hardly makes sense, because these are mainly for prosecution, not for recovering the money. What kind of help is available in investment fraud cases and how do affect investors get their money back? The lawyer specializing in investment fraud must know how to trace the money because as they used to say, the money is not gone, it's just somewhere else. Now one can add: It is tricky, but with the proper tools it is possible to track money digitally regularly - even if it was transferred with Bitcoin via a Crypto Exchanger.
RESCH Attorneys at Law - Experience in investor protection since 1986
If you have been a victim of Nordic Financial Services and want to know if and how you can get your money back, call +49 30 885 9770 or fill out the questionnaire. You will receive a free assessment of your case.