Nanofixit Stocks: Investment fraud handled via trust account!
21.09.2022
Alleged registered stocks of Nanofixit Ltd. with a registered office in Dubai are offered for sale to interested investors bn Aziz Invest Limited wita h registered office in The Fairmont Dubai, Sheikh Zayed Road, Dubai.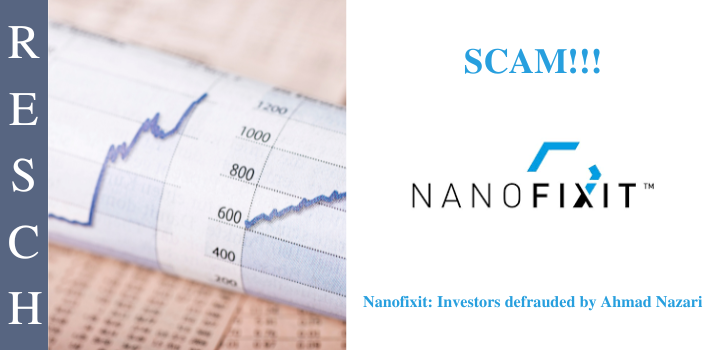 Warning by the FMA for violation of the Capital Markets Act
The Austrian FMA has published a notice dated March 22, 2022, under Section 14 (1) (9) of the Austrian Capital Market Act (KMG) 2019 that Nanofixit Holding Limited is not in compliance with its obligations. Nanofixit had not complied with a request for comments under Section 14 (1) (2) of the Austrian Capital Markets Act (KMG) 2019 in connection with an announcement regarding five mandatory convertible bonds at www.nanofixit.com.
The Ahmad Nazari Network
Nanofixit is part of the fraud network of Ahmad Nazari, who pulls the strings from Instanbul and Dubai. For several years, mainly time deposit contracts and shares as well as other securities have been offered, without the perpetrators having the intention to fulfill the corresponding contracts. The time deposit accounts are supposedly held at Santander Bank in Spain or Poland, BNP Paribas Polska, Bank Pekao, and several other well-known European banks. Lured are pre-market shares of Ant Financial, Biontech SE, Siemens Energy, Airbnb, Tesla, Photon Energy, and others. Porsche shares are currently on "offer".
Investment fraud: deception in the sale of registered stocks
The buyers of the registered stocks are led to believe that a settlement of the transaction will be handled by a Swiss-based law firm, Advokatur Söhner & Partner in Päffikon, as the supposed trustee through their trust account.
Both the main perpetrators of this capital investment fraud and the law firm Söhner & Partner know that no fiduciary relationship has been established between the unsuspecting purchasers of the shares and this law firm, in the context of which any security is available to the purchaser.
No fiduciary contract with purchasers of Nanofixit stocks
The law firm Söhner & Partner has only a connection to the perpetrators and serves to give this brazen capital investment fraud a reputable appearance.
The Kanzlei Resch of attorneys already successfully in this Tatkomplex Nanofixit the funds deposited on the alleged trust account back to fetch could. There is a direct claim for damages against a legally competent person who, knowing the conditions of a trust agreement, makes his account available and can assume without a doubt that unsuspecting investors are only to be duped into believing that security does not exist.
The perpetrators announce themselves again with other offers
To the Masche of this fraud structure also belongs that for example those, which already locked an allegedly lucrative time deposit contract, now on the possibility of a share acquisition to favorable before-market conditions are addressed.

RESCH Attorneys at Law - Experience in investor protection since 1986
If you have been a victim of Nanofixit and want to know if and how you can get your money back, call +49 30 885 9770 or fill out the questionnaire. You will receive a free assessment of your case.