Money Markets International - Experiences: It is an investment fraud
01.09.2022
Money Markets International implies that investors are offered perfect conditions to make quick as well as safe money with investments. But at Money Markets International, everything is investment fraud. Everything the investor sees on his screen is fake. Nothing is traded at Money Markets International. The money has landed right in the pockets of investment scammers. Not a cent has been invested. Can you report similar experiences? What help is there for investment fraud? What can investors who have been defrauded by Money Markets International do? How can investors get their money back from dubious providers?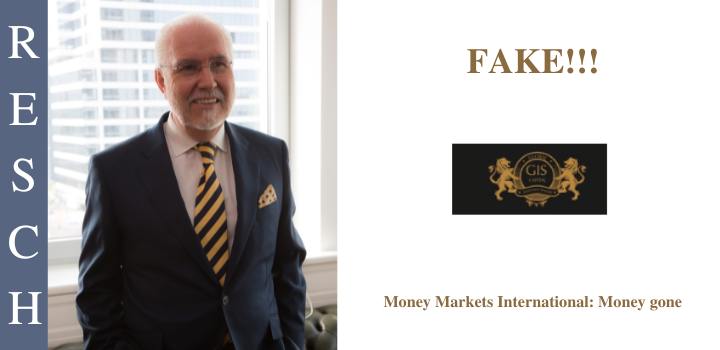 Money Markets International: Promises are dubious and dubious
What must the surprised investors read on www.moneymarketsinternational.com? There it says in conspicuously bad German: "At MMI, we offer first-class financial solutions to our institutional clients from leading investment and commercial banks around the world. Our services include wholesale brokerage and execution of money market instruments across a range of asset classes, including debt, derivatives, deposits, and OTC products." He continued, "MMI was founded in 1991. Since then, we have been a leader in wholesale financial markets globally and the EU, providing deep market liquidity and price discovery for OTC products." This is just a small portion of the untrustworthy promises investors can find on Money Markets International's website. Not a single one of these lofty promises by Money Markets International has been delivered. But it all seems very convincing. The unsuspecting investor is hardly able to realize that nothing is real. He has been put through a play. Not a cent of his money is invested in shares. Everything lands immediately in the pockets of investment fraudsters. It's all pretense, no reality. And that is why the investor does not get his money back. Regrettably, the suspect business practices provide rather unhappy investors and miserable experiences! The really exciting question now is, who is behind this investment fraud?
Money Markets International: Domain entry hidden!
Of course, the investment scammers do not want you to be able to track them down easily. That is why the website does not have an imprint with the full details and the address of the website operators. Also, the domain data of the website moneymarketsinternational.com does not contain any hint who once registered the site, but only that the registration was done only recently, on 10.02.2022 at Hosting Concepts, B.V., and that the real domain owners - as expected for us - are hiding behind an anonymization service.
Money Markets International: Who is behind it?
Investors will not be able to answer this question. The investment scammers disguise their identity perfectly - almost. This is normal because they regularly operate various websites where they offer their fraudulent business model. And who is the operator? On the Money Markets International website, there are only sparse details about this. In addition to the obligatory support e-mail address info@moneymarketsinternational.com, potential investors are given the telephone numbers +352 2 033 4020 with a Luxembourg country code and +1 646 8545554 with a US country code, but this does not allow any conclusions to be drawn about the operators of the platform. Two sounding addresses are also presented: 1. 32 Rue du Laboratoire in 1911 Luxembourg, and 2. 11 Wall Street, NY 10005, USA. In addition, one is also presented with excerpts from Google Maps, so to speak as proof that these addresses exist. One might think so, but unfortunately one looks for a company named Money Markets International in vain among the addresses mentioned, especially since the world-famous New York Stock Exchange is located at 11 Wall Street. Furthermore, when looking at the website, one inevitably asks oneself why a company that is supposedly regulated by the "Central Bank of Ireland" does not disclose the contact details of the Irish branch on the website.
Money Markets International: Obvious identity theft
Does Money Markets International have something to hide, for instance? Money Markets International discussed here is merely a clumsy clone of a real-life Money Markets International Ltd. from Ireland. You do not have to be an expert to recognize this. The domain of the legitimate company is money markets.ie, the real, Irish Money Markets International Ltd. is located in Dublin at 26 Lower Baggot Street, it has been successful in the market for decades and you can reach it by phone at +353 (01) 678 5419. Of course, the fraudulent company has no interest in its victims contacting the real Money Markets International Ltd, which is why the number has not been published on the fraudulent website.
Money Markets International: International searches
The worldwide search for a possible Money Markets International with headquarters in the USA and Luxembourg in the relevant registers leads to no results. This Money Markets International is a fantasy product. It is a clone of the real existing company Money Markets International Ltd. from Ireland, which can be found in the commercial register there under the number 32995. The original is quite officially and legally acts as an investment company, the banking license number is C29076. We were not fooled by the clone and were able to successfully expose it in the course of our research. With the help of our research tools, our investigation team was able to track down the investment fraudsters. It is probably only a matter of time before the regulatory institutions - BaFin can be mentioned as an example - will become aware of Money Markets International and warn of their criminal activities.
Money Markets International: Scheme of investment fraud
The investment scam runs conspicuously according to the well-known scheme: investors enter with a small sum - usually 250 euros - and quickly experience how this amount increases, so that they are ready to "invest" higher and higher sums. The worries go off, immediately if investors want to have their money paid out because they must be paid flimsily first of all taxes, commissions, fees, or what else. Unfortunately, much too delayed, most investors see through that they have fallen for investment fraud and never the intention was to pay out the money again.

Money Markets International: What help is available in case of investment fraud?
How to proceed in the case of investment fraud, many investors ask themselves, since a criminal complaint hardly makes sense, because criminal charges serve primarily the prosecution, but not the recovery of the money. What kind of help is available in investment fraud cases and how do affect investors get their money back? The lawyer specializing in investment fraud must know how to follow the trail of the money, because as it used to be said, money is not gone, but unfortunately somewhere else. Nowadays one can add: It is not easy, but with the proper tools it is possible to track money digitally regularly - even if it was transferred with Bitcoin via a Crypto Exchanger.
RESCH Attorneys at Law - Experience in investor protection since 1986
If you have been a victim of Money Markets International and want to know if and how you can get your money back, call +49 30 885 9770 or fill out the questionnaire. You will receive a free assessment of your case.