MLP London - Experience: It is investment fraud
25.08.2022
MLP London pretends that the investor is offered fantastic conditions to earn money with an investment as fast as safe. Everything at MLP London is investment fraud. Nothing is traded at MLP London. Everything the investor sees on his screen is fake. Not a cent has been invested. The money has landed right in the pockets of the investment scammers. Have you had similar experiences? How do investors get their money back from dubious providers? What help is there for investment fraud? What can investors who have been defrauded by MLP London?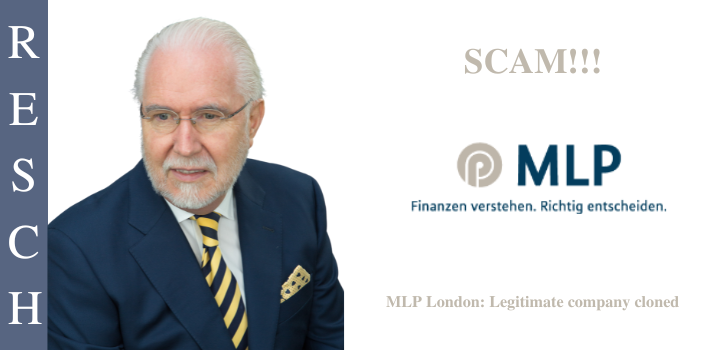 MLP London: Promises on www.mlpadvise.com are flimsy and dubious!
What do the perplexed prospective customers have to receive on www.mlpadvise.com? "We invest in expectations. In experience. And return on investment. MLP London... We are a competent, international cooperation partner for all investment areas." This is just a small selection of the suspect promises investors find on MLP London's website. Not a single one of these given promises by MLP London has been kept. But everything seems very convincing. The unsuspecting investor is hardly able to realize that nothing is real and that the fraudulent MLP London is merely a clone of a genuine, real-life company called MLP. He has been played a game. Not a cent of his money is invested. It all ends up right in the pockets of the investment scammers. There is no trading. Everything only appearance, no being. And that is why the investor does not get his money paid out. Unfortunately, the dubious business practices rather provide for unhappy investors and miserable experiences! The exciting question is, who is behind this investment fraud?
MLP London: The domain entry is hidden!
Of course, the investment scammers do not want people to track them down easily. That is why the website has no imprint with the full details and the address of the website operators. Also, the domain data of the website mlpadvise.com does not contain any hint who once registered the site, but only that the registration was done on 07/13/2022 at PSI-USA, Inc. and that the real domain owners are hiding behind an anonymization service.
MLP London: Who is behind it?
Investors will not be able to answer this question. The investment fraudsters disguise their identity perfectly - almost. This is normal because they regularly operate various websites offering fraudulent business models. And who is the operator? On the MLP London website, there are only sparse details about this. In addition to the obligatory support e-mail address info@mlpadvise.com, the telephone number +44 (0) 20 7193 1111 with a British country code is listed, but this does not allow any conclusions to be drawn about the operators of the platform. In addition, one finds an address in the United Kingdom: 51 Berkeley Street in London. A sophisticated address, but one searches in vain for a company named MLP London.
MLP London: Clone of a reputable company
It is worth mentioning here that there is a very successful company called MLP. This has its headquarters in Wiesloch, Baden-Württemberg, and there are quite a few branches. One could therefore assume that MLP London is an offshoot of the above-mentioned company. This is not the case. The MLP London discussed here is simply a clone of the real existing, successful company. And so it is not surprising that we had difficulties in our research finding useful information about the alleged Sanford Bank London, which is involved in this perfidious, rip-off construct. At the latest here the alarm bells of the investors should already shrill. All in all, not good conditions to consider business relations.
MLP London: Cross-border searches
The worldwide search for MLP London in the relevant registers leads to no result. The MLP London is a fantasy product. In addition: MLP Ltd. mentioned on the website mlpadvise.com also seems to be nothing more than hot air because one does find such a company in the commercial register of the United Kingdom, registration number 09981352. However, the makers of MLP London also seem to have merely used unauthorized information here, because 1. a completely different company address was noted there, and 2. MLP Ltd. has already dissolved again in 2018. We can therefore assume that MLP Ltd.'s existence until 2018 has nothing to do with the MLP Ltd. pretended on the website. But with our research tools, our investigation team has succeeded in tracking down investment fraudsters. In this context, it is only a matter of time until regulatory institutions such as BaFin, FMA, or FCA will take notice of MLP London and warn about their criminal activities.
MLP London: Scheme of investment fraud
Investment fraud usually follows the same pattern: investors initially put in a small sum - usually 250 euros - and quickly experience how this amount increases, so that they are ready to "invest" higher and higher sums. The worries take their course, every time investors want to have their money paid out, because then blandly at once taxes, commissions, fees, or whatever must be paid. Unfortunately, most investors are much too slow to realize that they have fallen for investment scammers who never intended to pay out the money again.

MLP London: What help is there for investment fraud?
What to do in case of investment fraud? This is what many angry investors ask themselves. A criminal complaint alone makes little sense, because these primarily serve the prosecution, but not the recovery of the money. What kind of help can be used for investment fraud and how do investors get their money back? The lawyer specializing in investment fraud knows how to follow the traces of money, because as they used to say, money is not gone, but unfortunately somewhere else. Today one can add: It is exhausting, but with the appropriate tools it is possible to track money systematically digitally - even if it was deposited with Bitcoin via a Crypto Exchanger.
RESCH Attorneys at Law - Experience in investor protection since 1986
If you have been a victim of MLP London and want to know if and how you can get your money back, call +49 30 885 9770 or fill out the questionnaire. You will receive a free assessment of your case.